For a small island on the edge of Europe, and with a wild and rugged coastline along the Atlantic Ocean, Ireland has a rich history that stretches back millennia. People have lived in Ireland for more than 6000 years but the vast majority of the history of Ireland is concentrated along the East Coast known as Ireland's Ancient East. And you can discover this amazing part of the Emerald Isle on this 7 day Ireland itinerary.
*This post contains affiliate links, which may include Amazon affiliate links. To read more about affiliate links, please visit my Disclosure Policy page.
Ireland's Ancient East
If historical treasures and monuments, stunning beaches, and a warm and friendly welcome are what you are looking for during a one week Ireland itinerary, then you won't go wrong with a tour of Ireland's Ancient East. You are going to discover amazing places to visit along the east coast of Ireland in this 7 days in Ireland itinerary.
This itinerary will cover the best things to see and do in this part of the Emerald Isle, during which you will learn about the ancient history of Ireland by visiting some of the most important sites in the country.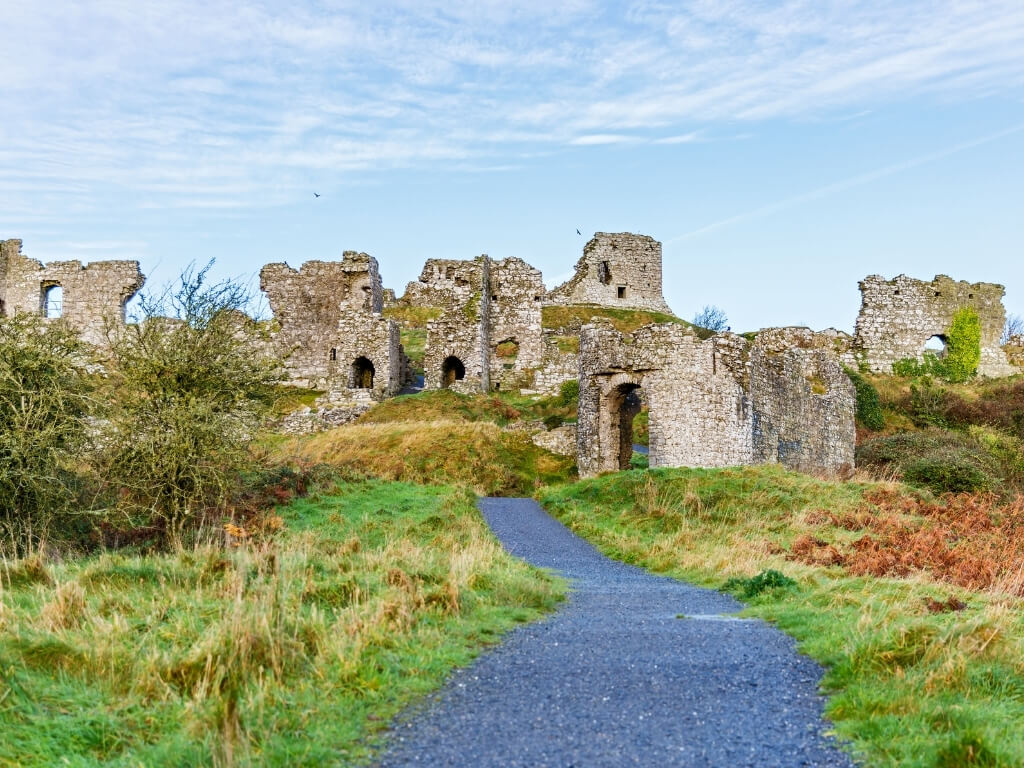 Why spend one week in Ireland?
As mentioned, Ireland is quite small and compact, meaning you can cover a lot of ground and see many sites in a short space of time. By taking on this self-drive Ireland itinerary, you will pack plenty in and come away feeling like you've learned a lot about the little island of Ireland.
You should save or bookmark this article if you
Want to know what you can see and do in Ireland in a week.
Love history, and want to explore some of Ireland's best cities.
Want to explore the best of Ireland ancient sites along the east coast including castles, monastic sites and more.
What is Ireland's Ancient East?
Ireland's ancient east route spans 17 counties of the Republic of Ireland and goes from Monaghan and Louth in the north to parts of east Cork, Waterford and Wexford in the south. And it spans from Dublin on the east coast, westwards as far as part of Offaly.
Ireland's Ancient East map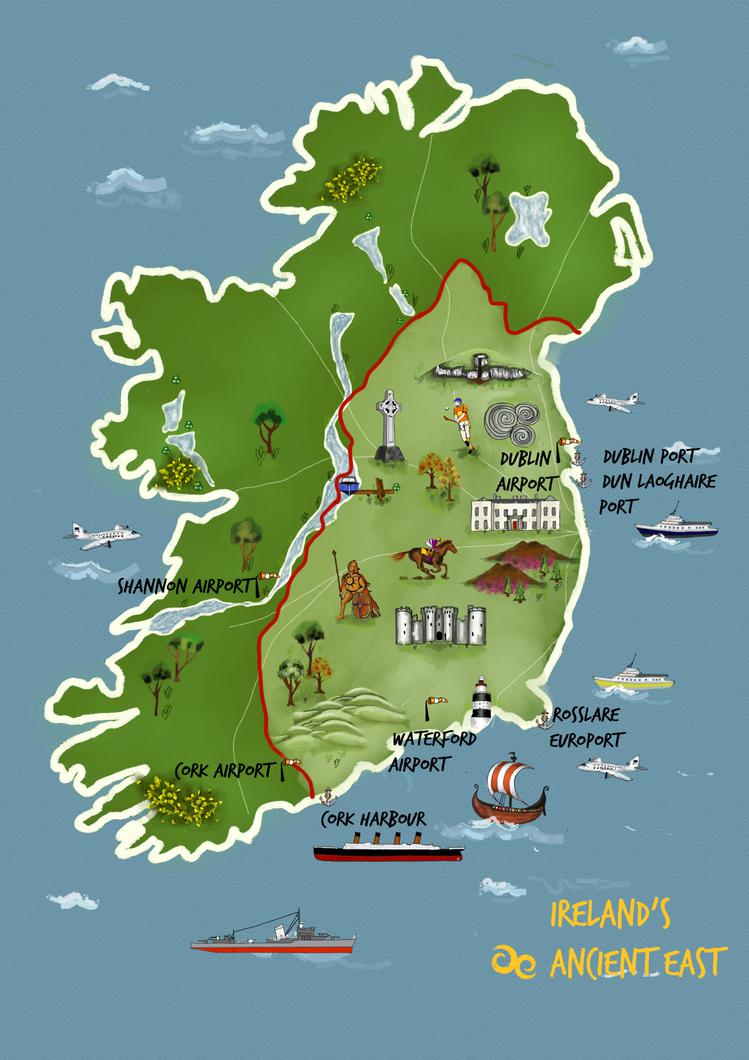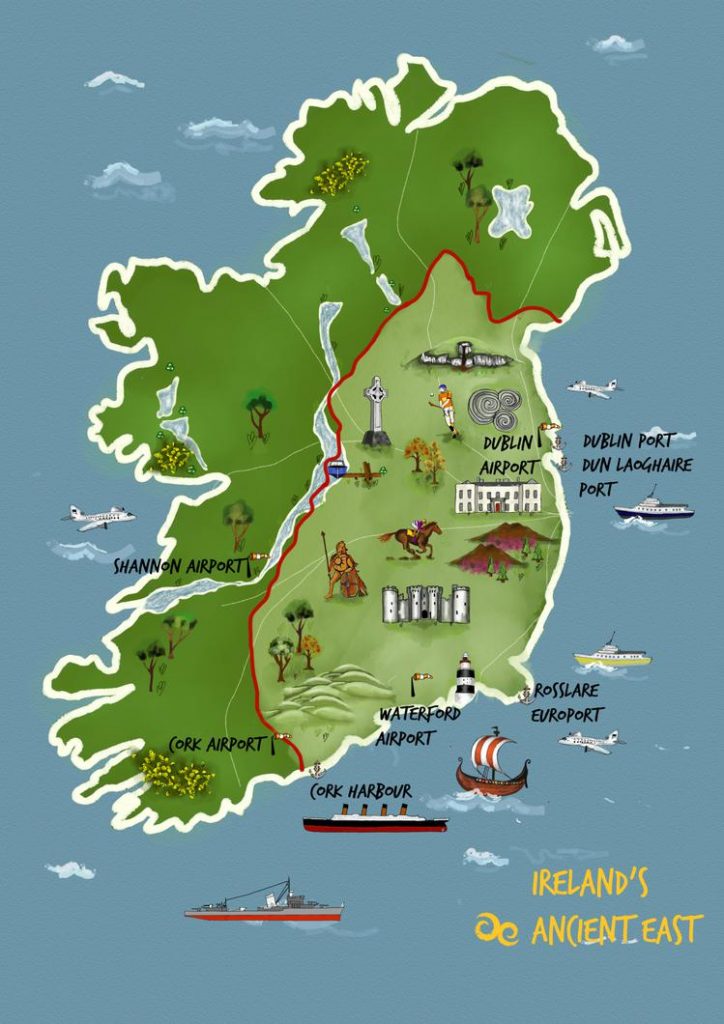 How to get to Ireland's Ancient East?
Ancient East Ireland is best reached by arriving at Dublin Airport by plane. Or you can arrive in Ireland via ferry, arriving at either Dublin Port or Dun Laoghaire, or Rosslare Harbour in County Wexford.
Dublin is the starting point for this Ireland 7 day itinerary so the Irish capital would be preferable. We recommend checking Skyscanner for the latest prices and availabilities for flights to Dublin.
As this is a self-drive vacation, if you are arriving by plane, you will need to hire a car. We recommend checking prices through rentalcars.com and finding the perfect car through them.
Alternatively, you can arrive by ferry into Dublin with Irish Ferries from Holyhead in North Wales. Or you can arrive in Rosslare with Irish Ferries and P&O Ferries from South West Wales or the continent, and start your itinerary from Waterford (Day 3, continuing the itinerary to day 7 and, then days 1 and 2 to complete your itinerary back at Rosslare Harbour). The ferry is preferable if you are driving your own car to Ireland. Just ensure you have adequate insurance and an International Driving Licence if required.
How to travel around Ireland's Ancient East
The easiest way to explore this Ireland ancient east route is by car. While you could travel this Ireland one week itinerary using public transport, you may find you spend all your time on buses and trains and have no time to actually explore the various places along the way.
While each stop along this route is connected to other stops by either bus or train, public transport outside of main cities and towns can be sparse and sporadic and you will find it hard to stick to this timetable.
Completing this Ireland road trip itinerary by car is much more preferable and allows you to leave/arrive when you want and gives you the freedom to spend as much time as you want at various stops along each section. As mentioned, if you aren't bringing your own car to Ireland, we recommend checking prices on rentalcars.com. Ensure you have cash on you as you will be using some motorways on this itinerary that have toll booths.
To find out more about how to travel around Ireland, read this post.
Where to stay along this one week in Ireland itinerary
Along this route, I will be recommending at least one place to stay for each night of this 1 week Ireland itinerary. It will either be located in the town you are visiting that day or somewhere that makes the next day's travel easier.
If you prefer to find your own accommodation, start your search on booking.com. You'll find listings for accommodation at or close to each destination along this 7 day Ireland itinerary.
Why visit Ireland's Ancient East?
As mentioned, much of Ireland's ancient history is found along the East Coast of Ireland and surrounding counties. Not only is the east coast a beautiful part of the country and home to the capital, but it also holds some of Ireland's most important ancient and historical monuments.
To get a true feel for the history of the country, this Ireland road trip itinerary for the Ancient East is a must. You'll discover prehistoric burial chambers, Ireland's oldest city and former Viking settlement, castles and medieval monasteries. If you are wondering what to see in Ireland in 7 days, this itinerary is just for you.
Best time to visit Ireland's Ancient East
The East Coast of Ireland is typically a bit warmer and drier than the West Coast which is influenced by the Atlantic Ocean. Summer is the best time to visit for a chance of drier, warmer weather but do not go without some layers and at the very least, raincoats. Even in summer, you can experience rain. However, summer is also one of the busiest times to visit Ireland, so factor this in.
If you want to try and avoid the crowds but still don't want to freeze in quieter winter months, consider visiting Ireland in the shoulder seasons during May and September. Days are long enough to enjoy sightseeing, and while you may still encounter rain (as you do during all seasons of the year in Ireland), the temperatures won't be as cold as the winter months.
Find out more about the best time to travel to Ireland in this post.
7 Day Ireland Itinerary – Discover Ireland's Ancient East
This 1 week in Ireland itinerary aims to cover the most important sites along Ireland's ancient east route. You will explore amazing historical sites and monuments and have time to explore Ireland's oldest Viking established city and one of Ireland's medieval towns.
Each day has an estimated distance and driving time (without stops) to give you an idea of what to expect when moving from one place to another. You will need to factor in additional time for stops along the way. Driving days are accompanied by a Google map of the driving route. There is one 2-night stay in Waterford but for the rest of this Ireland 7-day itinerary, you will be staying just one night in each destination.
Ireland Ancient East map
Day 1 – Dublin to Glendalough
Assuming you are arriving in Dublin, you will begin to explore the Ancient East of Ireland by leaving Dublin and travelling south. If you are leaving from Dublin Airport, you will take the M50 southbound and join the M11 at Shankill. This journey is 74km long on the motorways, will take about 1 hour and 10 minutes at an average speed of 105kph.
Alternatively, you could leave the M50 at junction 9 and join the N7. Leaving this road at junction 6 will route you past the beautiful Blessington Lakes and over the Wicklow Mountains to arrive at Glendalough after 80km and 1 hour and 15 minutes.
You will be visiting the 6th-century monastic site of Glendalough today. Founded by St Kevin, Glendalough features a Round Tower, other monastic buildings and two beautiful lakes. Allow a few hours to explore the site and to hike around the lakes. Glendalough is free to visit with free parking and guided tours of the site can be booked and take from the visitor's centre.
Here are some other things to see and do along your route to Glendalough or nearby.
Russborough House is one of Ireland's finest stately homes and is located along the route that passes Blessington Lakes. It is located 32km west of Glendalough, a journey of just over 30 minutes. Entry is payable but includes a 45-minute tour of this Palladian palace.
The Powerscourt Estate lies north of Glendalough, along the route which uses the M50/M11 motorways and is 29km from Glendalough, a journey of just over 30 minutes. This is one of Wicklow's most visited attractions, as people come to see the elegant Palladian mansion, landscaped gardens and the nearby Powerscourt waterfall. The estate also has a Japanese garden, Museum of Childhood and animal cemetery.
Glendalough lies on the edge of the Wicklow Mountains National Park, one of the six Irish national parks and an area of outstanding natural beauty. If you love the outdoors and hiking, then spending time in this national park is a must.
Places to stay near Glendalough – For a luxurious stay near Glendalough, we recommend booking into the Powerscourt Hotel at the Powerscourt Estate (located 30 minutes away). For a more budget-friendly stay, book into the Tudor Lodge B&B, just a short 4-minutes' drive from Glendalough.
Day 2 – Glendalough to Waterford
Today you will be moving south and driving from County Wicklow, via Clonegal in County Carlow, to Waterford City. This journey, without stops, is a distance of 139km long and will take approximately 2 hours and 15 minutes, at an average speed of around 100kph.
Along this route, you will take time to visit the stunning Huntington Castle and Gardens in Clonegal (pictured below). Built in the early 17th century as a garrison, this stately home has stunning gardens and the owners offer guided tours of the house during the summer months. There are even one or two surprises to be found in the castle. Allow a few hours to visit the castle, grounds and take a tour.
After Huntington Castle, you will continue south to Waterford City, the first city established in Ireland by the Vikings. Depending on time, you can enjoy a leisurely stroll around the city before finding somewhere for dinner. Maybe even a cosy pub for a drink while listening to some traditional Irish music.
If you want to explore some other places along the way before arriving in Waterford, here are a few suggestions.
Altamont Gardens are located just a short 12-minutes' drive from Huntington Castle and are among Ireland's finest landscaped gardens. While the gardens are free to visit, you do need to pay for parking. Located along the banks of the River Slaney, you'll find landscaped gardens with an ornamental lake, bluebell woods and more.
Hook Lighthouse on the Hook Head Peninsula is a 1 hour and 20 minutes drive from Huntington Castle, and Waterford is another 1-hour drive from the lighthouse. The lighthouse is the oldest working lighthouse in the world and is a great place to visit.
The John F Kennedy Arboretum, located near New Ross in County Wexford (29km from Waterford), is a woodland park dedicated to former US President JFK. It has over 4500 species of trees and shrubs and is a great place to stretch your legs.
Places to stay in Waterford – For places to stay in Waterford, I highly recommend booking into the Waterford Castle Hotel & Resort for your 2-night stay. The castle has been turned into a hotel and there are self-catering houses also located on this private island. There is also a golf resort and grounds to enjoy in which you should keep a close eye out for the resident deer. Click here for the latest prices and availability. For alternative accommodation, start your search on booking.com.
Day 3 – Exploring Waterford City
Today you will be pleased to learn there is no driving. Instead of hitting the road, you will be exploring Ireland's oldest city, Waterford, founded by the Vikings in 914. The city retains remnants of its Viking and Norman past which you can discover during a walking tour of Waterford. We recommend a 2.5-hour tour for getting your bearings and learning about this historical city. Find more information, latest prices and to book it here.
After your tour, we recommend you pay the small fee to go inside Reginald's Tower, somewhere you will pass on your walking tour. Make sure to visit the Medieval Museum in the Viking Triangle section of the city, just a short walk from Reginald's Tower.
If you haven't already done so, get lunch in one of the many pubs, ensuring you sample some traditional Irish food. You cannot visit Waterford without visiting the home of the world-famous Waterford Crystal, so head there after lunch for a tour. Click here to pre-book your Waterford Crystal tickets to avoid disappointment.
If you are not staying at Waterford Castle, we recommend you drive to the ferry for it and spend some time on the island that the castle is located on. You can visit some parts of the castle, although much of it is private for hotel guests only.
Other places to visit and explore in Waterford include
Bishop's Palace, an 18th-century Georgian mansion.
Christ Church Cathedral, Ireland's only neoclassical Georgian cathedral.
Holy Trinity Cathedral, another 18th-century cathedral with a magnificent interior.
Day 4 – Waterford to Cashel
Continuing this 7 days Ireland itinerary, you will depart Waterford and start by heading west to visit Lismore Castle, a journey of 70km which will take around 1 hour. From Lismore, you will turn north and drive 34km to visit Cahir, a journey of less than 40 minutes. And from Cahir, you will continue north to your final destination today of Cashel, 18km away and a short drive of just over 15 minutes. There are a few stops along this route, so leave early.
Although this is a busy day, it is more than doable, I've done this exact section of this itinerary with my then 4-year-old son.
Your first stop on today's route is Lismore Castle and Gardens. One of Ireland's many medieval castles, the castle is privately owned but the stunning landscaped gardens are open to the public. These are believed to be Ireland's oldest landscaped gardens and are divided into the walled upper garden and the less formal lower garden where you will find a beautiful wooded area. There is an art gallery beside the upper garden where you will find a tearoom for refreshments.
Next on your journey, you will be heading to the town of Cahir to visit Cahir Castle, a 12th-century castle on the banks of the River Suir. It is one of Ireland's largest castles and has plenty to explore including exhibitions, Keeps and gardens.
And your final destination today will be the town of Cashel where you will be visiting one of Ireland's most iconic landmarks, the Rock of Cashel. This former seat of the High Kings of Ireland, the site is home to a 13th century mostly ruined abbey, round tower and 12th-century chapel. It is one of Ireland's most popular tourist destinations so it is best visited early in the morning or later in the afternoon to avoid crowds. The Rock of Cashel is one of the best places to visit in Ireland and is a must on Ireland's Ancient East itinerary.
If you have time, here are some ideas of other things to see and do along this stretch of the road trip.
The Mitchelstown Caves are a 15-minute drive from Cahir Castle (16km) are hollowed out of a narrow band of limestone along the Galtee Mountains and are among the most extensive caves in Ireland.
Just a few minutes drive from Cahir Castle is the Swiss Cottage, an early 19th-century ornamental cottage with a beautiful thatched roof.
The Cashel Folk Village is a collection of old buildings and memorabilia and from around the town, a great way to explore the history of Cashel.
Places to stay in Cashel – As you will be ending today at Cashel, we recommend booking accommodation in the town. The 4-star Bailey's Hotel offers a comfortable stay for visitors, while the Rockville House B&B is another great place to stay in the town.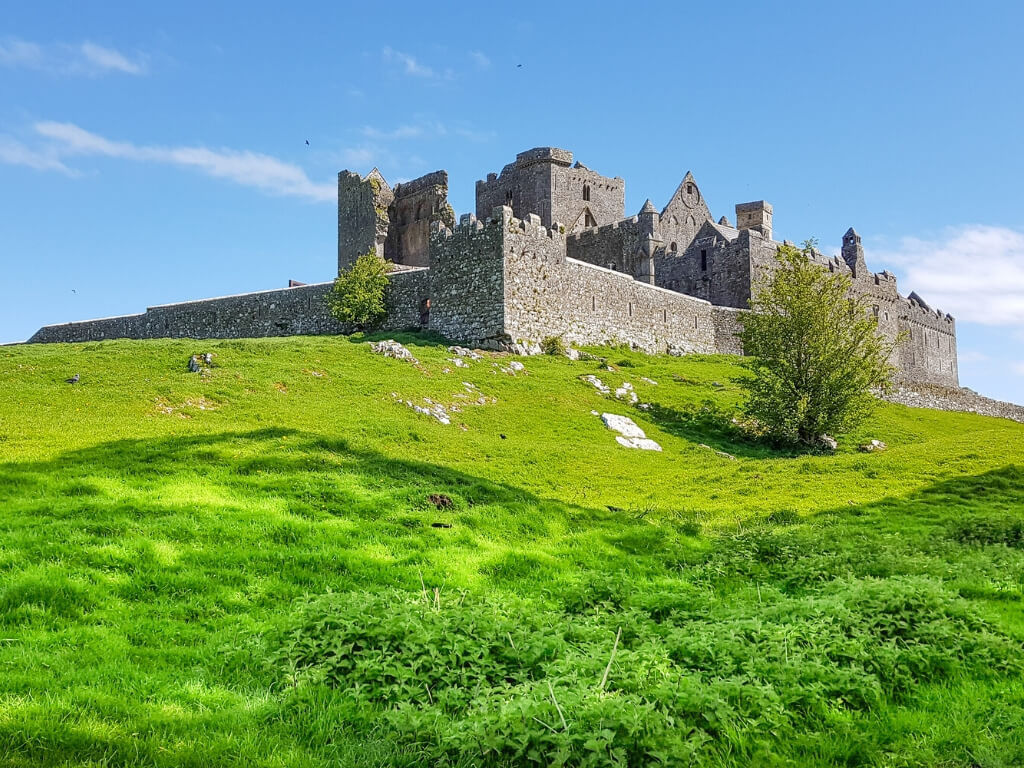 Day 5 – Cashel to Kilkenny
After a busy day in this Ireland 1 week itinerary, you will be moving on from Cashel to Kilkenny, a short 62km long journey which will take approximately 50 minutes at an average speed of 120kph along the M8 motorway.
Kilkenny is one of Ireland's best heritage towns and is a great place to indulge in Irish arts and crafts. The first stop in Kilkenny has to be the castle, one of the most visited heritage sites in Ireland. A Norman castle, Kilkenny Castle has over 800 years of history and is quite an extensive one to visit. During the winter months, you can visit only by guided tours. However, between the months of February and October, you can visit the castle by guided tour, or take a self-guided tour around the castle. The Long Room is a must-visit, and if you need refreshments I highly recommend the tearooms in the former castle's kitchens.
After exploring Kilkenny Castle and its magnificent grounds, we suggest taking a guided walking tour of Kilkenny. This 75-minute tour with a local guide will tell you about this historical town. Find more information, prices and how to book this tour here.
After a spot of lunch, head to the Smithwicks Brewery for a guided tour in which you will learn about this famous Irish beer and its brewing process. Tickets for this tour can be booked here.
End your day in Kilkenny with a stroll along the Medieval Mile, browsing the various arts and crafts shops, and why not pop into a pub and enjoy a pint. You might even catch a live trad music session.
If you have time, here are some other tops things to do in Kilkenny.
The Medieval Mile Museum is housed in a converted 13th-century church and charts the history of the town in medieval times.
St Canice's Cathedral is Ireland's second-largest medieval cathedrals (after St Patrick's in Dublin). The present structures date from the 13th to 16th centuries, although a monastery was first established there in the 6th century. At this site, you can view a round tower, grave slabs and other tombs and monuments.
Kilkenny is home to the National Craft Gallery where visitors can view contemporary Irish crafts in these former stables across the road from Kilkenny Castle. It is free to enter and you will find crafts of jewellery, weaving and furniture.
Places to stay in or near Kilkenny – An excellent budget-friendly hotel in Kilkenny is the Kilkenny Ormonde Hotel. However, if you want luxury, then drive 20-minutes south and stay at the 5-star Mount Juliet Estate. For the latest prices and availability, click here.
Day 6 – Kilkenny to Drogheda
Today you will be driving from Kilkenny to Drogheda via Clonmacnoise and Athlone. The drive north from Kilkenny to Clonmacnoise is 113km long, which will take approximately 1 hour and 50 minutes at an average speed of 100kph. From Clonmacnoise you will drive north to Athlone is a distance of 22km, taking about 26 minutes. And the final leg of today, east from Athlone to Drogheda is 170km, which will take less than 2 hours along the M6/M4/M50/M1 motorways.
Departing Kilkenny, you will be driving north to visit Clonmacnoise (pictured below), one of the holiest sites in Ireland. Sitting alongside the River Shannon, the monastery was founded in the 6th century by Saint Ciaran at an important crossroads in ancient Ireland. At the site, there is a visitor's centre, cathedral, towers, other churches and even castle ruins. Most of what remains today are from the 10th to 12th centuries. You should make sure to see the finest examples of Irish high crosses and allow a few hours to explore the site.
From Clonmacnoise, we recommend going to Athlone for lunch after which you could visit Athlone Castle or take a walk along the banks of the River Shannon, Ireland's longest river.
Although you won't be visiting anything in Drogheda, I have suggested it as the next place to stay because it gives you easy access to the historical sites you will be visiting on Day 7.
If you are looking for additional things to see and do during this day of your 7 day Ireland itinerary, here are a few ideas.
Athlone Castle is a 13-th century castle where you can see engaging and modern displays that bring the town's history to life.
Dún na Sí Heritage Park, also in Athlone, is a folk park with a re-created ring fort and other buildings and monuments set in beautiful surroundings.
Just south of Mullingar is Belvedere House and Gardens. Located 57km east of Athlone, a 37-minute drive, this 18th-century hunting lodge is set in a large estate overlooking Lough Ennell. Visitors can enjoy walled gardens and Victorian glasshouses in a lake-side setting.
Places to stay in Drogheda – As you will be visiting the Boyne Valley tomorrow, Drogheda is the best place to stay to allow you to arrive early. Book into the 3-star Scholar's Townhouse Hotel or the 4-star D Hotel. Both are conveniently located in the town and with on-site parking available.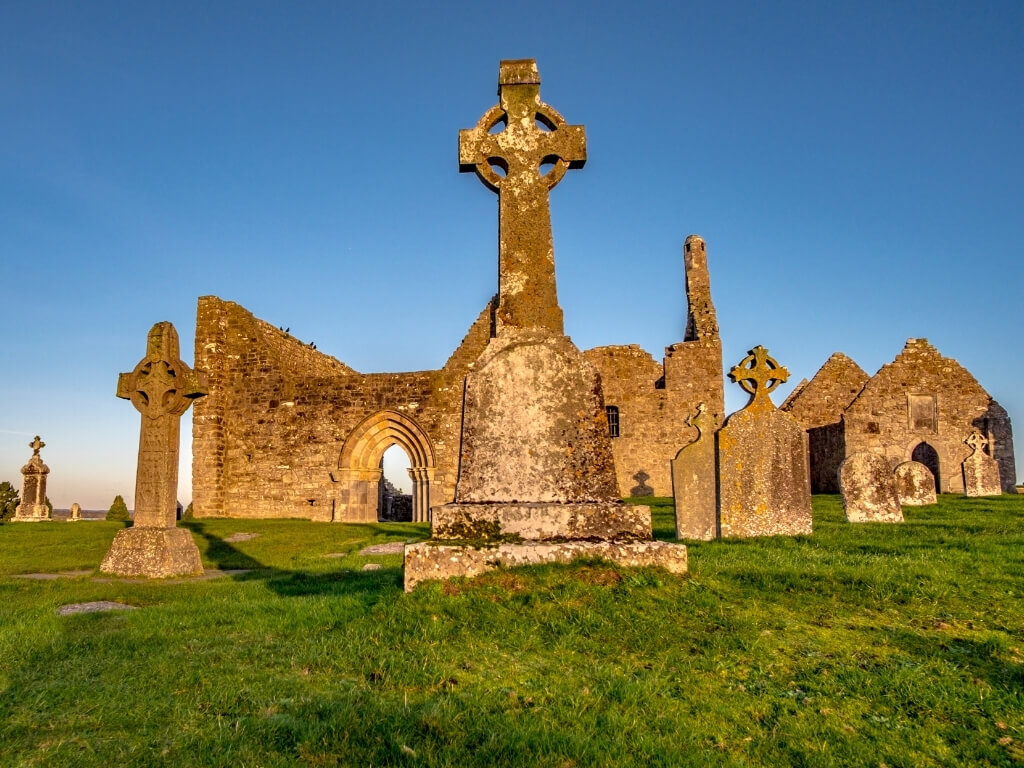 Day 7 – Drogheda to Boyne Valley
Today you will be visiting the Brú na Bóinne, or Boyne Valley and the historical sites there. The journey from Drogheda is just 10km and will take approximately 15 minutes. This is your final historical destination in this Ireland in 7 days itinerary.
Brú na Bóinne is a vast Neolithic site that is one of the most popular sites to visit in Ireland and is a UNESCO World Heritage Site. Older than both the pyramids of Giza and Stonehenge, the complex was built as burial tombs for the most prestigious members of society at the time. The area consists of many different sites but the three most important are Newgrange, Dowth and Knowth.
To visit the burial chambers, you need to depart from the Brú na Bóinne Visitor's Centre on board a shuttle bus. Your first stop will be Newgrange, probably the most famous of the burial chambers. The chamber is illuminated for just 19 minutes during the winter solstice, and members of the public enter a lottery to be one of just 50 people (and partners) inside the chamber to witness this phenomenon.
After Newgrange, you will continue on to Knowth, containing one-third of all megalithic art in Western Europe. From Knowth, you need to return to the visitor's centre before getting another bus, or driving yourself, to the Dowth site. This site cannot be entered for safety reasons but you can still view it from the outside and learn about it from informational panels. Just north of this burial mound are the ruins of Dowth Castle and Dowth House.
The site is vast and it is recommended to allow a few hours to visit. Also, the Brú na Bóinne site is best visited early in the morning before other tourists and school tours arrive. You must pre-book your tickets between 24 hours and 7 days before arrival as there are no "walk-in" tickets. Click here to book your ticket.
If you have time left over, here are some other ideas for things to do near the Brú na Bóinne site.
9 minutes from Brú na Bóinne is the Battle of the Boyne Visitor's Centre where you can watch a short film about the battle before taking self-guided walks through the parkland and battle site.
Slane Castle, the site of many concerts over the years, is less than 10km west of Brú na Bóinne. This 18th-century Gothic-revival castle can be visited by guided tour. The state also has a distillery that brews Irish whiskey.
One of Ireland's most important sites where legends were born is the Hill of Tara, located 30 minutes southwest of Brú na Bóinne. It was once the home of the mystical pagan rulers of Ireland, before becoming the ceremonial capital of the high kings of Ireland, who ruled until Christianity was introduced in the 6th century. It contains a Stone Age passage tomb and prehistorical burial mounds. Although it is little more than humps and mounds, it is a hugely important historical site, as well as a folklore site. It is free to enter and is always open.
Your visit to the Brú na Bóinne site (and any others nearby) concludes this 7 day Ireland itinerary exploring Ireland's Ancient East. You can either depart Ireland from Dublin Airport (located 47km or 35 minutes south of Brú na Bóinne), or from Dublin Port (57km or 40 minutes).
Alternatively, you could drive to Dublin and extend your stay by spending 3 days in the Irish capital, creating an amazing 10 days in Ireland itinerary. I have a great itinerary for 3 days in Dublin which can easily be tagged onto the end of this trip, allowing you to explore more of Ireland's Ancient East.
Other things to note and tips for visiting Ireland's Ancient East
Ireland's Ancient East is Fáilte Ireland's follow up to the Wild Atlantic Way. Although it is not a single touring route, it is a tourism region designed to allow visitors to immerse themselves in Ireland's history.
Ireland's Ancient East sign-posts
Many of the sites in the region are sign-posted as tourist attractions with the usual brown signs. Although a new logo has been created, similar to the one created for the Wild Atlantic Way, off main roads it might be hard to spot, or they might not be there at all. So make sure you have a working sat-nav, or downloaded maps to your smartphone. Once you arrive at sites within Ireland's Ancient East, they will have the logo on information boards outside.

Heritage Ireland Card
Heritage Ireland has a card that gives access to the majority of the sites on this itinerary as part of its membership. The card is valid for one year and gives unlimited access to the sites for the cardholder. I highly suggest that you get a Heritage Ireland Card before embarking on this 7-day road trip to save yourself some money. The sites in Ireland's Ancient East covered by the Heritage Ireland card are listed HERE. And you can purchase your Heritage Ireland card HERE. It also gives access to other sites not mentioned in this itinerary.
What to pack for Ireland's Ancient East
Remember to bring layers, even for summer, as the weather can change daily. Do not visit Ireland without a raincoat, preferably waterproofs too. An umbrella wouldn't go astray, nor would waterproof walking boots.
Remember to bring a European sat nav or smartphone to which you have downloaded your routes and maps. Phone signal can get patchy in the countryside in Ireland.
Don't forget your electricity adapters. Ireland has 220V, 3-pin plugs and sockets.
If you are going to stick to the routes I have outlined in this post, ensure you have cash before entering any motorway. Pass through the toll booths to collect/pay your toll with cash. While some booths on some motorways take cards, not all do. So, before you get caught out, make sure you have plenty of cash in the car to pay your toll. Note also, the M50 has electronic tolls. If you are hiring a car, ask the company if they have an M50 toll tag in the car which will pay the toll, the cost of which you will pay upon returning the car. If not, or you are in your own car, you will need to visit eflow.ie after passing through the toll to pay online using a debit or credit card and your car registration number.
For more helpful information and tips for visiting Ireland, read this post.
I hope you have enjoyed reading this 7 day Ireland itinerary for exploring Ireland's Ancient East. It is an area of the country often overlooked in favour of the Wild Atlantic Way or southwest corner of Ireland but shouldn't be. Many visitors drive through it on their way south or west and rarely stop. Hopefully, this post has made you want to visit this beautiful and very historic region of Ireland.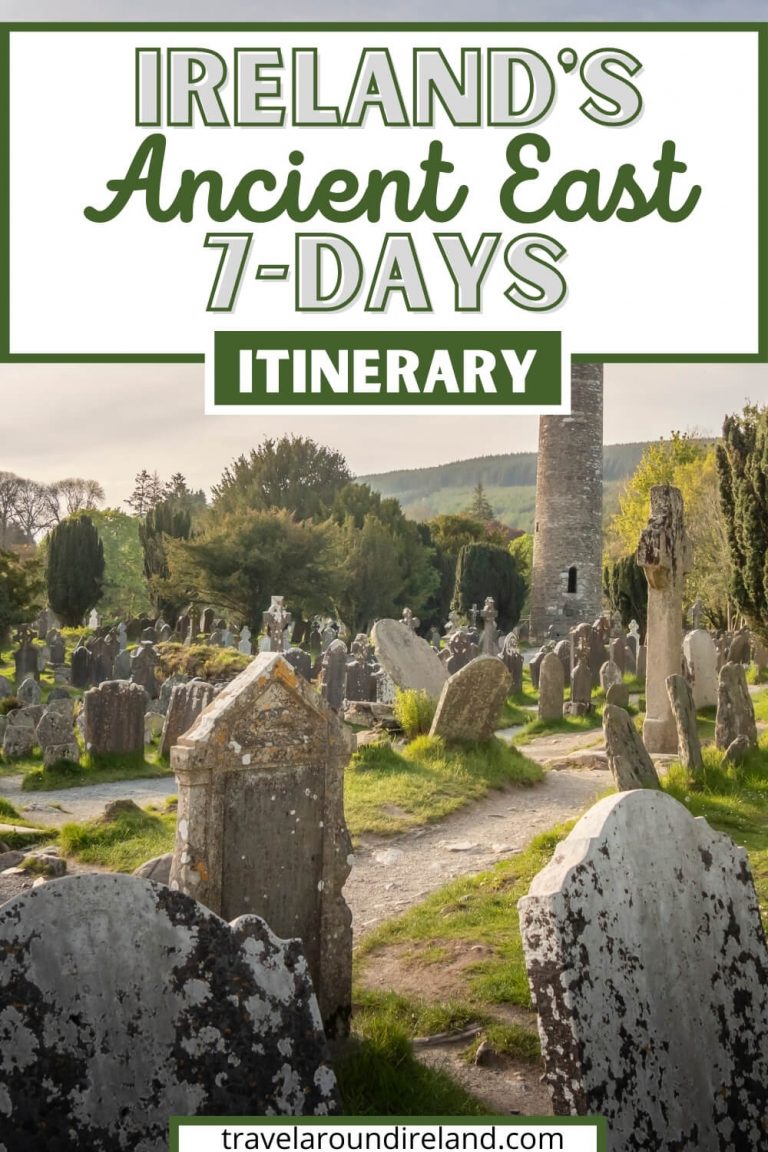 Related Posts