Have you heard of County Leitrim in Ireland? No? Well, you have now and I'm here to tell you the best things to do in Leitrim, Ireland, and why you should add it to your itinerary.
While County Leitrim may be small, it by no means lacks things to do and see to visitors of this corner of Ireland. This county is one of the least visited parts of the Emerald Isle but if you've been wondering whether to visit it or not, I'm going to share the best things to do in Leitrim, Ireland to help you decide.
*This post contains affiliate links, which may include Amazon affiliate links. To read more about affiliate links, please visit my Disclosure Policy page.
Best things to do in Leitrim, Ireland
Located in the mid-northwest of Ireland is the small county of Leitrim, and while size may make you think there is not a lot of things to do in Leitrim, you would be wrong. Whether you like the great outdoors, history or adventure, in this post I'm helping you uncover 9 great things to do in County Leitrim.
Carrick-on-Shannon
The county town of Leitrim is Carrick-on-Shannon, a charming riverside town that is popular with Irish weekend and holiday visitors. There are plenty of accommodation options in the town and close by and lots of restaurants to choose from. As for Carrick-on-Shannon activities, there are plenty.
Among the Carrick-on-Shannon things to do, the marina is one place to visit, whether you fancy taking a boat cruise from there on the River Shannon, or simply as somewhere to enjoy a walk.
Along the waterfront, you can see fine examples of early-29th-century architecture including the Old Courthouse and Hatley Manor, home of the St George Family.
One of the best things to do in Carrick-on-Shannon is to visit the quaint Costello Chapel, one of the smallest in Europe. Measuring just 5m by 3.6m, it was built in 1877 by Edward Costello to house the tombs of both Edward and his wife who died before him. The limestone interior is light by colourful sunlight thanks to the stained-glass window.
St George's Heritage Centre is located in a restored church and looks at the history and landscape of County Leitrim from old traditions through to plantation times. Visitors can tour an old Famine workhouse and a Famine Garden of Remembrance from the Heritage Centre, both of which are a short walk from the centre.
The Leitrim Design House is the place to visit if you are artistically minded. This gallery showcases paintings, textiles, ceramics, and more created by local artists and crafters.
For those who want some retail therapy, head to Market Yard Centre, where you will find a range of shops housed in a series of restored buildings. You can also pick up something special at the Leitrim Crystal shop.
And if you want to get out on the water, take a trip on the river with Moon River Cruise. Enjoy a pleasure cruise along the river with live music and finger food while soaking in the views from the water.
Nature
If you love the outdoor and are wondering what to do in Leitrim, then this section is just for you. As well as river cruises as mentioned already, Leitrim has four lakes to enjoy including Lough Allen, Lough Melvin, Lough Gill (pictured), and Glencar Lough.
The Shannon Blueway is a 70km long paddling trail from Leitrim village to Belturbet in County Cavan, linking with the Erne System from County Fermanagh. Paddling, kayak, or cycle your way both on and off the water. Click here for more information.
Leitrim is also home to a few waterfalls, including the Poll an Eas waterfall and the Fowley's Falls. You can also easily visit the stunning Glencar waterfall located near the border with County Sligo.
And for cycling enthusiasts, head to the North Leitrim Glens. Encompassing seven glens which include Glencar, Gleniff and Glenkeel, this area of natural beauty has many small, meandering roads which are perfect for cyclists to explore. You can also walk and hike along the roads, making them a great place to get out and about in nature. There are also smaller walks through forests such as those at Glencar and Glenfarne.
Castles, Houses & Tombs
For historical fans, there are several Leitrim tourist attractions to put on your itinerary.
As with most counties in Ireland, Leitrim has many castles to visit and one of the best is Parkes Castle (pictured). This late 15th-century plantation castle on the banks of Lough Gill was built by the O'Rourke's before coming into possession of the Parkes. The castle fell into disrepair in the late 17th-century and remained so until it became state-owned who undertook restoration work.
The castle is open from March to September and visitors can enjoy an audio-visual presentation alongside viewing rooms such as the Banquet Hall and Family Room, before exploring more of the castle. Find out more here.
Lough Rynn is another castle to visit in County Leitrim and is also one of the best castle hotels to stay in Ireland. Sitting on a narrow piece of land between Lough Rynn and Lough Erril, the castle ruins on the estate date from the 15th-century and visitors can enjoy walled gardens, lakeside walks, and more. You can also enjoy a stay in the castle or Afternoon Tea.
Another castle to visit in County Leitrim is Manorhamilton Castle, a 17th-century fortified house.
Glenfarne Demesne is worth visiting while in Leitrim. Lying on the shores of Lough MacNean, the demesne was once part of the huge Tottenham Estate in the 1870s. Visitors can enjoy lakeside walks and picnics, forest trails, and a sculpture trail.
The Carracloona Megalithic Tomb is another historical site in Leitrim to visit. Commonly called Prince Connell's Grave, this tomb dates to between 2000 and 1500 BC. It overlooks Lough MacNean and is a small tomb, so good to visit if you are passing by.
The Organic Centre
An interesting place to visit in County Leitrim is The Organic Centre. Located on 19 acres on the banks of Lough Melvin, The Organic Centre aims to increase awareness about organic growing, sustainable energy, biodiversity, and more through workshops, community gardens, tours, and more.
There are lots of things to see at The Organic Centre, there are family activities and it is an area of natural beauty. Visitors to the gardens can enjoy walks in the orchard, explore the sensory garden and enjoy a butterfly trail and bug hunt adventure, ideal for those visiting Leitrim with kids.
The centre also has a café for lunch or a snack, and if you are local to Leitrim you can attend a workshop or course (find out more here). And after your visit, you can see Fowley's Falls (pictured), located close to the centre and mentioned above.
Cavan & Leitrim Railway
One of the best County Leitrim points of interest to visit, especially with kids, is the Cavan & Leitrim Railway. This railway was a 3-foot narrow gauge railway that ran in Counties Leitrim and Cavan from 1887 to 1959.
The railway is privately owned and houses in the former station at Dromod. Visitors can see narrow-gauge trains, buses, planes, fire engines, and even artillery guns from World War I and II. Trains do runs for short distances by volunteers. If you are a train fan, or a family with a train fan, make sure to add the Cavan & Leitrim Railway to your Leitrim to-do list. Find out more here.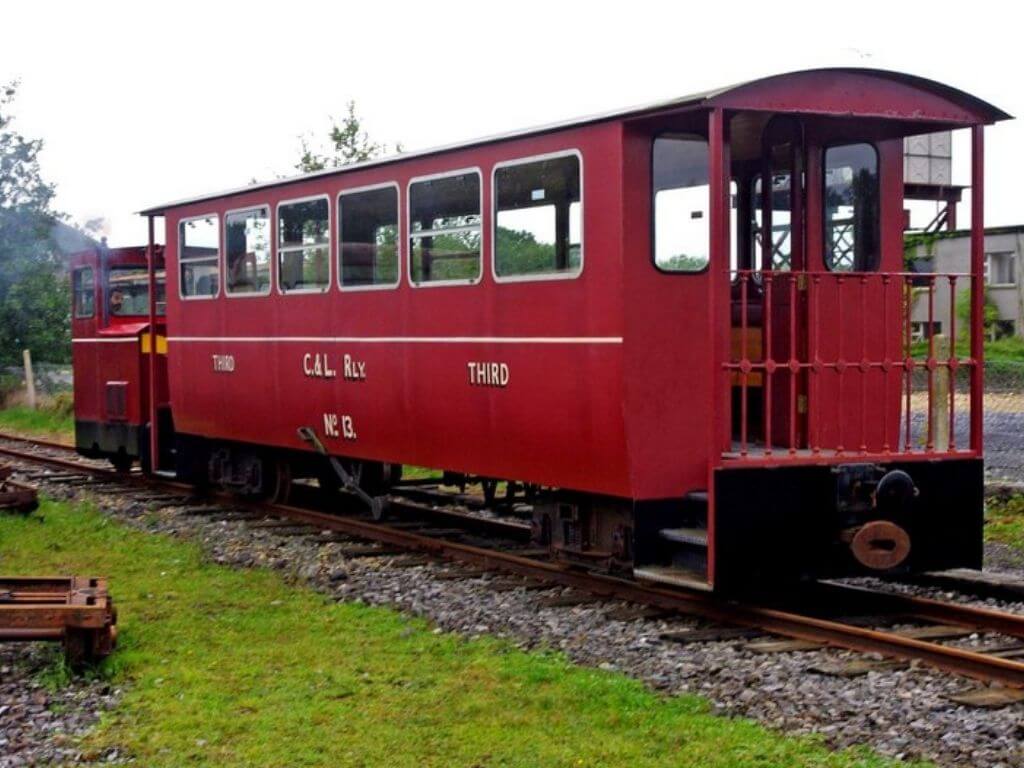 Adventure Activities
For the adventurous traveller, Leitrim has a great place to visit.
The Lough Allen Adventure Centre is a brilliant place to visit in Leitrim for some fun. Visitors can enjoy outdoor activities, slow adventure, wilderness therapies, and camping. Activities to take part in include kayaking, windsurfing, hill walking, and more. Find out more here.
Adventure Gently is another place to go if you want adventure but at a more relaxed pace. This centre brings visitors on guided canoe tours of the northwest waterways from Dromahair. To find out more click here.
If you are looking for adventurous fun outdoors, make sure to add one of these Leitrim venues to your itinerary.
Glenview Folk Museum
One of the best places to see in Leitrim is located in Ballinamore. The Glenview Folk Museum, owned and run by the Kennedy Family, was established in 2000 to help preserve some of Ireland's heritage and identity.
The museum houses attractions from old household and farm items to vehicles and even features a complete street scene from Ireland in the 1930s.
The museum has different sections to visit including
The Travelling shop, literally an old travelling shop that went from village to village in rural Ireland.
Farm equipment, where you can see different things that where part of farming life in rural Ireland including ploughs, barrows, carts and more.
John McGahern memorabilia, in memory of the Irish writer who lived from 1934 to 2006 and was considered one of Ireland's most important writers in the latter part of the twentieth century.
There is a fully licensed bar and restaurant at the museum for refreshments or meals afterward. For a glimpse into old Ireland, add the Glenview Museum to your Leitrim itinerary.
The Shed Distillery
In the little village of Drumshanbo, on the shores of Lough Allen, lies one for the adults-only, the Shed Distillery. With traditional copper pots and stills, the SHED distillery creates some of the finest Irish spirits from wild grains, Irish flora, and exotic botanicals.
The distillery has 5 copper stills creating Irish whiskey, gin and vodka. Visitors over the age of 18 can visit the distillery for a tour which will take you behind the scenes before sampling some of the creations. Just make sure someone is the designated driver. Click here to find out more or to book your visit.
Creevelea Abbey
Another historical site to visit in Leitrim is the Creevelea Abbey, a medieval Franciscan friary located in Dromahair. Established at the start of the 16th-century, the abbey remained in use until the 1830s after which time fell into ruin.
You can still visit the remains of the church, chapter house, cloisters, and domestic buildings. There are lots of nooks and crannies to explore and it is worth stopping here if you are passing the area.
Best places to stay in Leitrim, Ireland
Luxury hotels in Leitrim
Lough Rynn Castle, Mohill
If you are looking for 4-star luxury accommodation in Leitrim, then stay at the Lough Rynn Castle Estate and Gardens. Set in 300-acres of land which includes walled gardens, lakeside walks, and even a Bronze Age tomb, if you are looking for a luxury stay in Leitrim, this is the hotel for you. Click here to see the latest prices, availability and to book your stay.
The Landmark Hotel, Carrick-on-Shannon
If you want to stay in Carrick-on-Shannon but also want luxury, then head for the 4-star Landmark Hotel. With free WiFi, parking, and an on-site Boardwalk Café Bar, if you are looking for a great stay with luxury in mind, book the Landmark Hotel. Click here to see prices, availability, and to book.
Budget-friendly hotels in Leitrim
Carrick Plaza Suites and Apartments, Carrick-on-Shannon
If you are looking for a budget-friendly stay in County Leitrim, check into the Carrick Plaza Suites and Apartments, just a 2 minute to the town centre. This 3-star hotel has suites and apartments of various sizes, accommodating groups of different sizes. Click here to see the latest prices and availability.
Toppers Restaurant and Rooms, Carrick-on-Shannon
Another budget-friendly option in Carrick-on-Shannon is Toppers Restaurant and Rooms, located just a few hundred metres from the Leitrim Design House and the Carrick-on-Shannon Leisure Centre. Offering budget-friendly rooms of various sizes with WiFi and a shared kitchen, this is a great option for those watching the budget. Click here to see the latest prices, availability and to book.
Things to know about County Leitrim, Ireland
If you are unfamiliar with County Leitrim, Ireland, this section has some facts about the county to know before you visit.
Where is County Leitrim? – County Leitrim, established between 1565 and 1583, is located in the northwest of Ireland and is a county found in the province of Connacht. It is the smallest of the five counties of Connacht. It is one of the border counties with Northern Ireland and has a very small coastline on the Atlantic Ocean. It is bordered by Donegal, Cavan, Longford, Roscommon and Sligo in the Republic of Ireland, and Fermanagh in Northern Ireland.
County Leitrim facts:
Leitrim in Irish is derived from Liath Druim, meaning "grey ridge".
The county covers 1589 square kilometres (614 square miles) and the population of County Leitrim is approximately 32,044.
It is one of the twenty-six counties of the Republic of Ireland.
Leitrim is the 26th largest county of Ireland (all 32 counties), by size and 32nd in terms of population (the county with the smallest population).
There are 37 names mountains in Leitrim, with Truskmore SE Cairn being the highest.
Rivers that flow through County Leitrim include the Shannon, Cloone, Duff, and Yellow River.
County Leitrim has several lakes including Lough Allen, Melvin, Gill and Glencar Lough on the border with Sligo.
Notable cities towns in Leitrim – Carrick-on-Shannon (county town), Drumshanbo, Manorhamilton and Leitrim village.
Weather in Leitrim – Leitrim has a similar climate to the rest of the Emerald Isle, with warm summers and mild, wet winters. Summer days are long with high temperatures of 16˚C (lows of 12˚C), and short, dark winter days with high temperatures of 5˚C (lows of 2˚C). Leitrim's average temperatures are slightly lower than other counties in Ireland. Rain is common throughout the year, with Spring being the driest season, particularly the month of April. Don't travel to Leitrim at any time of the year without a raincoat and umbrella. If you want to know more about the weather and the best time to visit Leitrim, Ireland, read this post.
Famous people from Leitrim – Being the smallest county in Ireland by population, there are not as many famous people from the county as the rest of the country. Paul Williams, a journalist, and Shane Kelly, a jockey, both hail from Leitrim.
Final thoughts about the best things to do in County Leitrim
I hope this guide to the county and Leitrim tourism has shown you that, despite its size, there are plenty of things to do Leitrim. So, whether you have been looking for things to do around Carrick-on-Shannon, or the wider county, I'm sure you have found a few things of interest on this list.
More about visiting Ireland, Leitrim, and its neighbouring counties: