Are you considering spending time during January in Ireland but are concerned it's not a great month to visit the island? Would you like to visit Ireland in January but are worried about the weather, costs, and crowds? All these questions and more are answered below.
January in Ireland can be quite a mixed affair when it comes to the weather. Days are short with fewer daylight hours than in other months. But, unlike other countries, things do not generally shut down just because it is the quieter month of the year. In fact, Ireland in January can be a pleasant surprise.
Let's take a look at what the weather is like in Ireland in January, where you should visit, what you can do, and events that take place during the month. There are also some practical tips for visiting Ireland in January for those who may be interested.
All you need to know about January in Ireland
Weather in Ireland in January
January in Ireland is one of the coldest months of the year with frequent rain and quite often snow as well, depending on your location within the country. It is also one of the wettest and windiest months of the year and combined with the short days, it is often thought of as not the best time to visit Ireland. But don't let the weather put you off.
Temperatures in Ireland during January average between 3˚C/37F at night and 7˚C/45F during the day.
Rainfall is frequent throughout the month, with Dublin receiving an average of 61mm, while the southwest often receives over 150mm of rain. Snow in Ireland in January is possible when the temperatures fall, particularly on the high ground overnight. You can expect snow on high mountains during January.
You should also be aware that days are short during January, with average daylight hours of just 7.5 hours. This is the depths of winter remember! So, you need to plan accordingly if visiting during this winter month.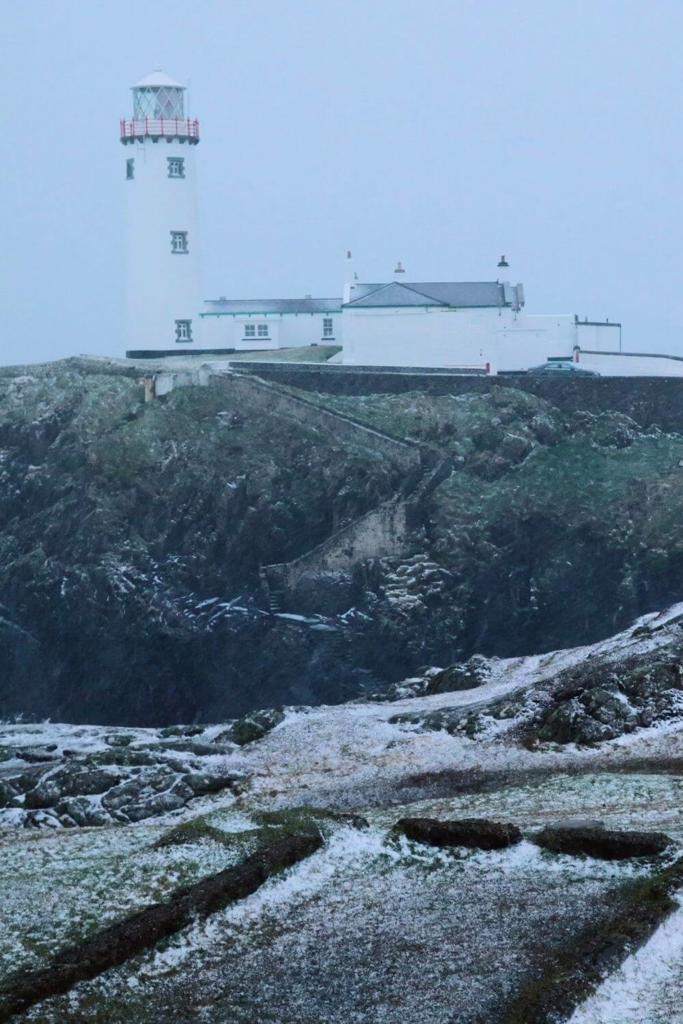 Costs and crowds during January in Ireland
Traveling to Ireland in January can be cost-effective as it is considered an off-peak month to visit. As a result, you may find budget-friendly flights and equally budget-friendly prices for accommodation.
Accommodation options should also be more plentiful than in the peak summer months, and you may find some hotels doing accommodation packages and deals that you can avail of during this month.
So, if you are hoping to travel to Ireland on a budget, January is the month to do it, especially where flights and accommodation are concerned.
As for crowds, with it being a winter month, crowds are fewer than during the summer months, meaning the top tourist attractions such as the Cliffs of Moher and Rock of Cashel are considerably quieter and are pleasanter places to visit during January.
Very few tourist attractions close during the winter so you do not need to worry about missing out or jostling for space. There are places outside of Dublin such as cafes and restaurants that may close during January, but in the majority of cases, attractions and pubs remain open.
And if you are hiring a car, parking should be easier to come by too. Just note that opening times of tourist attractions are reduced due to the shorter days so you will need to plan your days out accordingly.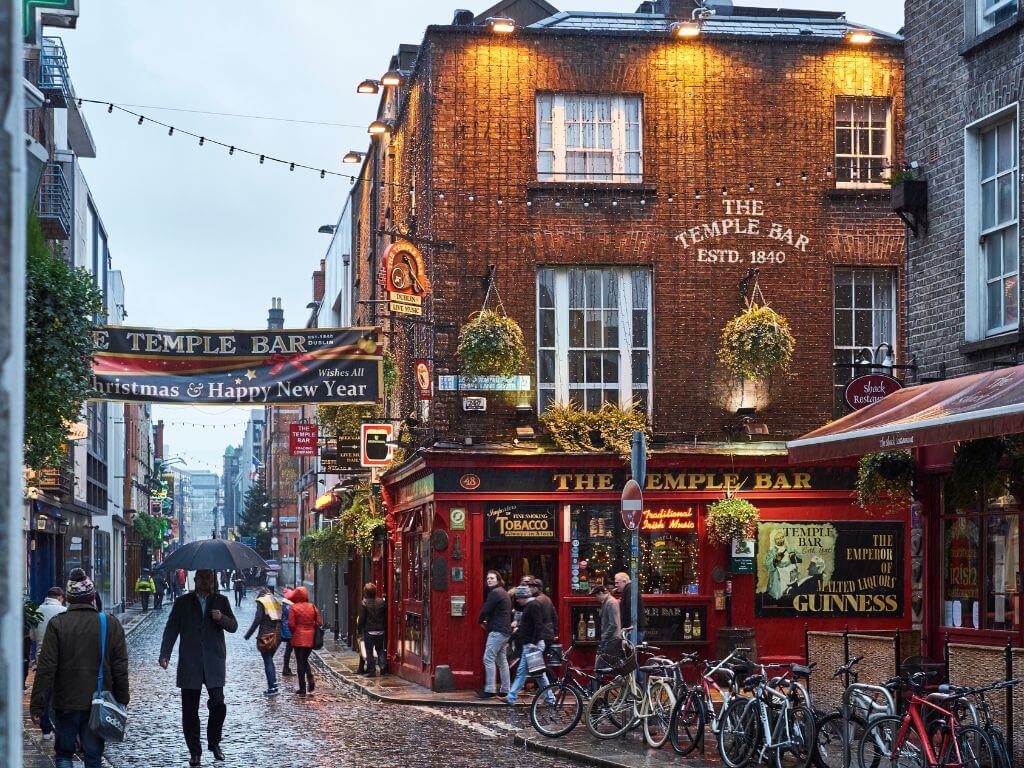 Places to visit in Ireland in January
If you are going to visit Ireland in January, you can plan to go just about anywhere on the island but to avoid the worst of the winter battering that comes in off the Atlantic Ocean, here are a few ideas of where to go during January in Ireland.
Dublin and the East
While most of the country experiences cold weather during January, Dublin and the East of the country typically experience less rainfall than the West. Places in the West of Ireland typically have an average of 120-160mm of rain during the month of January, whereas Dublin gets an average of 60mm.
As a result, Dublin can be a great place to visit in Ireland in January. Hotels, most restaurants, and attractions remain open, although all are far quieter than at other times of the year. Accommodation prices are more reasonable too.
Tourist attractions will not have as many crowds, so pre-booking your ticket may not be necessary, although do check in advance if you need to pre-book tickets for the Book of Kells as this is one of Dublin's top attractions and can be busy at all times of the year.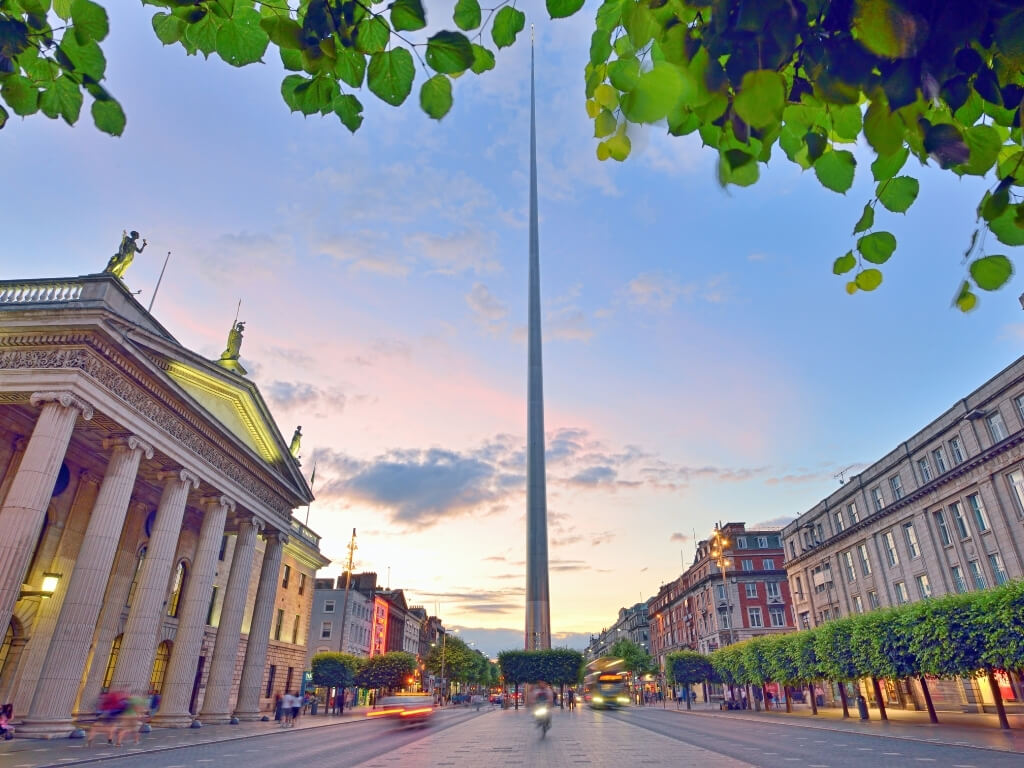 Belfast and Northern Ireland
Another great place to visit during January in Ireland is Belfast. As the capital city of Northern Ireland, it is a vibrant and bustling city with plenty on offer for visitors.
One of its most popular attractions is the Titanic Quarter where the infamous ship was built. The shipyards and surrounding areas have been rejuvenated and visitors can learn all about the ill-fated liner and her history via Titanic Belfast.
There are also other museums to enjoy, the Botanic Gardens, and two ships to discover, HMS Caroline and SS Nomadic.
Belfast can also act as a gateway to exploring the rest of Northern Ireland, whether you choose to embark on a day trip from Belfast or go exploring the country by car while staying in other locations. Popular places to visit in Northern Ireland include the Giant's Causeway, Dark Hedges, and the historical city of Derry.
Killarney and the Southwest
Although the southwest of Ireland gets more rain than Dublin, it can often be a degree or two higher temperature-wise than Dublin. This and fewer crowds make it still popular with visitors to Ireland during January.
Killarney is a great base for exploring both the Ring of Kerry and Killarney National Park, which was the first of Ireland's national parks.
Within the national park, there is plenty to see and do. Popular places to explore include Muckross House and Abbey, hiking to see the Torc Waterfall, and enjoying the beauty of the Gap of Dunloe.
The Killarney National Park is encircled by the Ring of Kerry, the 177km circular driving route with stunning views out to the Atlantic and of Ireland's highest mountains, the Macgillycuddy Reeks. The Ring of Kerry is hugely popular during summer, so January can be a more pleasant time of year to drive it.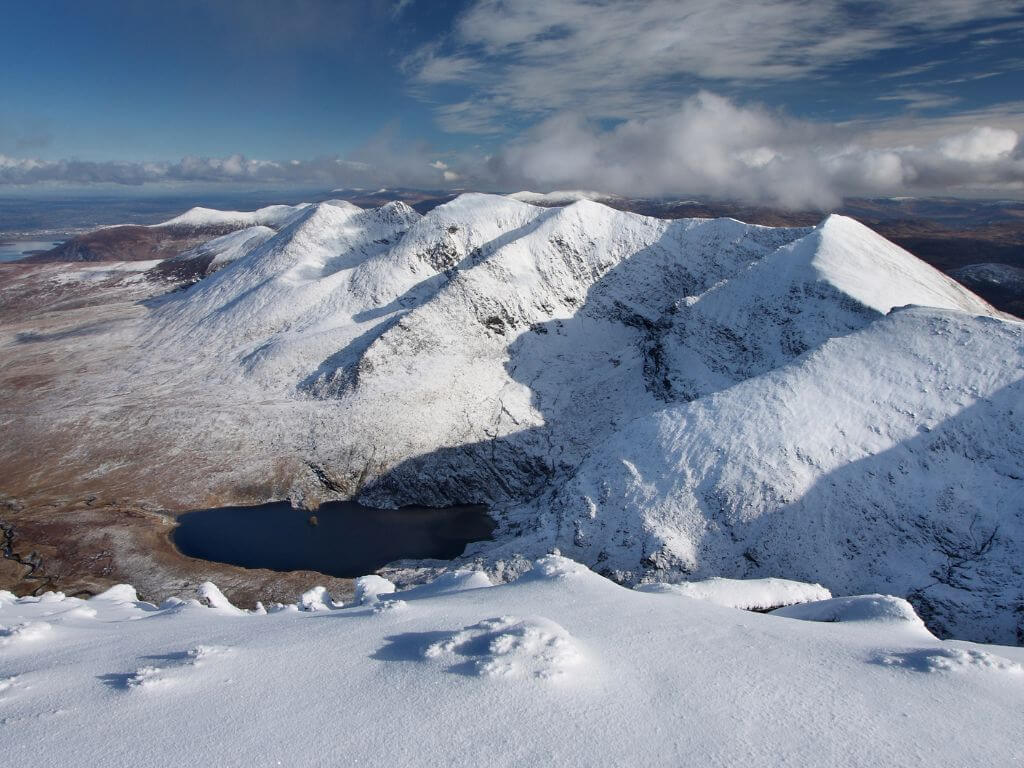 Things to do in Ireland in January
If you are wondering what to do in Ireland in January, then this section is for you. With the changeable weather, you need to have a backup plan if you are considering outdoor pursuits.
While you should always go dressed for the unexpected, sometimes the rain can put a serious dampener on your day, and you just want to hide away indoors. With that in mind, here are some ideas for what to do in Ireland in January.
Enjoy the pubs
When the weather turns grey and miserable and you cannot face going out, you can always find a cosy pub and enjoy the warm and friendly atmosphere. Grab a book or newspaper before you go in and by all means, order a tea or coffee and just sit back and relax.
You don't have to drink alcohol, and you never know, you might strike up a conversation with a local who might astound you or impart some local knowledge that might lead you to somewhere amazing the next day.
Many pubs in Ireland serve food, so you can enjoy some Irish cuisine while soaking up the atmosphere. And if you stay late, you might also catch some live music! Just ask the barman before you enter if they are serving food if you are looking to have a meal. Some pubs outside of Dublin may not have the kitchen open during January.
For ideas on where to go in the capital, read my post about the best non-tourist pubs in Dublin.
Road trip the country
Another way to enjoy the country while keeping warm and dry is by embarking on a road trip. While damp, wet days may make you think twice, so long as there is no mist or fog, you can still see a lot of the country from the comforts of a car.
You could choose to road trip along some of the Wild Atlantic Way (see my 5-day Wild Atlantic Day itinerary for ideas), or you could simply decide to head out and see where the road takes you.
One word of warning though. Stick to the main roads as much as you can. Smaller, country roads can be slippery, have flooding in parts if it is hammering down, and locals often use the backroads for shortcuts and travel along them too fast for the weather conditions in my opinion.
Immerse yourself in history
Ireland is a country steeped in history, so whether you choose to explore historical landmarks in Ireland, or find out more by visiting certain historical sites and museums, there is plenty to quench your thirst for history.
From castles (see below) to historical sites such as the Rock of Cashel and Glendalough, history can be found around every corner of Ireland. And the beauty of visiting them in January is there will be far fewer crowds and tour buses than at any other time of the year.
Some historical sites are outdoors so would require a drier day to visit, but places such as Kilmainham Gaol, Kilkenny Castle, and St Patrick's and Christ Church Cathedrals in Dublin are mostly indoor attractions where you can immerse yourself in Irish history without getting wet.
Seek out museums
Museums are a great place to visit in January, especially if the weather is rather unpleasant outside. Each major city has a museum and there are others dotted around the country that are very interesting.
Many museums in Dublin do not have an entry fee, so if you are trying to keep costs down and are trying to travel Ireland on a budget, the many free Dublin museums are ideal places to visit.
Many historical sites also have museums as part of them, including Kilmainham Gaol which has a large museum and exhibition dedicated to the history of the museum, some of its former inmates, and the 1916 Easter Rising and subsequent Irish Civil War.
Find indoor attractions for shelter and warmth
If it is truly awful outside, then indoor attractions can provide entertainment while staying warm and dry. As already mentioned, Kilmainham Gaol is a mostly indoor attraction (the yards are outdoors) and it also has a large museum which you visit after your guided tour.
Another great indoor attraction to visit in Ireland in January is the Waterford Crystal factory and store in Waterford City. The tours guide visitors through the crystal-making process and gives an insight into the history of the famous crystal maker.
And if you are heading north, then Titanic Belfast is the ideal indoor attraction to visit. Dedicated to the history of the famous ship and the shipyards that built her, the Titanic Experience is a self-guided tour across nine interactive displays and is suitable for both adults and children alike.
Other indoor places to visit include:
The Book of Kells
Chester Beatty Library
Guinness Storehouse
Cork's English Market
EPIC Irish Emigration Museum
Visit a distillery
There are many great distilleries in Ireland to visit and all have guided tours of the distillery which introduce you to the history of the distillery/brand, process, and the drinks produced on site. All of them are great indoor places to visit and can be rather interesting.
Just a word of warning, ensure there is a designated driver in your party. The distillery tour often includes sample tasting after the tour, so ensure there is at least one sober person among you. Some will allow visitors to take away the samples to taste later if they are designated driver. Ask your tour guide if this is offered.
Tour the castles (if the weather permits)
If you have a sunny, bright day ahead of you, then touring any of the castles of Ireland is a great way to spend a day in January in Ireland.
Kilkenny Castle is popular and quite a large castle, with both guided and self-guided tours of the castle itself, an indoor tearoom, and lots of parklands and gardens to explore while the weather remains dry.
Blarney Castle is another popular place to visit in Ireland. However, be warned that only certain parts of the castle and the stables are indoors. But, if you have a dry day, the grounds of Blarney Castle are a stunning place to spend several hours. With a fern garden, poison garden, rose garden, two waterfalls, and more, these gardens are a must-see if you are visiting this castle in County Cork.
Johnstown Castle is another great castle in Ireland to visit. There are guided tours of the castle available, but they must be pre-booked. The grounds are also home to the Irish Agricultural Museum and the gardens are extensive with several walking trails around the castle and lake. If you are looking for things to do in County Wexford, head to Johnstown Castle, but pre-book your guided tour to avoid disappointment.
Indulge in some afternoon tea
Another great way to while away a day in Ireland is to book yourself somewhere to enjoy afternoon tea. This fun afternoon activity is growing in popularity with many hotels offering afternoon tea for both guests and visitors.
There are plenty of places to enjoy afternoon tea in Galway, and afternoon tea in Cork is also popular. Wherever you are in the country, you are bound to find somewhere nearby to enjoy indulging in some finger sandwiches, savory pastries, and delicious desserts with tea and coffee.
And the added bonus is that this activity is indoors and can double up as dinner if you book it late enough!
See the Northern Lights
If you are visiting Ireland in January and are staying in the northern half of the country such as County Donegal, County Leitrim, or County Antrim, then you might be lucky enough to see the Northern Lights.
It is not often this amazing spectacle works its way far enough south but on occasion, Ireland enjoys a delightful display from the Aurora Borealis.
If you are hoping to see the Northern Lights, download an Aurora app onto your phone and keep an eye out for the activity during your visit. If the app suggests you might see them, head to somewhere with as little light pollution as possible and search the night sky. You might become one of the lucky few to see the Aurora Borealis over Ireland.
Stay in a castle hotel
What better way to have a magical stay in Ireland than to find a castle hotel in Ireland to stay in. There are quite a number of castles where you can spend the night and during January you might find some great deals on castle hotel accommodation.
Check out my list of some of the top castle hotels in Ireland and keep an eye on their websites for January deals that may include accommodation, meals, and even spa treatments.
Events during January in Ireland
While exploring Ireland in January, you might be interested in finding an event to attend. Here are some ideas.
Tradfest
Tradfest is an annual festival in Ireland that takes place every January in Temple Bar in Dublin. Originally a small, niche festival, Tradfest has grown to become one of the biggest Celtic Music festivals. Taking place in both Temple Bar and other venues around Dublin, it showcases the best of both Irish and international traditional and folk artists. Find more information here.
Banjo and Bovril Festival
This small festival held in Bray, County Wicklow is an annual Trad and Folk Music Festival where traditional and folk music is enjoyed over a hot cup of Bovril. For more information, click here.
Travel tips for Ireland in January
What to pack to wear in Ireland in January
With average temperatures of 7-8˚C (44-46F), it is best to pack for changeable, winter weather. January is the heart of winter for Ireland and winds can be biting, particularly in the west of Ireland.
Here is what to pack to wear in Ireland in January to help you plan accordingly.
Layers – You are going to need warm layers when visiting the Emerald Isle in January. Outdoors you are likely to feel the cold unless you live in the Arctic Circle, and indoors in the likes of museums, shops, and cafés you are likely to feel warmer thanks to heating. So, pack layers that are easy to carry in your day bag and that you can put on and take off as required. If you are prone to feeling the cold or come from a hot climate, consider packing some base layers as well. We've even used them during a cold St Patrick's Day in Ireland.
Coats – You should plan to bring a winter coat with you that is both waterproof and warm. You don't need to go as far as bringing snow or ski wear, but a good waterproof, warm winter coat is a must. If your winter coat isn't waterproof, you can always bring a lightweight, waterproof rain jacket to put on over your coat and/or layers.
Winter woollies – You won't go wrong with packing a few winter woollies, including a hat and a set of gloves. Alternatively, pack some lightweight but warm fleece tops and buy an Aran jumper as your Irish souvenir. Buy it early on during your trip and wear it when you are exploring and sightseeing to keep nice and warm.
Waterproofs – As already mentioned, you are going to need a waterproof jacket but you might also want to pack a pair of waterproof over-trousers. These can be handy for popping on at a moment's notice if you are outdoors and the heavens open. They usually pack small and can be popped into your day bag. Also, remember to ensure your shoes or boots are waterproof if you are going to be outdoors during changeable weather. No one likes wet feet!
Practical tips for Ireland in January
In this section, you will find some practical tips for Ireland in January.
1 – Plan your days according to the weather and daylight hours. With an average of just 7.5 hours of daylight, the days are short, and you need to plan accordingly. If you are exploring outside, ensure you leave plenty of time to explore during the lighter hours by using the darker hours as travel time. Just take care if driving in the dark on smaller roads.
2 – As mentioned already, prepare to pack for all weather. Rain, wind, and cold are the biggest weather factors to consider when heading to the Emerald Isle at the start of the year. Layers, warm clothes, and waterproofs are a must, as well as comfortable, waterproof footwear.
3 – Prepare for cold nights with scarves, hats, and gloves if you will be out and about. Pack a small travel umbrella to use between pubs or restaurants and your hotel or accommodation.
4 – Dress in layers that are easily removed/replaced. The sun rarely shows its face with an average of 24 days of rain in January, but you never know.
5 – Make the most of cosy pubs and indoor attractions. And always have a contingency plan if the weather turns horrible.
6 – Check this list for more travel tips for Ireland which is especially helpful for first time visitors to the Emerald Isle.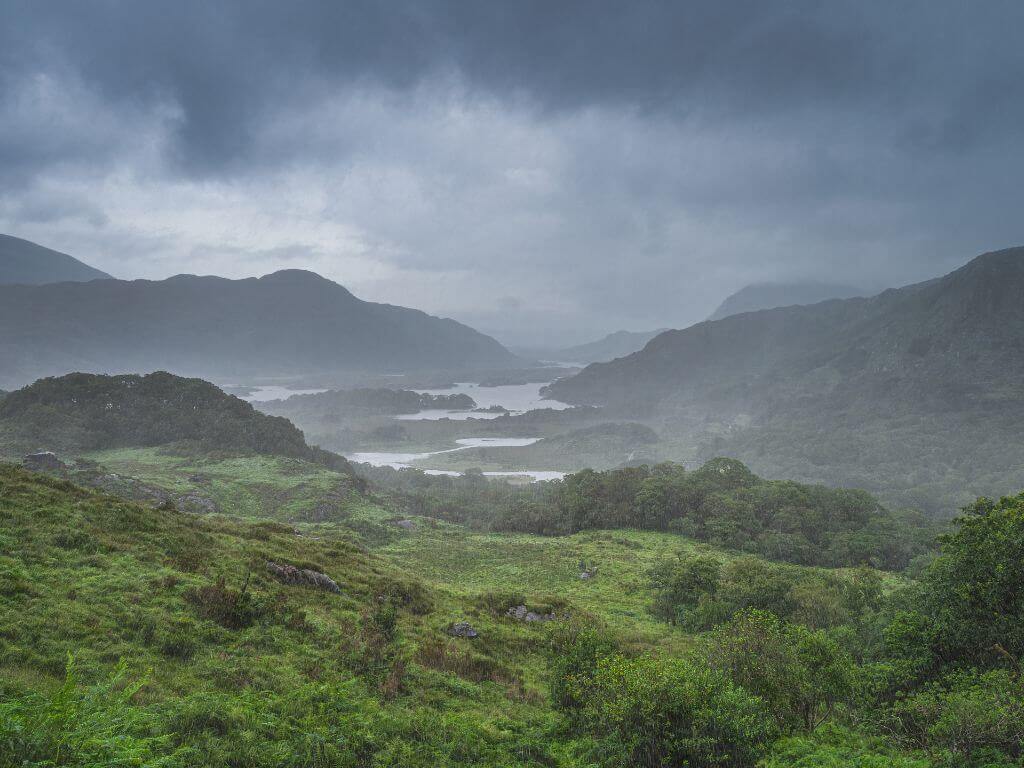 Frequently asked questions about visiting Ireland in January
I hope this post has helped answer all your questions about visiting Ireland in January. From what the weather will be like, to what to do, where to visit, and what to pack. January is a great month to visit Ireland and, so long as you go prepared, you'll have an amazing time.
Read more about planning a visit to Ireland:
Visiting Ireland in December