If you are planning a trip to the Emerald Isle and are wondering whether visiting Ireland in February is a good idea, then you are in the right place to find out. While many people avoid visiting Ireland in the winter, February can be a great time to go for various reasons that you will discover right here.
February in Ireland can be a quieter affair than the busy summer months, and while yes, it is cold and mostly wet, there are still a lot of things you can enjoy during this month.
In this article, you will discover the best things to do in Ireland in February, while also learning what the weather in Ireland in February is like so you can pack and plan accordingly.
So, lets take a look at why traveling to Ireland in February can be a great time to go, what you can see and do during this month and also some practical tips to get you ready for your trip.
*This post contains affiliate links, which may include Amazon affiliate links. To read more about affiliate links, please visit my Disclosure Policy page.
All you need to know about February in Ireland
Weather in Ireland in February
You may be wondering "what the weather is like in Ireland in February?". If you are planning to visit Ireland in February, weather will play a big factor in your planning and preparation as it is a cold, wet month.
During February, it is cold, and often wet and it may also snow in Ireland during this month. Storms can bring wind with them as well.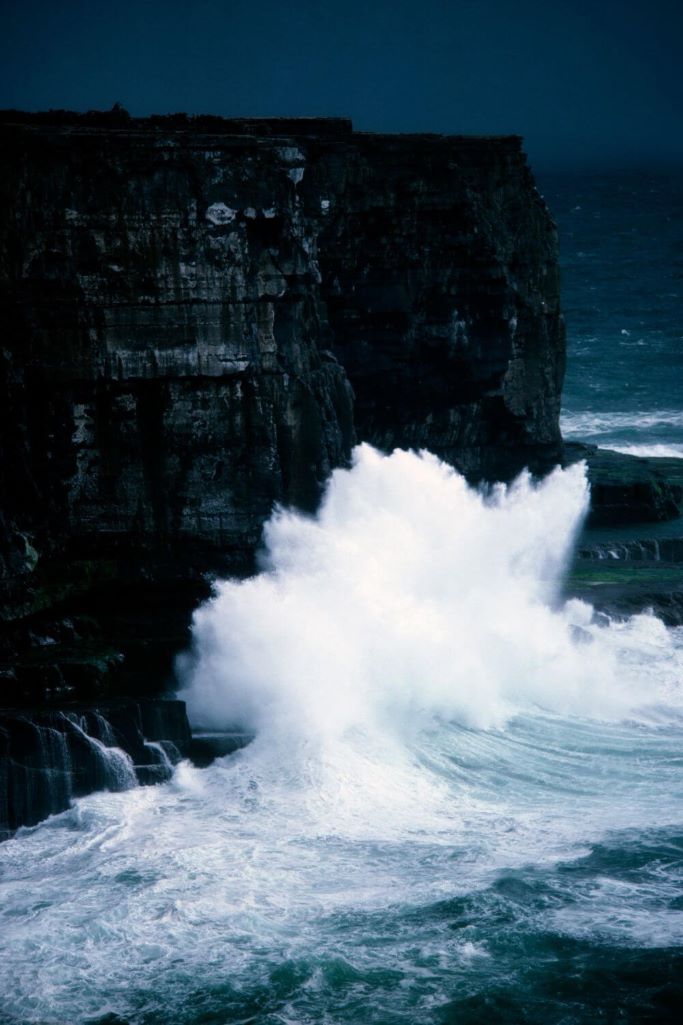 Temperatures are not too dissimilar to January in Ireland, with daytime temperatures of around 7˚C/45F and 3˚C/37F by night.
The average temperature in Dublin in February during the day is 8˚C/46F and 2-3˚C/35-37F by night, with an average of 10 days of rain.
Rainfall can be slightly lower than the previous month, but you should always go prepared for rain when visiting the Emerald Isle. It's not green for no reason!
February in Ireland has slightly longer days than January with an average of 9 hours of daylight, compared to 7.5 hours the previous month.
Weather-wise, this might not be the best time to visit Ireland, but don't let that put you off.
Costs and crowds during February in Ireland
Traveling to Ireland in February can be a budget-friendly option compared to the peak summer months. Apart from Valentine's Day on the 14th of February, visitors to Ireland can enjoy lower prices for flights and accommodation.
Options for accommodation outside of Valentine's Day are usually plentiful and there can be some great deals to be had if you know where to look. Start your accommodation search here.
If you are trying to visit Ireland on a budget and are looking to keep costs down, then this time of year can be a great way to do just that.
With regards to crowds, there are usually only two busy times in Ireland during February; Valentine's Day and any weekend when Ireland is at home during the Six Nations Rugby Championship (see further below in events during February).
Outside of these two times, February is a quiet month in Ireland with regard to crowds and tourists, making it a great time to be on the island if you are looking to avoid too many people.
Few visitor attractions close during this month and most of the best places to visit in Ireland such as Glendalough, the Giant's Causeway, and the Cliffs of Moher will be much quieter and more enjoyable affairs than in June to August.
If you are hiring a car to explore Ireland, the cost of this will be much more affordable than in peak months, with more stock available. Parking at popular Irish landmarks should also be much easier.
Just note that opening hours at the top tourist sites will be shorter than during the summer months, so check ahead and plan accordingly.
Places to visit in Ireland in February
When people are planning to visit Ireland in February, one of the questions I get asked all the time is where to go during February in Ireland.
And while you can visit any part of Ireland during this month of the year, some parts of the island will be wetter and colder than other parts. The West Coast of Ireland can be battered by Atlantic storms, making it a less pleasant part of the country to visit.
Dublin
One of the best places in Ireland to visit during February is the capital city.
Dublin gets slightly warmer temperatures than the rest of the country during this month, as well as slightly less rain, with an average of 10 days of rainfall and 50mm, compared to 98mm and 13 days for Cork.
Less rain and slightly warmer temperatures make Dublin a great place in Ireland to visit in February.
Be warned, that hotels and restaurants may have slightly higher prices around Valentine's Day and may be busy. Outside of this day, you should have plenty of options available to you.
And with all of the top Dublin tourist attractions remaining open, you have a host of things to see and do in Dublin in February.
If you are looking to spend a few days in Dublin in February, I highly recommend you check out my 3-day Dublin itinerary for ideas on how to get the most out of your time in the city.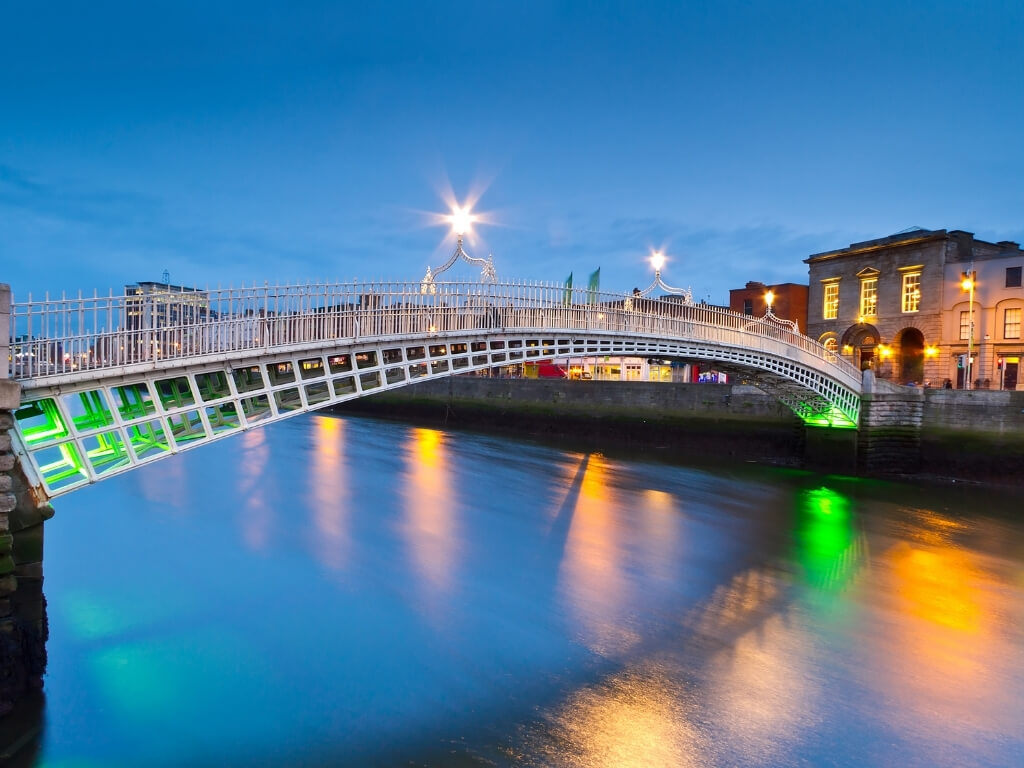 Ireland's Ancient East
Ireland's Ancient East is the Eastern half of the country that runs from counties Louth and Monaghan in the north, to Wexford, Waterford, and Cork in the south, as far west as part of County Offaly.
Being within the Eastern region of the country, it is most likely to be drier and in some cases, less windy, than places along the West Coast of Ireland.
Within this region, you will find some of the most famous and historical landmarks in Ireland including Glendalough, Clonmacnoise (pictured), and the Brú na Bóinne Valley monuments of Newgrange, Knowth and Dowth.
I have a great 7-day Ireland itinerary for Ireland's Ancient East that covers the most important landmarks in this region to help you to start planning your visit.
The region and its sites have their own dedicated sign or logo to help you know you are in the right place. All of the sites have one such as the one pictured below.

Another thing to consider when visiting Ireland's Ancient East is the Heritage Card. Available online from the Office of Public Works (OPW), this card gives free entry to all the paying OPW sites and is valid for a year.
Visiting a few OPW sites using this card will cover its initial cost and if you are planning a return trip to Ireland within a year, and are going to be visiting more OPW sites, this card is a must. We, as a family, have one.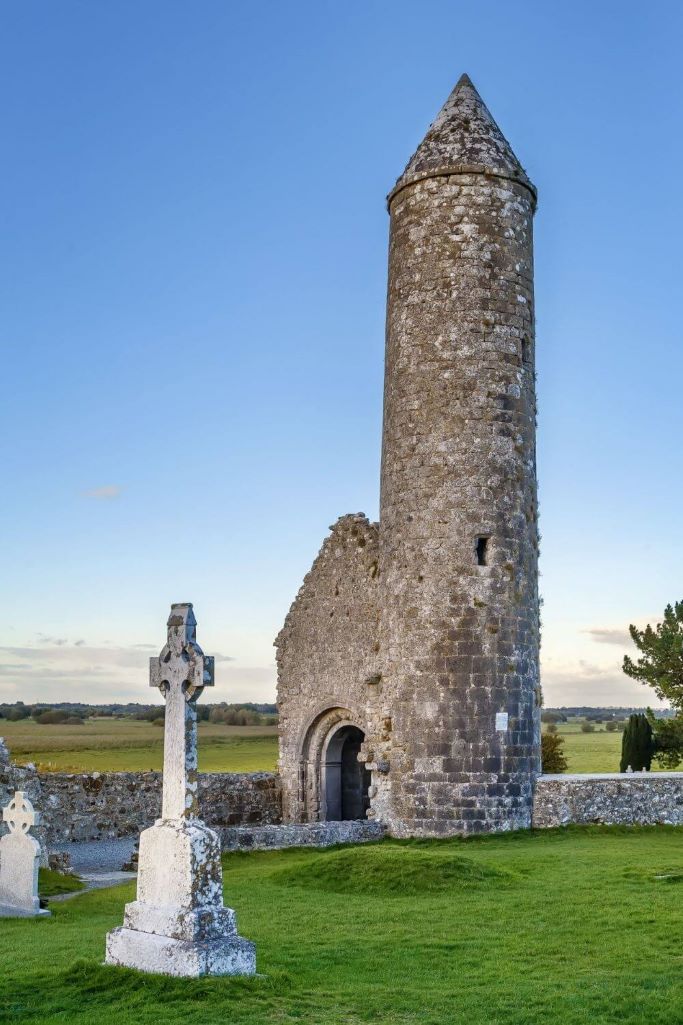 Northern Ireland
Another great part of the Emerald Isle to head to in February is Northern Ireland. While some of the far north coast might be wet and windy, Belfast can offer visitors a lot to see and do.
From the amazing Titanic Quarter to the Botanic Gardens, Belfast is a great choice as a destination for this month. You can tour the city in a black cab, wander the city centre and marvel at City Hall, or immerse yourself in the Titanic story.
And, you can use it as a base to do day trips from Belfast to places such as the Giant's Causeway (weather-permitting), the Game of Thrones locations, and even Dublin (easily visited by tour or on the train).
Things to do in Ireland in February
If you have been wondering what is there to do in Ireland in February, then this is the section for you. While you can plan outdoor activities and pursuits, you should always have a Plan B, as this month is still winter in Ireland and comes with the associated weather.
Explore city museums
When it comes to what to do in Ireland in February, you can't go wrong with planning some museum visits.
Most towns and all the big cities in Ireland have museums covering a range of subjects from art to history and more.
If you are going to be visiting Dublin, Ireland in February, you might be interested to know that there are free Dublin museums, ideal if you are trying to keep your costs down. These include the National Museums of Ireland, the Natural History Museum and the National Gallery of Ireland.
Visit some of Ireland's castles
In almost every corner of the country, you will find a castle. From ruins to opulent castles and some which still have residents, Ireland is awash with castles.
Some castles are more of an outdoor affair, such as Cahir, Bunratty, and Lismore Castle, so visiting a castle visit in Ireland needs some planning (and weather-watching).
Castles such as Kilkenny Castle, Dublin Castle, and Malahide Castle (pictured) offer a more indoor experience which is great if the weather is rubbish outside.
Blarney Castle is one of the most visited castles in Ireland as many flock to kiss the Blarney Stone. But with the stone being on the top floor and the extensive and beautiful gardens being outdoors, this is probably not one to visit while it is raining.
Kilkenny Castle, as mentioned, offers visitors a more indoor venue as you can tour the inside of the castle while sheltering from any rain outside. There is the option to do both guided and self-guided tours of the castle.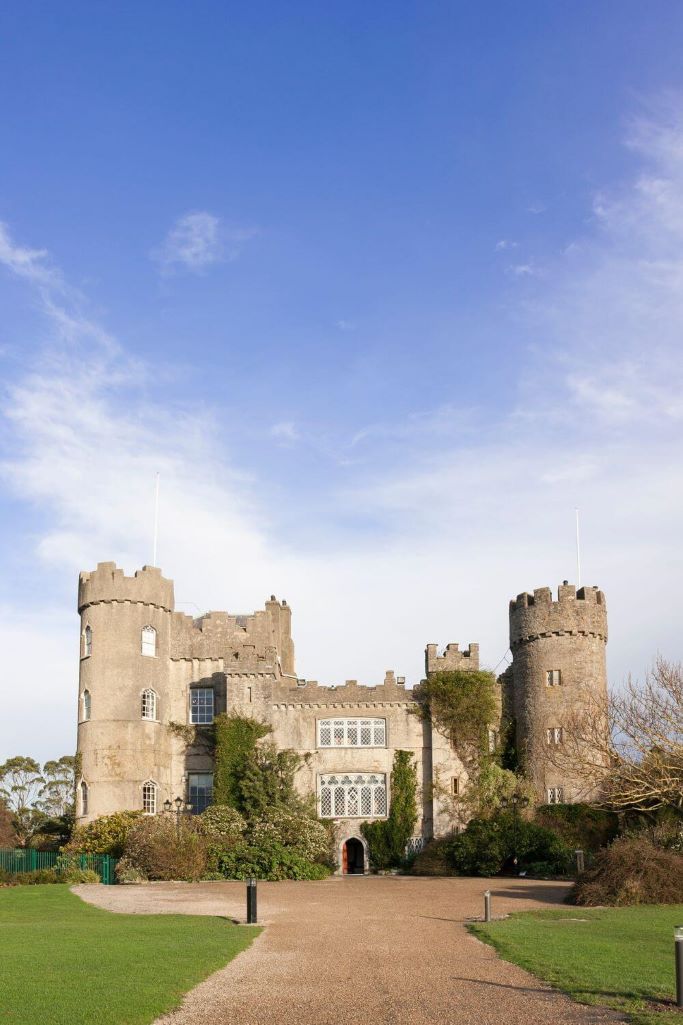 Enjoy walks in one of the National Parks
Did you know that there are six National Parks in Ireland, and all are located within the Republic of Ireland?
But, as walks and hikes are outdoor activities, these should be planned for the driest day or done on a whim.
You should also be aware that it sometimes snows in Ireland during February and the peaks of mountains will often have a covering. This might make certain areas of the National Parks inaccessible or dangerous to visit such as the Wicklow Mountains National Park.
Weather-permitting, low-lying sections of the Killarney National Park, Connemara National Park, and the Burren National Park would be best to visit during this month.
Discover more about these in my post about the National Parks of Ireland.
And during the month of February, if you are enjoying walks, whether it be in a National Park or somewhere else, watch out for snowdrops. Snowdrops in Ireland typically bloom between January and March, with them normally being at their best in February.
Enjoy the cosy pubs
Dublin, Kilkenny, and Galway are the top cities that spring to mind when anyone asks me about where to go to find cosy pubs to enjoy in Ireland on a cold or rainy day in Ireland.
Kilkenny pubs offer visitors the best chance to stumble upon a traditional Irish music session, a perfect option after a visit to the castle.
Galway City Centre is awash with cosy pubs, most of which will serve lunch or dinner, giving you a chance to shelter while filling your bellies and trying some Irish food dishes.
And as expected, you are spoiled for choice in Dublin. Whether you want to visit Temple Bar and immerse yourself in the pub scene there, or prefer to find a non-touristy pub in Dublin, somewhere that the locals might frequent, you won't be short of ideas in Dublin.
Enjoy an overnight stay in a castle
There are lots of great castle hotels in Ireland where you can stay overnight and pretend you are a prince or princess.
They span the length and breadth of the country and aside from Valentine's Day, you might be lucky enough to bag a great deal on a castle hotel stay during February.
Check out my list of the top castle hotels in Ireland and indulge in a little bit of luxury during your visit to the Emerald Isle.
Many come with spas, and top-notch restaurants and all will be tastefully decorated to make it an unforgettable stay.
Seek out indoor attractions
While you can chance outdoor activities and sites to see during February, indoor tourist sites offer visitors the best chance of staying warm and dry.
One of the best museums in Dublin to visit is the EPIC, The Irish Emigration Museum. Located in the rejuvenated Dublin Docklands, this museum is a must-visit in Dublin (pictured below).
Through interactive and immersive exhibitions, visitors learn about the people who left Ireland throughout the ages, the reasons why they left, and the huge impact they have had throughout the world.
This museum is a fully indoor attraction, and you will easily spend a few hours there as you move from exhibition to exhibition. Book your tickets here.
If you've chosen to head south and are going to be visiting Cork, then Cork's English Market is an option if you need to find shelter from wet Irish weather.
This iconic market has been trading since the late 18th century and is one of Europe's oldest covered markets.
The building is architecturally important and within it, you will find many food stalls selling fresh fruit and vegetable, local produce, and more.
And finally, another great indoor attraction to visit in Dublin should the weather turn nasty outside is the Guinness Storehouse.
Set across seven floors of exhibitions, visitors can learn about both the brand and the brewing process of one of Ireland's most famous drinks, before enjoying a pint of the 'black stuff' on the eighth floor which is a 360-degree panoramic bar.
Combine a visit to the Guinness Storehouse with one to the Jameson Distillery with this tour on Viator.
Immerse yourself in history
As well as sites across Ireland's Ancient East as already mentioned, there are lots of other places to immerse yourself in history.
In Dublin, Kilmainham Gaol is a must in my opinion. This historical jail has a long history and has had some interesting and important former inmates.
You can only visit Kilmainham Gaol by guided tour which lasts approximately 1 hour, during which time your guide will introduce you to the building and its history.
Afterward there is a chance to visit the museum. Do not miss this and allow more than an hour for this part alone as there is a lot to read. That's if you are interested in Irish history.
There is one part of the site that is outdoors, but the rest is indoors.
Museums, as mentioned already, are another great way to learn about the history of Ireland, its people, and all it has gone through. Even places such as the Hook Head Lighthouse introduce you to pivotal moments in Ireland's history.
You don't always need to visit dedicated museums, and most castles will have some way of imparting their history through guided or self-guided tours, or small museums or exhibitions.
Ireland has a long history and it can be easy to immerse yourself in it. And the plus side is most museums and exhibitions are indoors!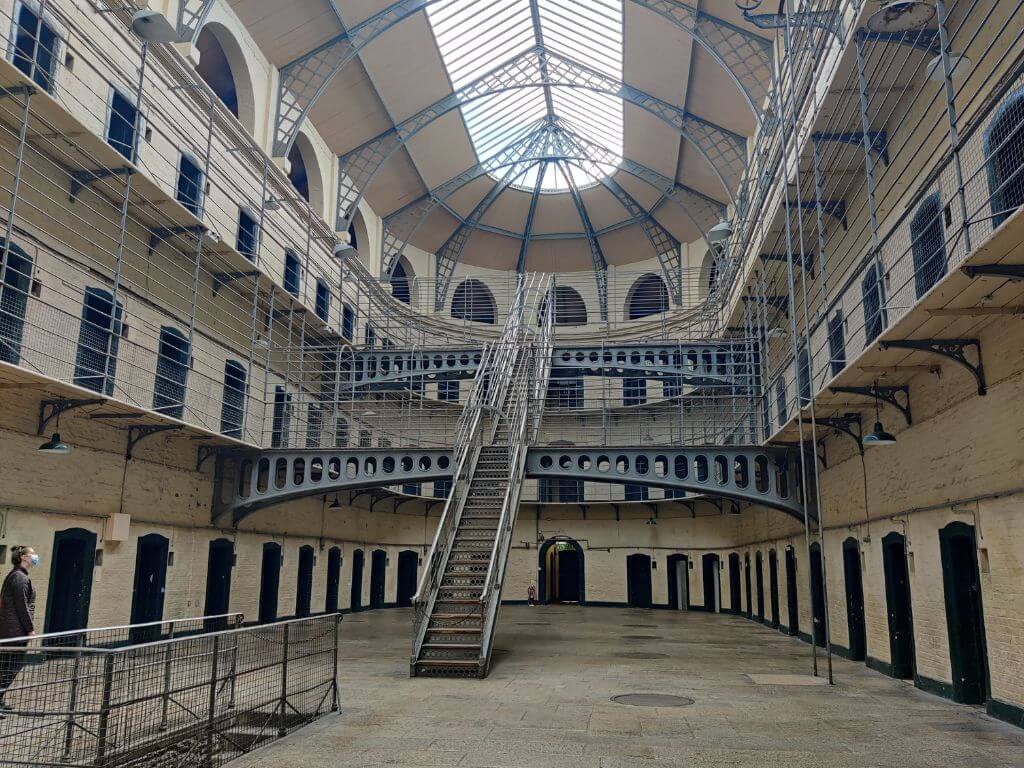 Events during February in Ireland
Aside from the obvious event that takes place during this month, you'll be pleasantly surprised to discover that there are a few different events and festivals that take place during February in Ireland.
Dublin International Film Festival
The Dublin International Film Festival takes place in the capital, typically over 10 days before and after the last weekend in February.
Screenings of films take place in various venues across the city, with some famous stars, both local and international in attendance. Various awards are up for grabs including Best Film, Best Actress/Actor, and more in the Dublin Film Critics' Circle Awards.
If you are a film fan and are going to be visiting Ireland in February, then why not book some tickets for one of the many special screenings taking place during the festival. Find more information here.
Six Nations Rugby Championship
The Six Nations Rugby Championship is an annual rugby championship that is typically played between the months of February and March. The six nations of Ireland, England, Scotland, Wales, France, and Italy compete for the title of champions.
This year, Ireland is away to Wales in the opening match of the championship on the 4th of February. However, on Saturday 11th of February, Ireland hosts France in what is always a big match in the Championship.
Whether Ireland is home or away, most pubs across the country will be busy during the matches. That said, Dublin is busy during home-match days during the Six Nations, and you can expect lots of rugby fans in most pubs across the city, with the area around Lansdowne Road being the busiest before and after the match.
These days are a great time to enjoy a pint while watching the match in anticipation of a try. Get a pint in and get in the spirits with the locals. COYBIG – Come on you boys in green!
If you want to know more about the Six Nations and fixtures, click here.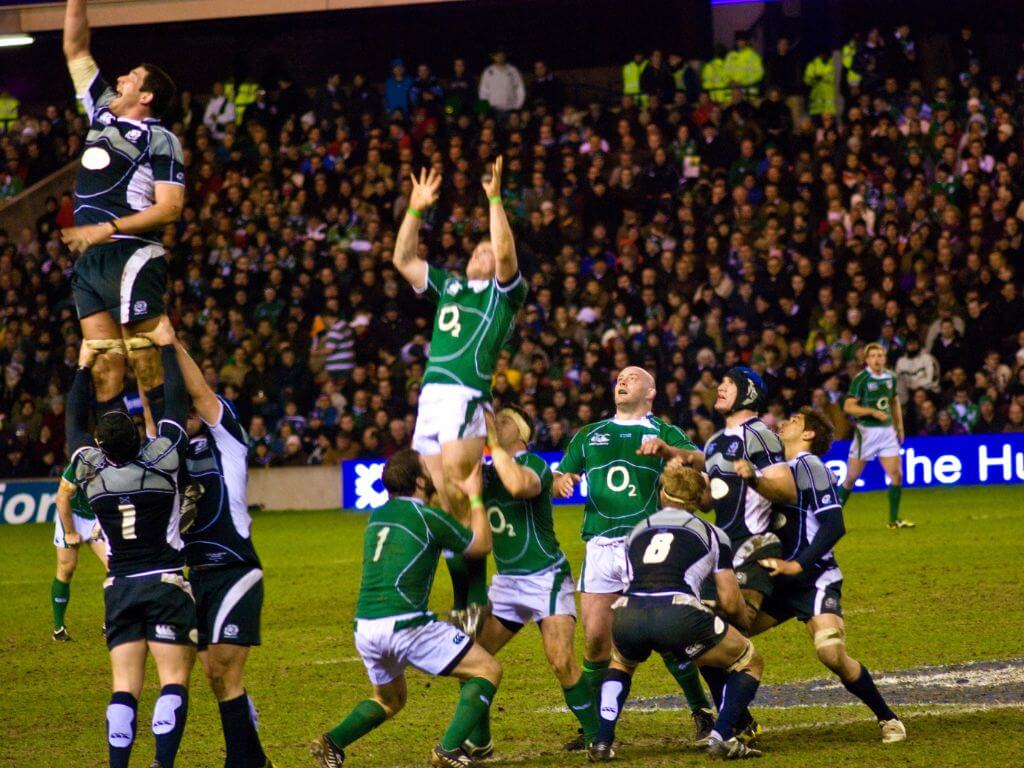 Tedfest
Tedfest is a festival dedicated to the TV Show Father Ted.
The TV Show about priests on the fictional island of Craggy Island and looked after by Mrs Doyle, the festival is a chance for fans to enjoy memories of the TV show.
The festival is held on Inishmore off the coast of Galway and has been taking place since 2007. For more information or to book your tickets, click here. And if you have never seen the show, discover it here on Youtube.
Note: In 2023, Tedfest will take place during the first weekend of March.
Imbolc or St Brigid's Day
February 1st is St Brigid's Day, or Imbolc, in Ireland, and for the first time this year, it will have a dedicated public or bank holiday associated with it, occurring on the first Monday of February (unless February 1st is a Friday, in which case the bank holiday will fall on that day).
This Gaelic traditional festival marks the beginning of spring and is also the Christian feast day of St Brigid, Ireland's patroness saint.
Some towns and cities may have events on to celebrate the bank holiday, so keep an eye out for any advertisements, or ask reception at your accommodation if anything is happening locally.
Travel tips for Ireland in February
What to pack to wear in Ireland in February
February is still winter in Ireland and you should ensure you pack accordingly for cold, wet, and potentially windy weather. Whether you are visiting the East or West Coast of Ireland, being prepared is a must.
Here are the essentials you should pack for visiting Ireland in February.
Winter coats – With average temperatures lying around 7-8C during the day, a winter coat is a must for spending time in February in Ireland. Ensure your coats are warm, wind-proof and ideally waterproof as well.
Waterproofs – If your winter coat is not waterproof, ensure you pack a lightweight waterproof jacket that will fit over your layers and coat to keep you dry when the heavens open. Start your search for a waterproof jacket here on Amazon.
Layers – You should go prepared with layers to ensure you keep warm during the cold months of February in Ireland. Pack layers that are easy to put on and take off as you will find venues indoors much warmer than outdoors. Ensure they are easy to carry in your day bag.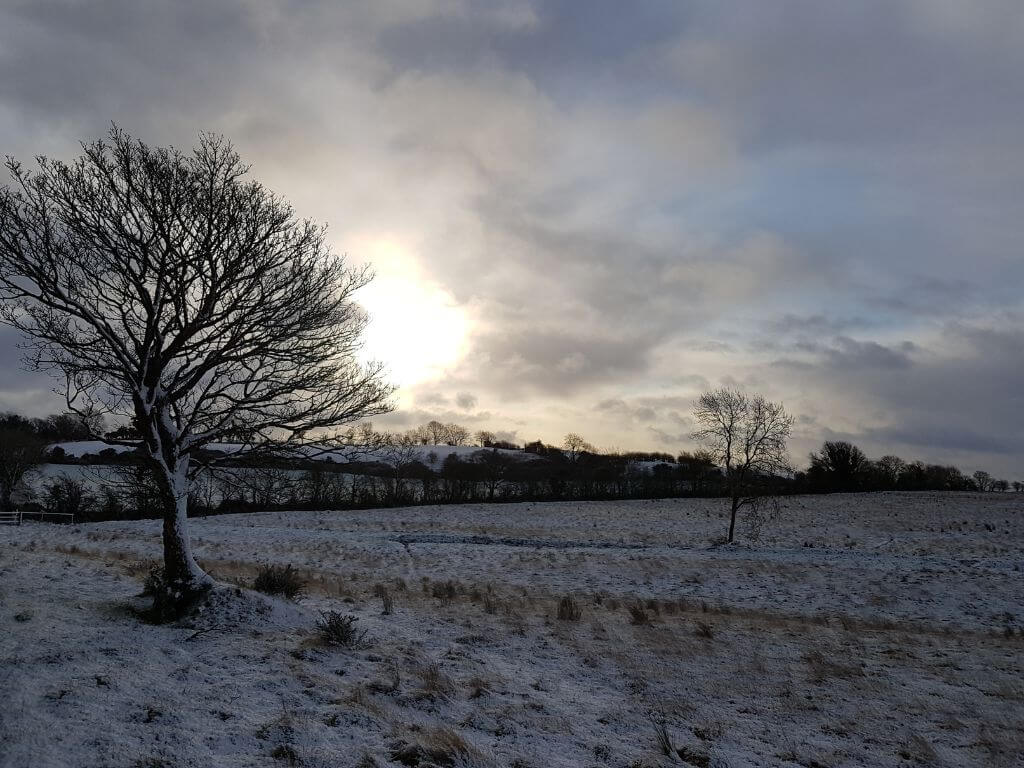 Winter woollies – Remember to pack hats, gloves, and scarves to help keep you warm outside. Mornings and evenings can be particularly chilly during February. And if you are looking for a great Irish souvenir, save space for buying an Aran jumper while you are on the Emerald Isle.
Practical tips for Ireland in February
In this section, you will find some practical tips for Ireland in February.
1 – As it is still winter in February in Ireland, you will need to plan your days to maximise the daylight hours available. February has an average of 9 hours of daylight, so while it is more than January, it is still a lot less than during the summer months. Set out early, drive during the darker morning light, and plan to arrive as proper daylight hours arrive.
2 – Be careful driving westwards during sunset. The glare from the sun during sunset can be blinding to a driver, especially if the roads are wet and are reflecting the glare. A set of sunglasses would not go astray in your bag if only for times like this.
3 – Ask reception at your accommodation or your host for recommendations for local events to attend. These can be a great way to connect with the locals and enjoy an event that you might otherwise have missed.
4 – You could opt to join a guided tour during this month as they are often much quieter than during peak months. Whether you fancy a walking tour of Dublin or a boat tour of the Cliffs of Moher, February can be a great time to join guided tours in Ireland.
5 – Pack your winter woollies. February in Ireland is cold unless you are from the Arctic Circle, so make sure you have plenty of layers to help keep you warm.
6 – Remember a nice outfit if you are planning a special Valentine's Day meal. It's a great excuse to dress up while you are on holiday.
7 – Check this list for more travel tips for Ireland which is especially helpful for first-time visitors to the Emerald Isle.
Frequently asked questions about visiting Ireland in February
I hope this post has helped answer all your questions about visiting Ireland in February. I've tried to cover most topics including what the weather will be like, what to do, where to visit, and what to pack. February is a great month to visit Ireland and, so long as you go prepared, you'll have an amazing time.
Read more guides to visiting Ireland: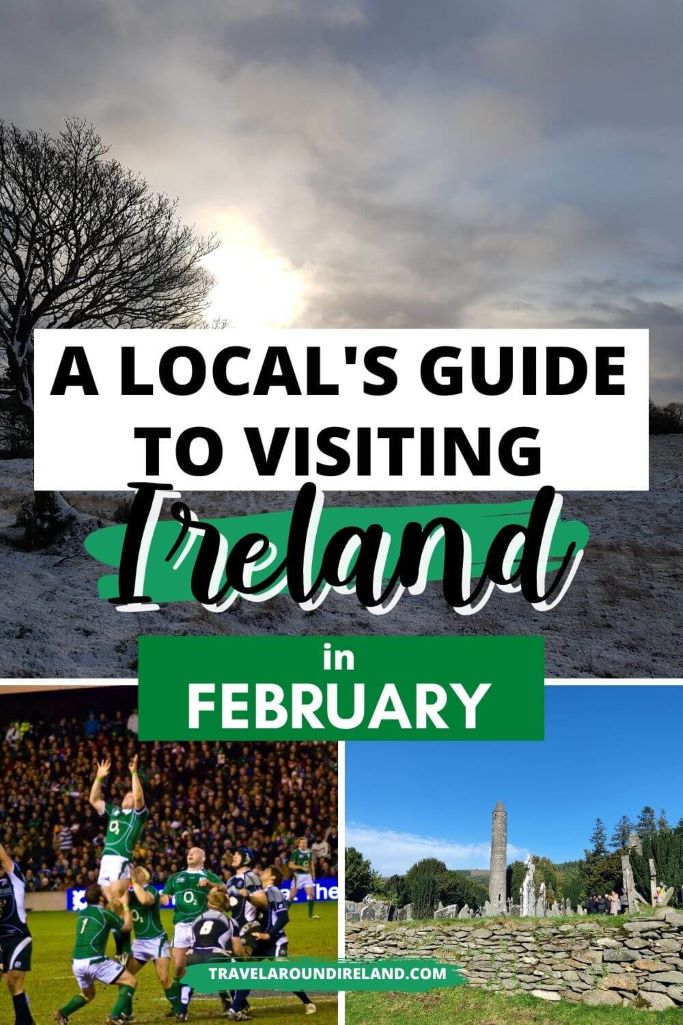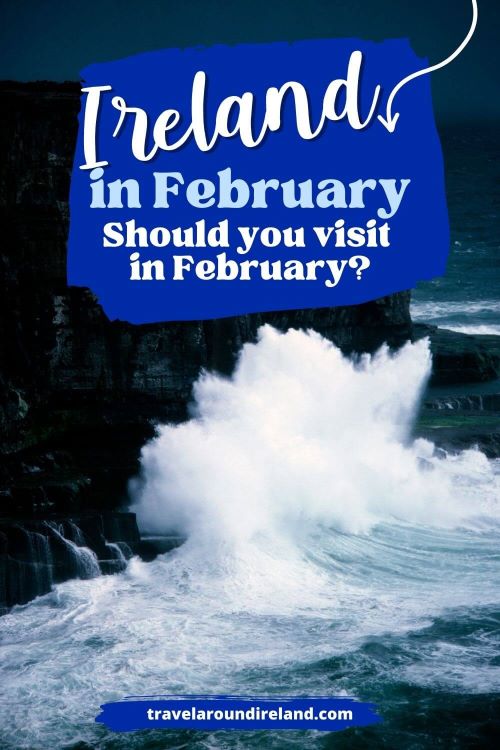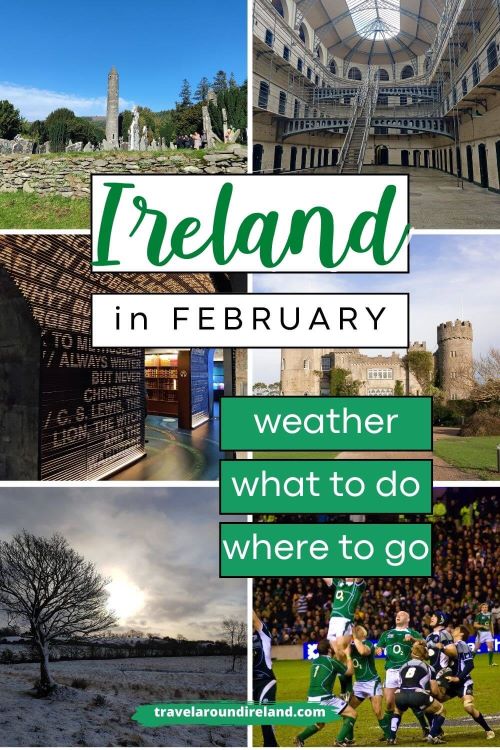 Travel Around Ireland is a participant in the Amazon Services LLC Associates Program, an affiliate advertising program designed to provide a means for sites to earn advertising fees by advertising and linking to amazon.com, amazon.co.uk, amazon.ca. Amazon and the Amazon logo are trademarks of Amazon.com, Inc. or its affiliates. To learn more about affiliate links, read my Disclosure Policy here.