Want to know what are the best natural landmarks in Ireland to visit? Discover the top 10 right here!
Famous landmarks in Ireland include both natural and man-made ones. While the man-made ones are famous for different reasons, it is the natural ones that will take your breath away. Here is our pick of the best natural landmarks in Ireland you simply have to see with your own eyes.
Top 10 natural landmarks in Ireland
There are lots of famous landmarks in Ireland, some natural and some man-made, but the natural ones, in my opinion, are always more striking and interesting. Mother nature has created, carved or forged these wonders over millennia, with many of them being millions and millions of years old.
All of these natural landmarks are worthy of being on any bucket list for Ireland, so let's take a look at the top 10 so you can add them to your next itinerary for Ireland.
Giant's Causeway, Antrim
When it comes to Northern Ireland landmarks, there is one that stands out more than the rest. With its intriguing hexagonal rocks, formed due to volcanic fissure eruptions millions of years ago, the Giant's Causeway in County Antrim is one of the most famous landmarks in Northern Ireland.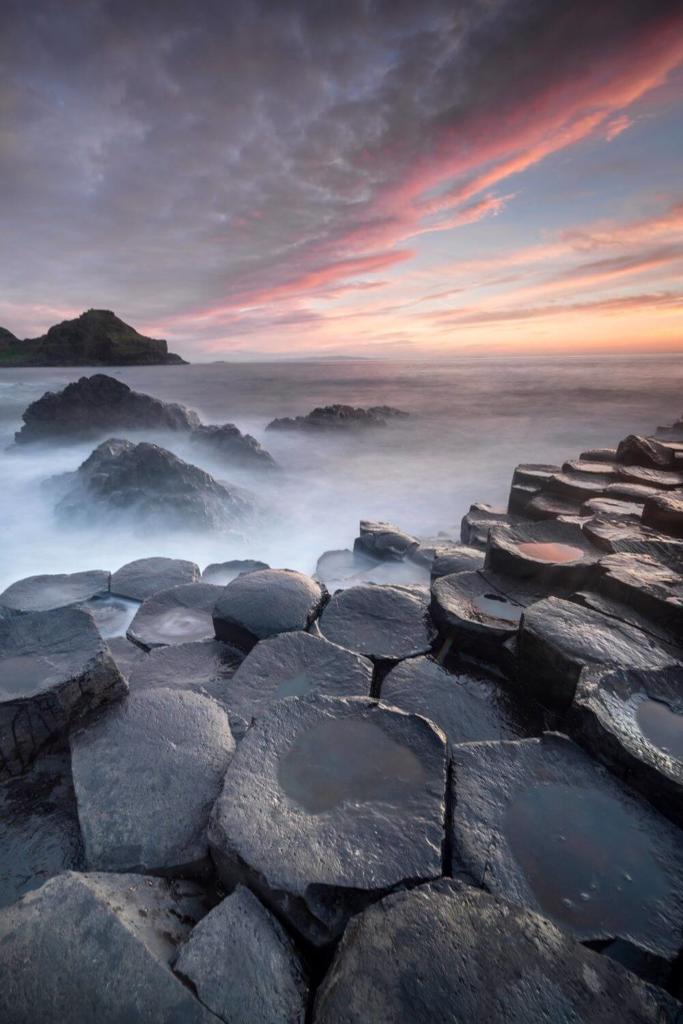 Located along the northern coast of the Emerald Isle, the Giant's Causeway is steeped in legends. It is said that the giant Fionn mac Cumhaill was challenged to a fight by a Scottish giant. Fionn built a causeway bridge in order to reach Scotland to battle the giant.
However, when Fionn realised his opponent was much bigger than him, he disguised himself as a baby. When his Scottish opponent saw the 'baby' of Fionn mac Cumhaill, he believed Fionn must be a giant among giants. He fled back to Scotland, destroying the causeway on his way and today's Giant's Causeway are what is left of this bridge.
The legend is supported by the fact that the same hexagonal rock formations can be found on the island of Staffa in Scotland. However, we now know they are the results of volcanic eruptions millions of years ago. But it's a great legend to tell.
The Giant's Causeway is one of the most visited natural landmarks in Northern Ireland and is high on many people's wish-list for places to visit in Ireland. Visitors can learn more about the Giant's Causeway at the Visitor Centre while also enjoying walks along the coast and seeing other natural features and formations nearby.
Location: 44 Causeway Road, Bushmills, Co. Antrim, BT57 8SU (UK)
Cliffs of Moher, Clare
One of the most famous sights in Ireland is the Cliffs of Moher in County Clare. These incredible sea cliffs rise out of the Atlantic Ocean along what is known as the Wild Atlantic Way and attract hundreds of thousands of visitors every year.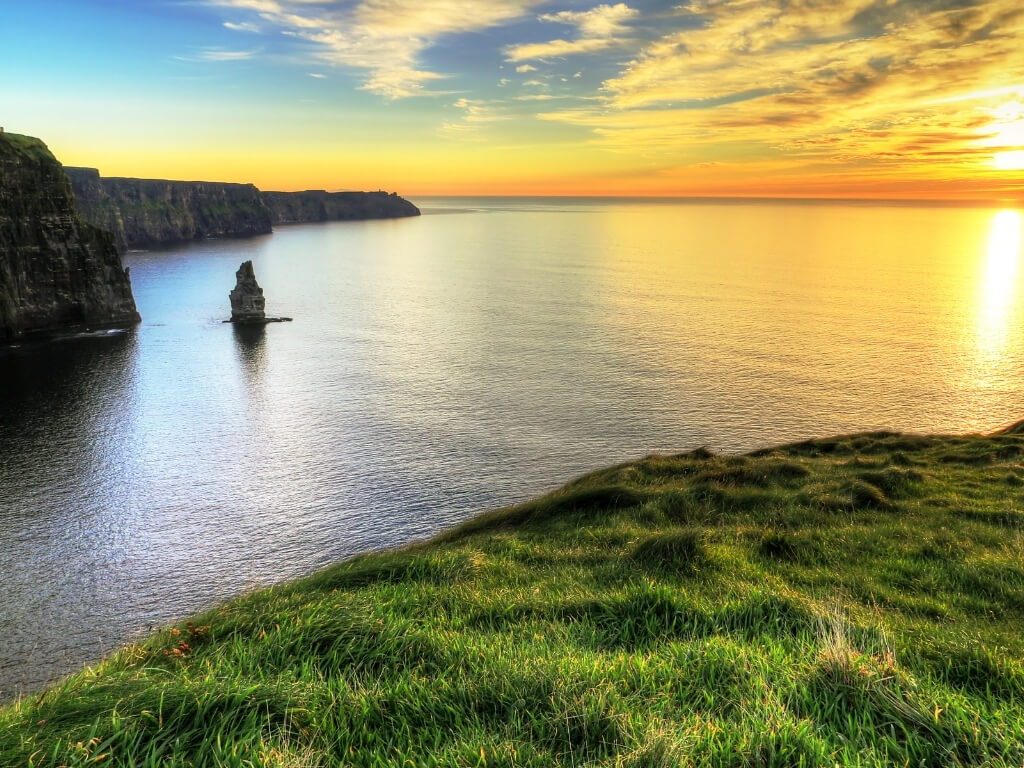 Standing at a height of 214 metres at their tallest, these cliffs run for 14 kilometres from O'Brien's Tower in the north to Hag's Head in the south. Although they are not the tallest sea cliffs in Ireland (see Slieve League further down), they are the most well-known.
There is a Visitor Centre with interactive displays about the cliffs and flora and fauna to see in the area. Visitors can enjoy walks along the sea cliffs and also views across Galway Bay towards the Aran Islands from the top of O'Brien's Tower.
While there is a car park at the Cliffs of Moher, be advised that it is payable but does include entry into the Visitor Centre. There are also boat tours from nearby Doolin that bring visitors to see the cliffs from the water near the edge of them. However you choose to see the Cliffs of Moher, you won't be disappointed by this natural wonder of Ireland.
Location: North Liscannor Co. Clare, V95 KN9T
Aran Islands, Galway
Another landmark of Ireland that is worth visiting, particularly if you are looking to enjoy a day trip from Galway is the Aran Islands, located off the coast in Galway Bay.
As part of County Galway, the Aran Islands are made up of three main islands and a few smaller ones. They can be reached from two locations, Doolin in County Clare (seasonal ferries) and Rossaveal in County Galway (year-round service). Inishmore is the largest island, followed by Inishmann and Inisheer. With much of the population speaking Irish, the Aran Islands are part of Galway's Gaeltacht.
Things to do on the Aran Islands include visiting ring forts such as Dun Aonghasa, viewing one of the best Irish lighthouses, seeing the Plassey shipwreck, enjoying walks and trails around the islands, and even picking up a great Irish gift in the form of an Aran jumper.
Location: Galway Bay
Croagh Patrick, Mayo
A natural landmark on the Emerald Isle which is also a place of pilgrimage is Croagh Patrick in County Mayo. This pyramid-shaped mountain stands overlooking Clew Bay and is a popular destination in the west of Ireland for hikers and walkers.
It is believed that Saint Patrick spent 40 days fasting on the mountain. As he descended the mountain, he came across a sea of snakes and he banished them into the sea, never to return to the island of Ireland again. This is a big legend associated with St Patrick and is said to be why there are no snakes in Ireland.
The mountain is seen as a Holy Mountain and there is a church at the summit, where one has stood since the 5th century, although the current structure dates from the early 20th century. Many people make the journey to the summit throughout the year when the weather allows, and the most popular day is the last Sunday of July.
Be aware that you should go prepared for all weather and with sturdy walking shoes or boots as the mountain paths have loose stones underneath.
Location: Teevenacroaghy, Co. Mayo
MacGillycuddy Reeks, Kerry
One of the best natural landmarks in Ireland is located on the Iveragh Peninsula in County Kerry. The Macgillycuddy Reeks are also Ireland's highest mountain range with Carrauntoohil standing in the centre.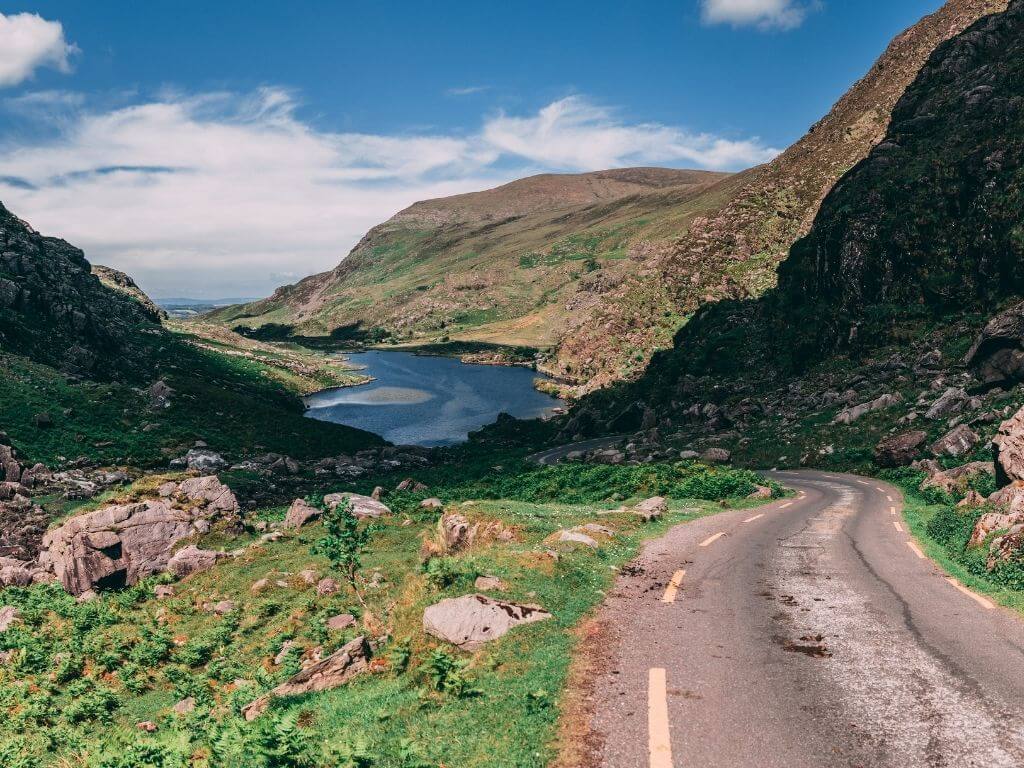 This mountain range is one of the dominant features of the Killarney National Park and is located within the Ring of Kerry. Carrauntoohil, the highest peak in Ireland, stands at an elevation of 1,038 metres. Scaling this peak is a popular activity in this range and there are several other walking trails in the Reeks for visitors of all abilities.
Many people visit from nearby Killarney and enjoy views of the mountains from Ladies View and from within the Gap of Dunloe which separates the Reeks from the Purple Mountains. Rock climbing is also a popular activity in these mountains.
Location: Iveragh Peninsula, Co. Kerry
Connemara and the Twelve Bens, Galway
If you are looking to visit a famous landmark of Ireland with natural beauty, then Connemara should be on the list. This area of County Galway contains a National Park and also has some Wild Atlantic Waypoints along its coastline.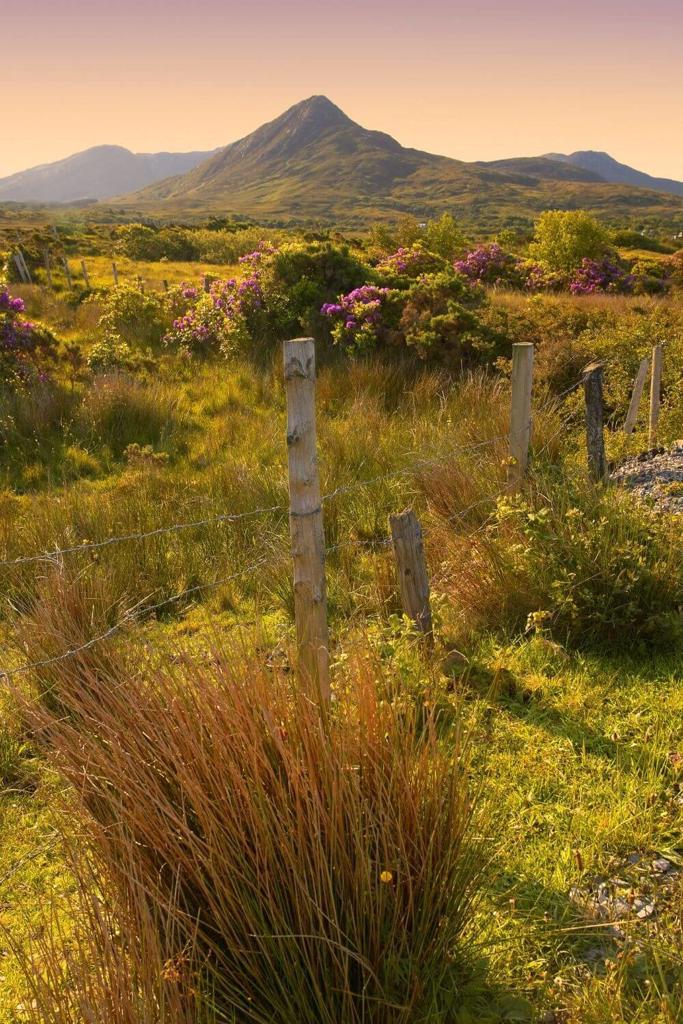 Connemara is an area of outstanding natural beauty and contains a mountain range consisting of twelve peaks known as the Twelve Bens or Twelve Pins. These sharp-peaked quartzite summits can be seen for miles, sometimes from as far as the Cliffs of Moher, or even Croagh Patrick (already mentioned above).
These peaks are popular with hill walkers, with trails for all abilities to be found among them. Other activities to enjoy around Connemara include Kylemore Abbey on its western edge, a popular destination for those enjoying tours from Galway, cycling and rock climbing, and exploring the scenery and history of the area.
Location: Connemara National Park Visitor Centre, Letterfrack, Co. Galway
Slieve League, Donegal
A natural landmark in Ireland that can be a quieter affair than their southern counterparts is the Slieve League sea cliffs in County Donegal.
These sea cliffs are taller than the Cliffs of Moher further south and can be an easier place to visit than their busy southern cousins. At their tallest, they stand at a height of 596 metres and they are among the tallest sea cliffs in Europe.
Visitors to Slieve League can view the cliffs from Bunglass, accessed via a narrow road from the nearby village of Teelin. Hiking along the cliffs is a popular activity for visitors to this part of Ireland, with the Pilgrims Path being the most travelled. Viewing the cliffs from the sea is another popular thing to do, with trips available from the village of Teelin. If you are looking to see dramatic sea cliffs, then head to Slieve League in Donegal.
Location: Slieve League Cliff Experience and Visitor Centre, Bunglas Road, Lergadaghtan, Teelin, Co. Donegal, F94 W8KC
Skellig Islands, Kerry
One of the famous Irish landmarks thanks to the world of cinema is the Skellig Islands. Consisting of two uninhabited islands off the coast of Kerry, these islands are steep, and rocky and attract many visitors by boat, especially during the summer months.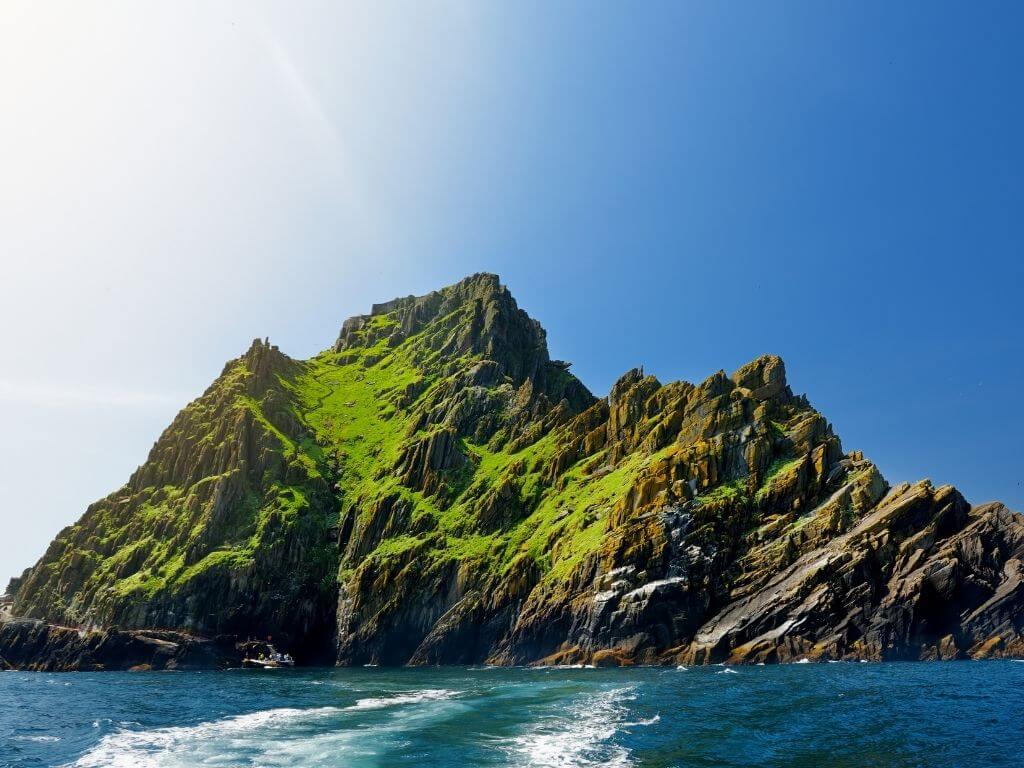 The larger is called Skellig Michael, while the smaller is Little Skellig. Skellig Michael is famous for its early Christian monastery which is a UNESCO World Heritage Site, one of only two in the Republic of Ireland.
Skellig Michael is only accessible by boat seasonally, with official operators and tour groups. Little Skellig is not accessible to the public, mainly due to it being the site of one of the world's largest northern gannet colonies.
Skellig Michael has also featured in films such as Byzantium (2012), Heart of Glass (1976), and was featured in scenes in Star Wars: The Force Awakens (2015) and The Last Jedi (2017).
Whether you choose a tour that allows you onto Skellig Michael or one that simply tours the island from the sea, these two islands are natural landmarks in Ireland that are worth a picture or two.
Location: Tours depart from the Marina, Portmagee, Co. Kerry
The Burren, Clare
Of the natural landmarks of Ireland, none are more unusual in appearance than the Burren. This area in County Clare has a lunar-like appearance and the Burren National Park is the smallest of Ireland's six parks.
The limestone, karst landscape was formed millions of years ago under a tropical sea and has a truly unique appearance. Aside from the stony landscape, the Burren also contains bogs, heaths, grasslands, mountains and forests, to name but a few. It is rich in flora and fauna and along its coastline, you will find the breath-taking Cliffs of Moher (see above).
Within the Burren, visitors can learn more about this area through displays and exhibitions in the seasonal Visitor Centre, enjoy walks and trails through the land, go underground in the Aillwee Caves, see the Poulnabrone Dolmen, and other ancient sites such as stone forts.
For a truly unique natural landmark in Ireland, and one easily combined with those famous sea cliffs, head to County Clare and pay a visit to the Burren.
Location: Burren National Park, Clare Heritage Centre, Corofin, Clare, V95 T9V6
Benbulbin, Sligo
One of the 7 natural wonders of Ireland is also one of the most unique places to visit in Ireland. An intriguing mountain tucked away in County Sligo, Benbulbin is another natural landmark to consider putting on your itinerary.
With its flat-topped summit, this rock formation is the most distinctive mountain in Ireland. Part of the Dartry Mountain Range, Benbulbin is also known as the Emerald Isle's Table Mountain, for obvious reasons.
Visitors to this part of the west of Ireland can hike to the summit from both the north and south faces, although the south is the safer and easiest thanks to some sheltering from winds and storms that roll onto the north face from the Atlantic Ocean.
If you are looking for unusual places to visit in Ireland, head to Benbulbin which is also one of the best things to see and do in County Sligo.
Location: Benbulbin, Cloyragh, Co. Sligo
Final thoughts on Ireland's best natural landmarks
If you are looking for beautiful and breath-taking natural landmarks to visit in Ireland, you won't go wrong with a visit to one of our top 10 picks. From sea cliffs with the Atlantic Ocean crashing at their feet to holy and flat-topped mountains, and more, the Emerald Isle is awash with natural beauty, and these are must-visit places for anyone exploring Ireland.
Read about other Irish landmarks and visiting Ireland: