Wondering what are the best theme parks in Ireland? Then you are in the right place.
If you are looking for a fun, adventurous day out in Ireland, then this list of the best theme parks in Ireland is sure to whet your appetite. With wild rides, thrilling activities and more, these Ireland amusement parks are the perfect place for families, couples and groups of friends.
Whether you are based on the Emerald Isle and have been asking yourself "are there any fun theme parks near me?", or if you are going to be visiting and have been wondering are there any theme parks in Ireland, then you'll get your questions answered here. These Irish theme parks are ideal for family days out, group parties and more, and will fill a day full of fun, frolics and adventure.
Best Theme Parks in Ireland
If you have been wondering what are the "best theme parks near me" then this list of theme parks in Ireland will help you locate your nearest one so you can start planning a fun-filled day out.
Emerald Park, formerly Tayto Park
Address: Kilbrew, Ashbourne, Co. Meath, A84 EA02
The most famous Ireland amusement park has to be Emerald Park, formerly Tayto Park. Originally based around Mr Tayto, mascot to one of Ireland's favourite brands of crisps (potato chips to my US readers), this has fast become one of the best family theme parks Ireland has to offer. The park has been renamed Emerald Park due to the fact Ireland is often referred to as the Emerald Isle.
There are thrilling rides for the younger members of the family and adrenaline rushes for older members of the party. Rides include a rollercoaster, carousel, climbing wall and skywalk, and much, much more.
There is also a zoo in which you can see animals such as tigers, squirrel monkeys and birds of prey. Everyone will enjoy a day spent at Emerald Park.
Discover the best hotels near Emerald Park to make a trip of it.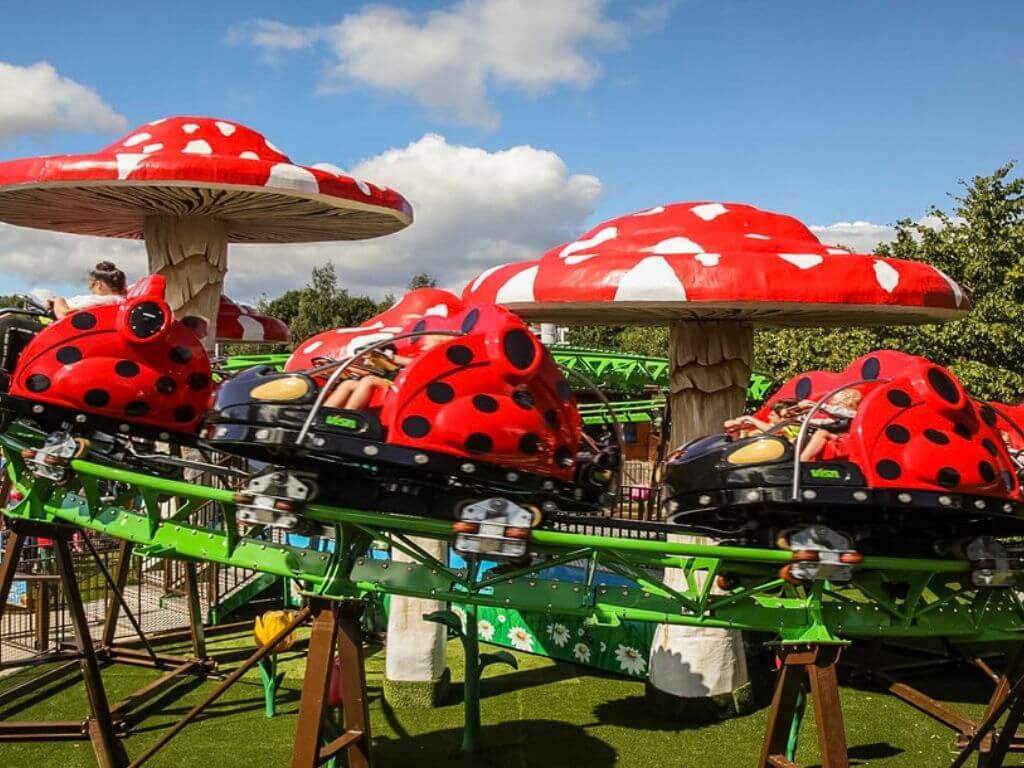 Clara Lara Funpark
Address: The Vale of Clara, Knockrath, Rathdrum, Co. Wicklow
Set outdoors and open to the elements, if you are looking for the best kids' theme parks Ireland has to offer and they love the outdoors and getting dirty, then Clara Lara Funpark is the place for them.
Visitors can play outdoors, use their imagination and get lost in the fun. Activities include rowboats, go-karts, canoeing, an aqua shuttle, an obstacle course, and more. If you want some old-fashioned fun and don't mind getting mucky and dirty, head to this great theme park in Wicklow. And don't forget a towel and a change of clothes, you'll need them!
Castlecomer Discovery Park
Address: The Estate Yard, Drumgoole, Castlecomer, Co. Kilkenny, R95 HY7X
Another brilliant, outdoor theme park in Ireland is Castlecomer Discovery Park in County Kilkenny. Set on 80-acres, visitors will find walking trails, kids' play areas, fishing lakes and tree-top walks and zip-lining.
The forest setting is ideal for an adventurous, outdoor fun-filled day and kids will love the activities as well as the Timber Tumbles Playground, Junior Woodland Course, and the Elf and Fairy Village. With so much on offer and the beautiful outdoor location, Castlecomer is easily one of the best kids theme parks in Ireland.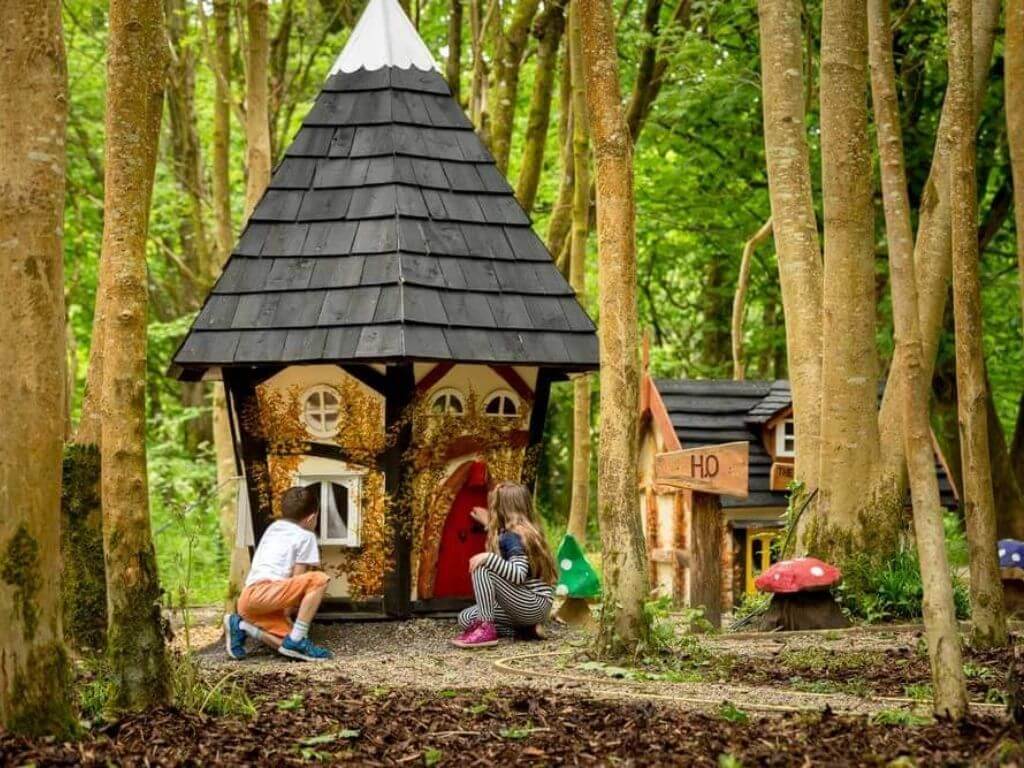 Westport Adventure Park (currently closed due to covid)
Address: Wood Lodge Estate, Knappagh, Westport, Co. Mayo
Westport Adventure Park is an exciting venue catering for individuals and groups, over the age of 7.
Splatball, a junior version of paintball, is the first of its kind in Ireland and aimed at those aged 7 years and older. Full camo and safety gear is provided and those from 7 to 70 can enjoy trying to splat their opponents.
There is also high rope walking at Westport Adventure Park, adult paintball, puzzle-solving, an assault course and more. Families, hen and stag parties and other groups can enjoy a fun-filled day at this adventure theme park in Ireland.
More information. Check their Facebook page for details of reopening.
Pirate Adventure Park, Westport House
Address: Westport House, Westport, Co. Mayo, F28 TY45
If you are looking for one of the best small children's theme parks Ireland has, then Pirate Adventure Park, located on the grounds of Westport House in County Mayo is the perfect place to visit.
Three times winner of the Best Family Visitor Attraction in Primary Times Star Awards, Pirate Adventure Park has a variety of things to excite the whole family. There are rides, slides, boats and trains with the attractions ideally suited for children between 3 and 12 years of age, making it the perfect place for a family day out in Mayo. There is also a lake with pedalo boats, a mini zipline and a mini Ferris wheel.
This is an outdoor theme park in Ireland, so remember to bring wellies and raincoats for rainy days, and hats, drinks and sunscreen for brighter days. And a change of clothes wouldn't go astray if you are planning to visit the Pirate Plunge.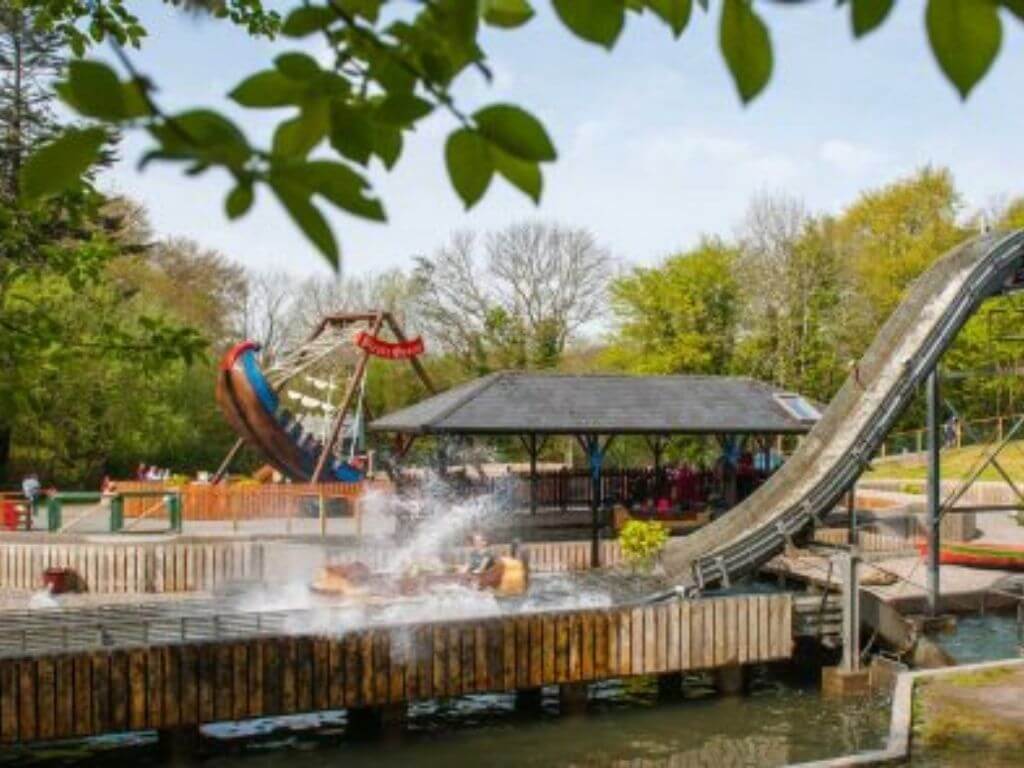 Funtasia Theme Park
Address: Unit 1, Donore Road Industrial Estate, Lagavooren, Drogheda, Co. Louth, A92 EVH6
A great theme park that is easily accessible from Dublin is Funtasia Theme Park in Drogheda. This is an indoor theme park with 15 different activities to enjoy including a waterpark, crazy golf, bowling and arcade, climbing wall, and more.
If you are looking for an indoor setting to escape the typically wet Irish weather, then Funtasia is an ideal location. You can even host birthday parties there.
Dunmore Adventure
Address: The Harbour, Dunmore East, Co. Waterford, X91KD40
Dunmore Adventure in County Waterford is an outdoor adventure centre that offers both land and water-based activities for visitors.
The main water activities take place on the Wibit Wipeout Aquapark, Ireland's biggest inflatable water obstacle course. Adults and kids alike will laugh their way around the course, desperately trying to stay above water. Think slides, swings, jumps and more. Other water activities include kayaking, standup paddleboarding, and sailing.
For those who don't fancy getting wet, land-based activities are on offer including caving, climbing, archery and abseiling. Children and adults alike will love a day out at Dunmore Adventure.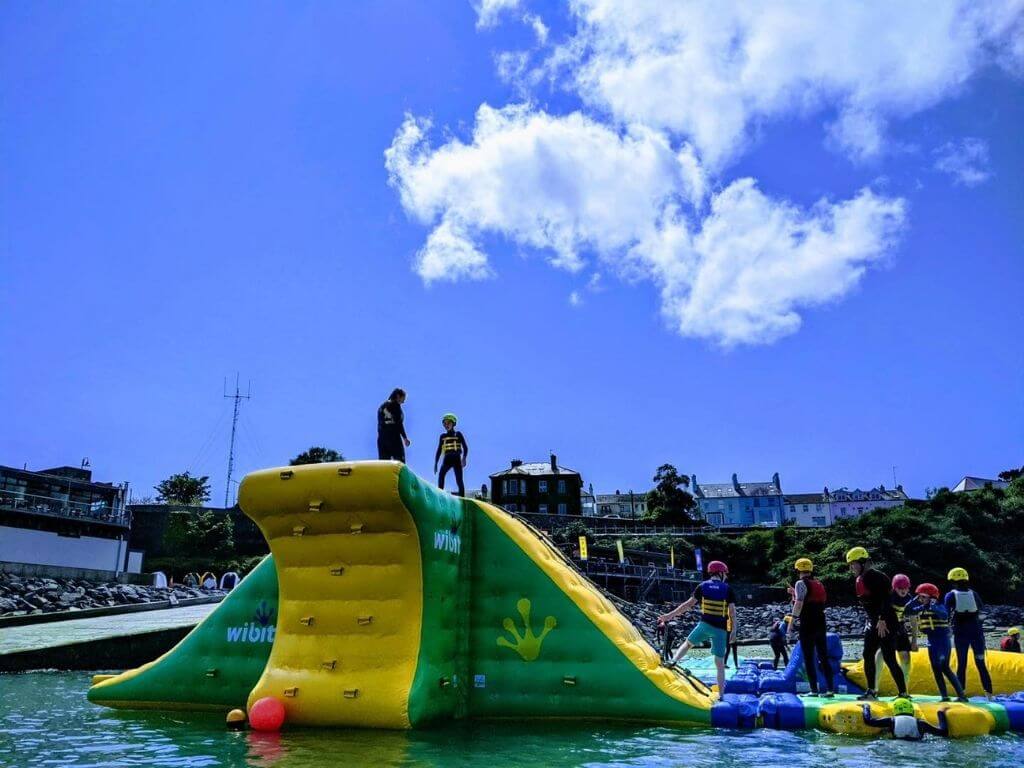 Fort Lucan Outdoor Adventureland
Address: Fort, Westmanstown, Lucan, Co. Dublin, K78 E678
If you are based in Dublin and wondering "are there any kids theme parks near me?", then you are in luck.
The home of fun & adventure
Fort Lucan is Dublin's biggest and craziest outdoor playground. There are also 3 waterslides, helter skelters, crazy golf, ziplining and more!
Fort Lucan caters for kids of all ages, with the under 5s having their own dedicated area. Set in a huge wooden Viking Fort, this is the ultimate centre for hours of fun for families.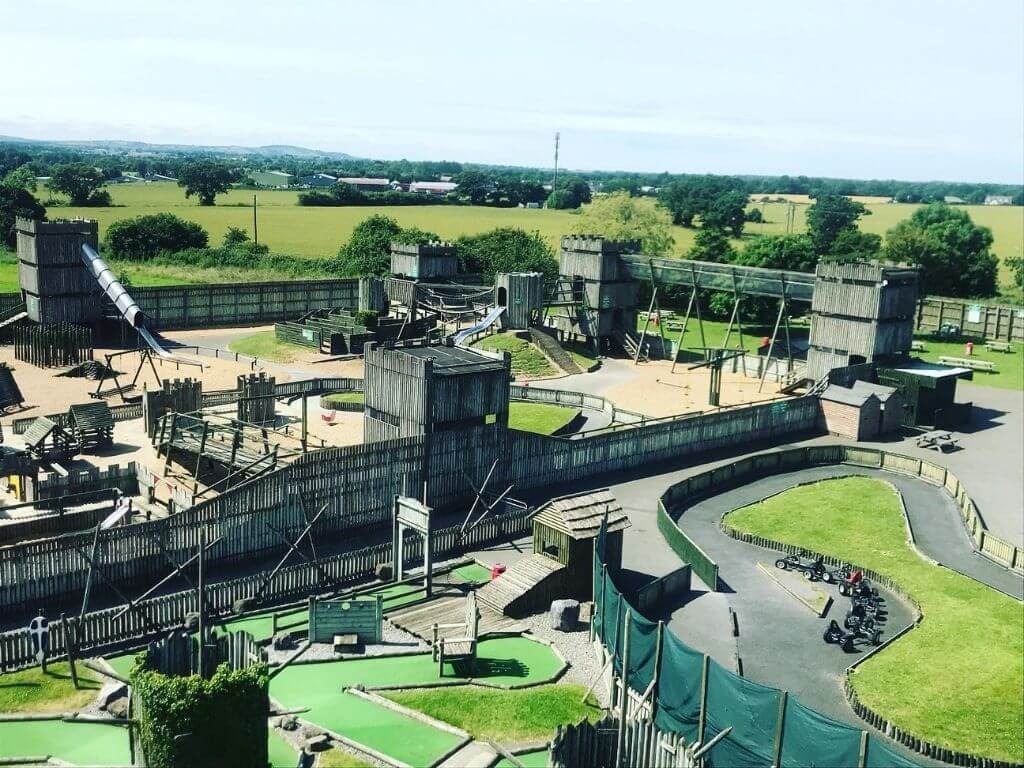 Bundoran Adventure Park
Address: Sea Rd, Drumacrin, Bundoran, Co. Donegal
Located directly on the seafront in Bundoran, this great little theme park will provide hours of fun for those in the area of visiting County Donegal with kids. An adventure park for the young and old, there are go-karts, adventure golf, amusements, and even a Ferris wheel.
If you are visiting Donegal and looking for some family-oriented fun, head to the seafront and Bundoran Adventure Park.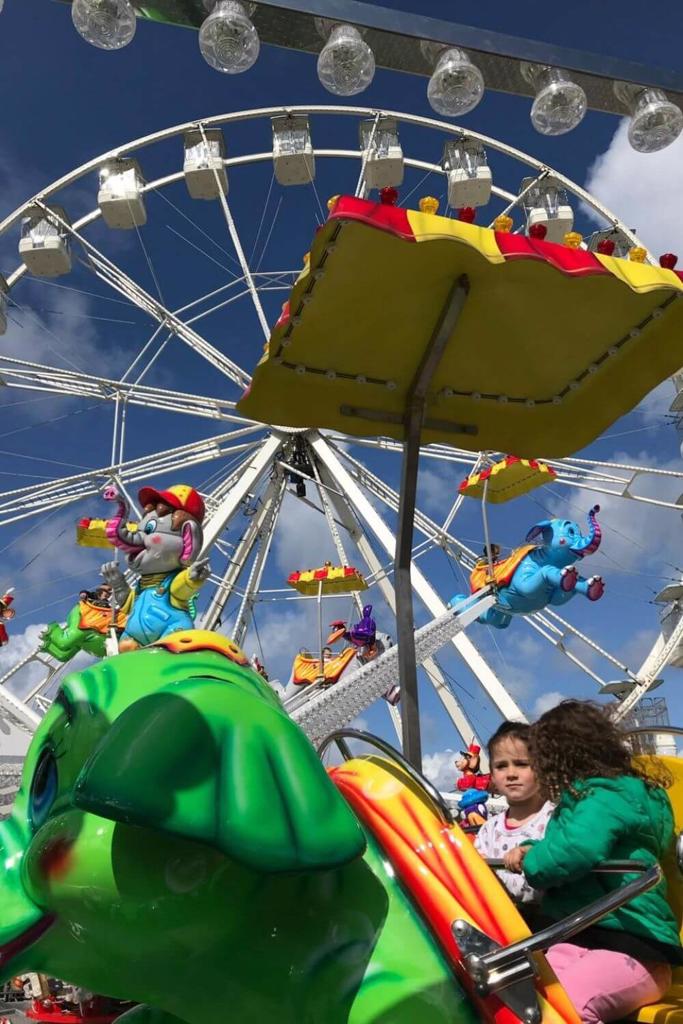 Seasonal Tramore Amusement Park
Address: Tramore West, Tramore, Co. Waterford
If you are looking for a traditional, seaside theme park, then head to Tramore Amusement Park. Open seasonally, this amusement has everything you come to expect with the seaside and amusements.
Enjoy trampolines, carousels, a Ferris wheel, bumper cars and more. There are over 20 different amusements and activities to enjoy, both on dry land and on the sea. For some good old-fashioned family fun during the summer, head to Tramore Amusement Park.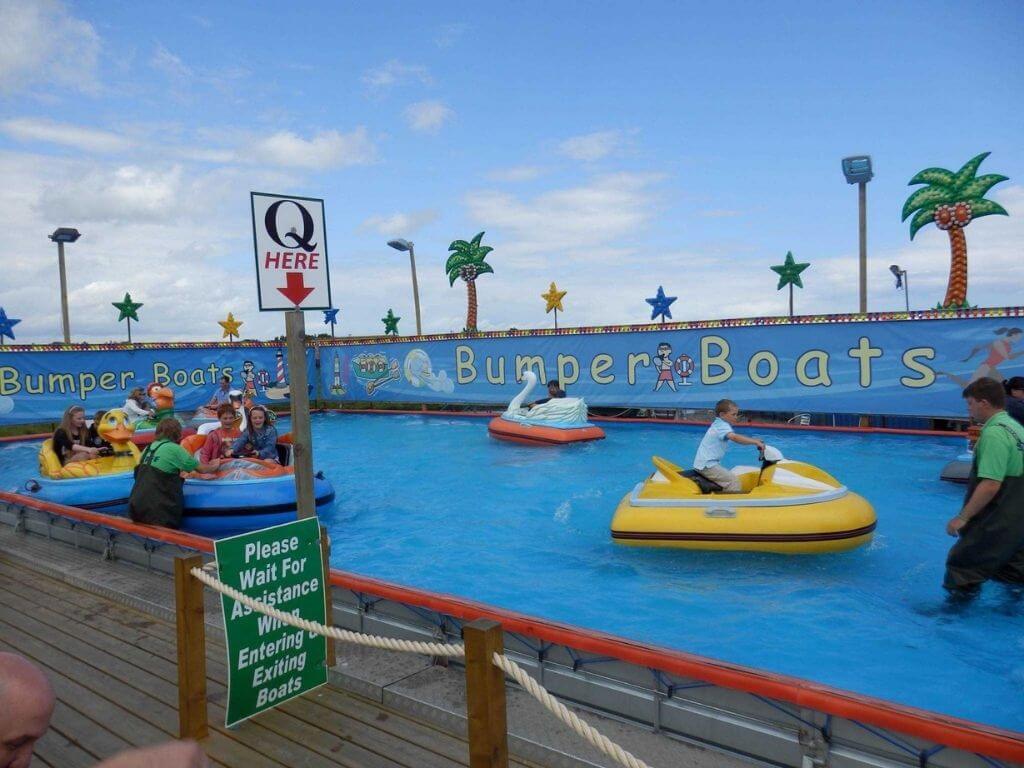 Funderland
Address: Various locations including Dublin, Cork, Limerick and Belfast
Funderland is a travelling amusement park that can generally be found during Easter in Cork, in Limerick during the June Bank Holiday weekend and in the RDS in Dublin during Christmas.
You will find an indoor amusement park that has everything anyone could want for a fun-filled day out. Think amusements, rollercoasters, a circus, ice rink and even a continental market in the Dublin Christmas Funderland event.
Best Theme Parks in Northern Ireland
Clearsky Adventure Centre
Address: Castle Ward Estate, Strangford, Downpatrick, Co. Down, BT30 7LT (UK)
Clearsky Adventure is an outdoor pursuits centre on the grounds of Castle Ward Demesne, aka Winterfell from Game of Thrones. There are over 20 adventure and exciting activities for visitors to enjoy, whether they are 4, 40 or 74 years of age.
Land activities include archery, rock climbing, mountain biking and more, while water activities include coasteering, kayaking and raft building among others. You can also enjoy sea safaris along the coastline of Strangford Lough and out to the Irish sea.
Todd's Leap
Address: Todds Leap Rd, Ballygawley, Dungannon, Co. Tyrone, BT70 2BW (UK)
Voted the best activity centre in Northern Ireland for thrill-seeking experiences, Todd's Leap is an outdoor activity centre that is located just 60 minutes from Belfast and boasts more than 20 unique activities.
Kids young and old can enjoy an action-packed time with archery, wall climbing, a drop zone, paintballing, and even blindfold driving!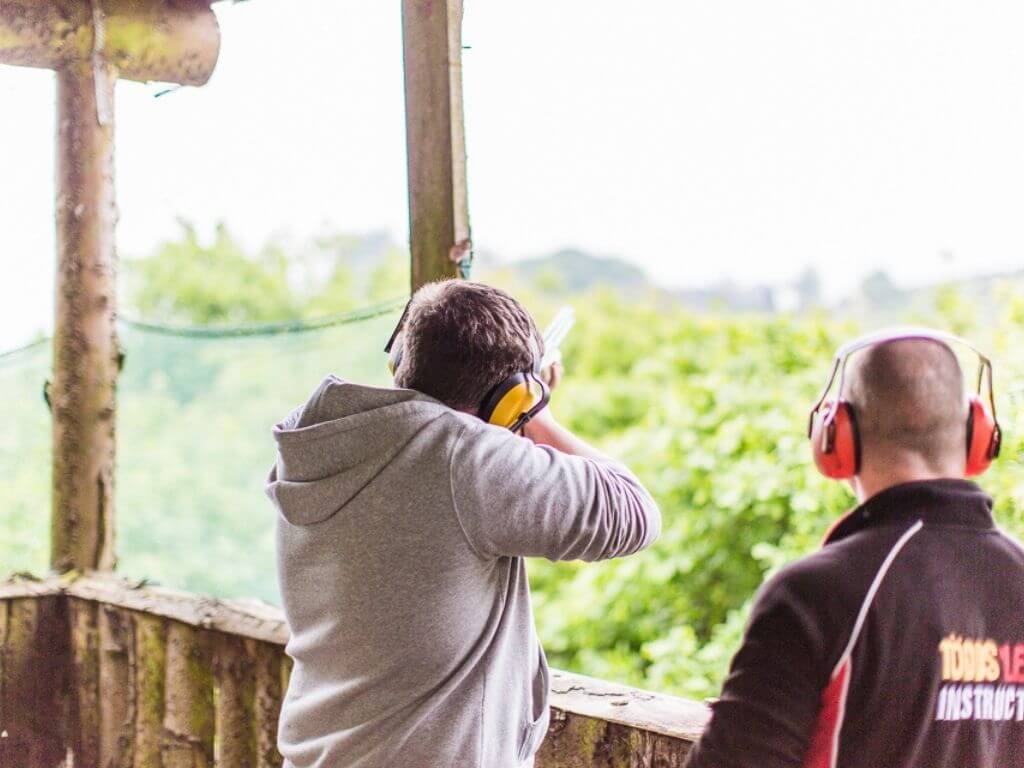 Final thoughts on the best theme parks in Ireland
So, now that you no longer need to be wondering is there any theme parks in Ireland, the only thing left to decide is which one are you going to visit first!
Find more ideas for days out in Ireland: