Do you enjoy puzzles and fancy visiting a maze to find your way out of? Then this list of the best hedge and maize mazes in Ireland to visit is for you. You'll find places that have maize mazes, and hedges mazes to visit across Ireland right here.
Maize and hedge mazes can be a fun way to spend a morning or afternoon in the company of family and friends, and there is quite a number to be found across Ireland.
Typically, maize season for mazes runs from July to September before the maize is harvested to provide animal feed. Maize mazes can be simple farmers' fields or part of a larger tourist attraction such as a farm or leisure park.
Hedge mazes are usually formed from evergreen hedge plants, so can be visited all year round.
If you have been wondering if there are any mazes near me, whether you are in Northern Ireland or the Republic of Ireland, you might find a maze close to you on this list.
Best Hedges and Maize Mazes to visit in Northern Ireland
In this section, you will find ideas for places to visit that have mazes in Northern Ireland. Some are stand-alone mazes, and some are part of an estate or activity centre. So, if you live in Northern Ireland and have been wondering "is there a hedge or maize maze near me?", this section should hopefully answer your question.
The Peace Maze, Down
Address: 6-8 Burren Walk, Castlewellan BT31 9AF, Down (UK)
Planted in 2000 and representing the path to peace for Northern Ireland, the maze at Castlewellan is one of the world's largest permanent mazes. Located at the Castlewellan Forest Park, it is a maze comprised of over 6000 yew trees, and the paths inside cover 3.5km. It is a great maze to visit in Northern Ireland and facilities at the site include parking, toilets and a coffeeshop. Find out more here.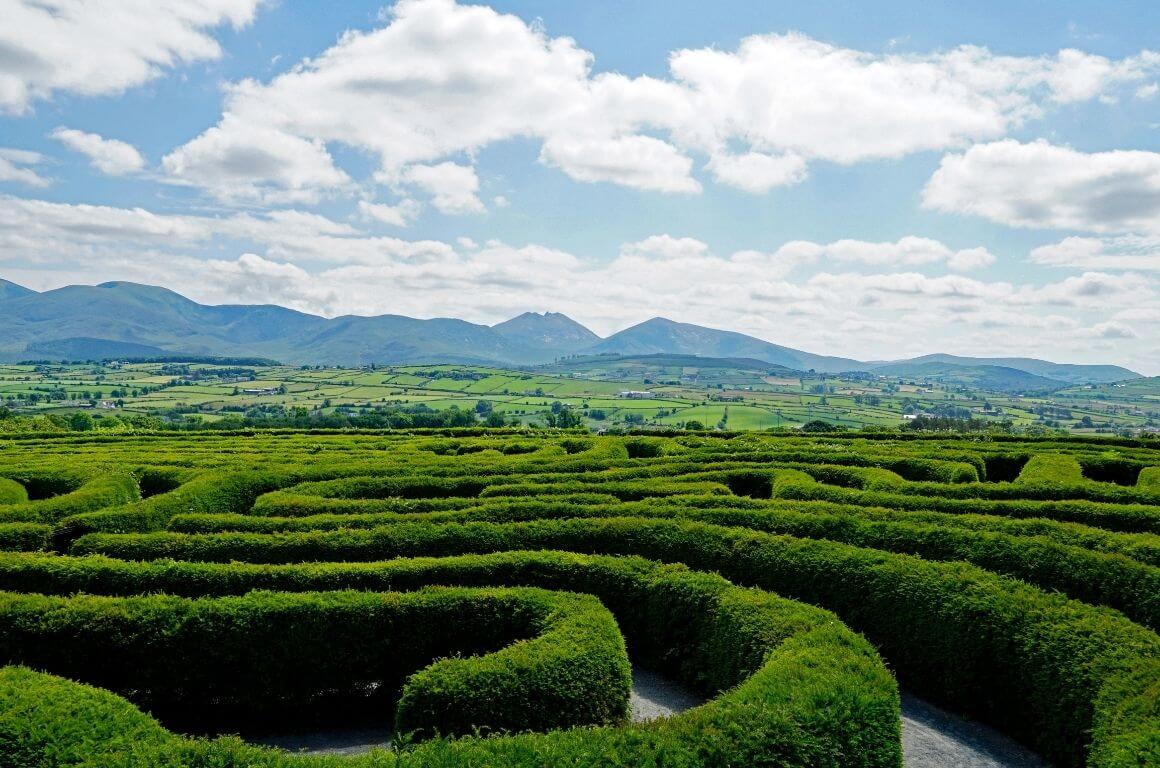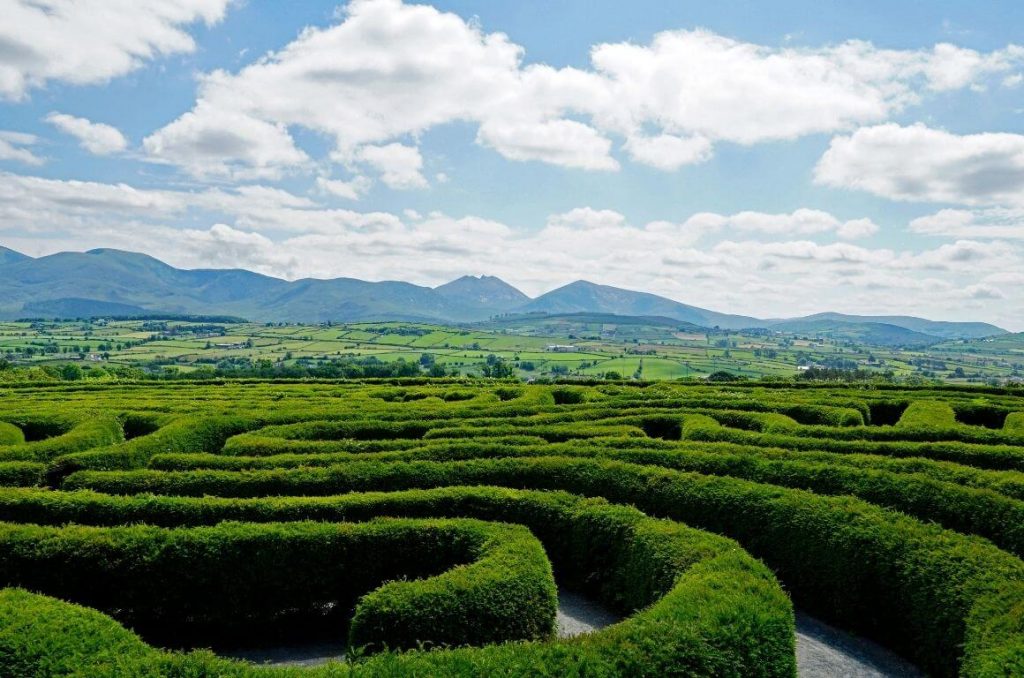 Carrowmena Maize Maze, Derry
Address: 100 Carrowclare Rd, Limavady BT49 9EB, Derry/Londonderry (UK)
The Carrowmena maize maze is a large corn maze located at the Carrowmena Activity Centre at Limavady. The tall maize provides a fun maze most years and can be visited usually from July to September. You can get refreshments from the coffee pod on-site. There is also free parking, and toilets on-site. For more information and how to book your slot, visit the website.
Carnfunnock Maze, Antrim
Address: Coast Rd, Ballygalley, Larne BT40 2QZ, Antrim (UK)
There is a great maze to visit in Northern Ireland that is located at the Carnfunnock Country Park. The Carnfunnock Maze was planted in 1986 in the shape of Northern Ireland and has seven central areas, one for each of the counties and also Lough Neagh. 1500 hornbeam plants were used to make it. The maze contains several paths and dead ends and is a fun place to visit in County Antrim. You can find out more about the maze and the Carnfunnock Country Park here.
Laganvale Farm, Antrim
Address: 55a Sandy Ln, Lisburn BT27 5TL, Antrim (UK)
A great Northern Ireland maize maze to visit is the one located at the Laganvale Farm, just outside Belfast and Lisburn. Planted in April and usually ready by the end of July/beginning of August, the owners design a different maze each year, meaning you'll never come across the same one if you visit year after year. There are other family-friendly activities on site so you can make a day of it if you are visiting with kids. Find out more here.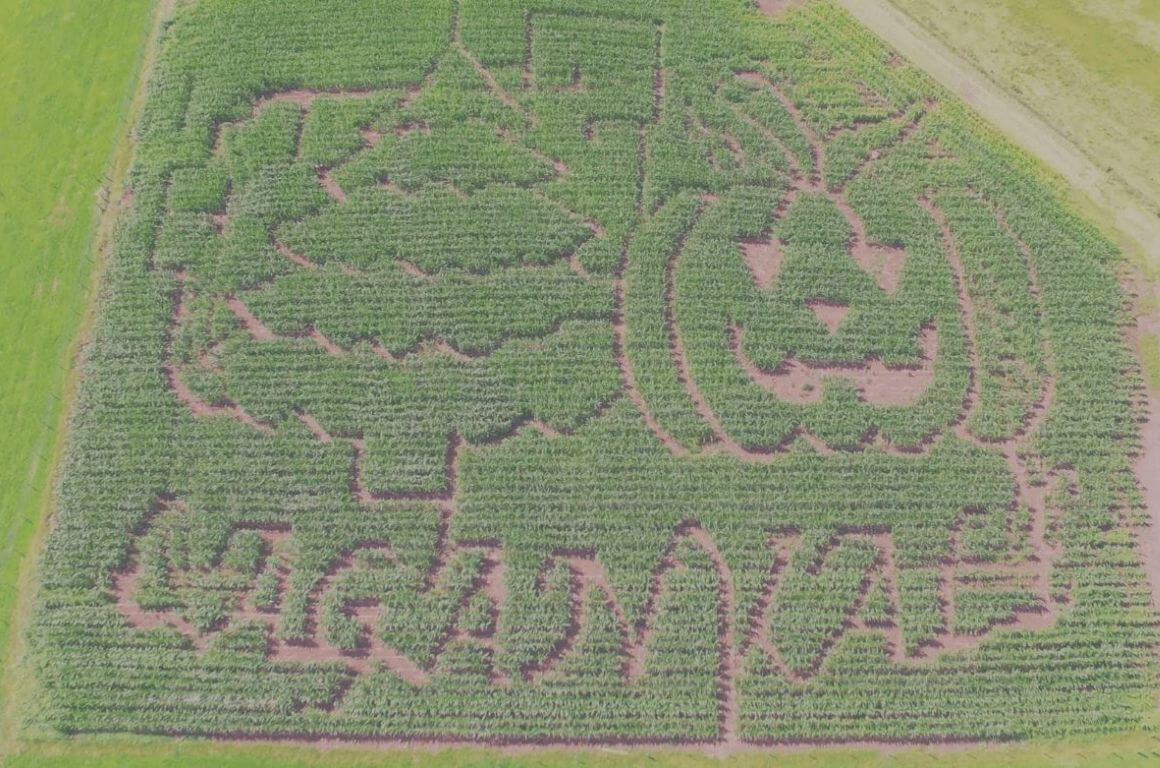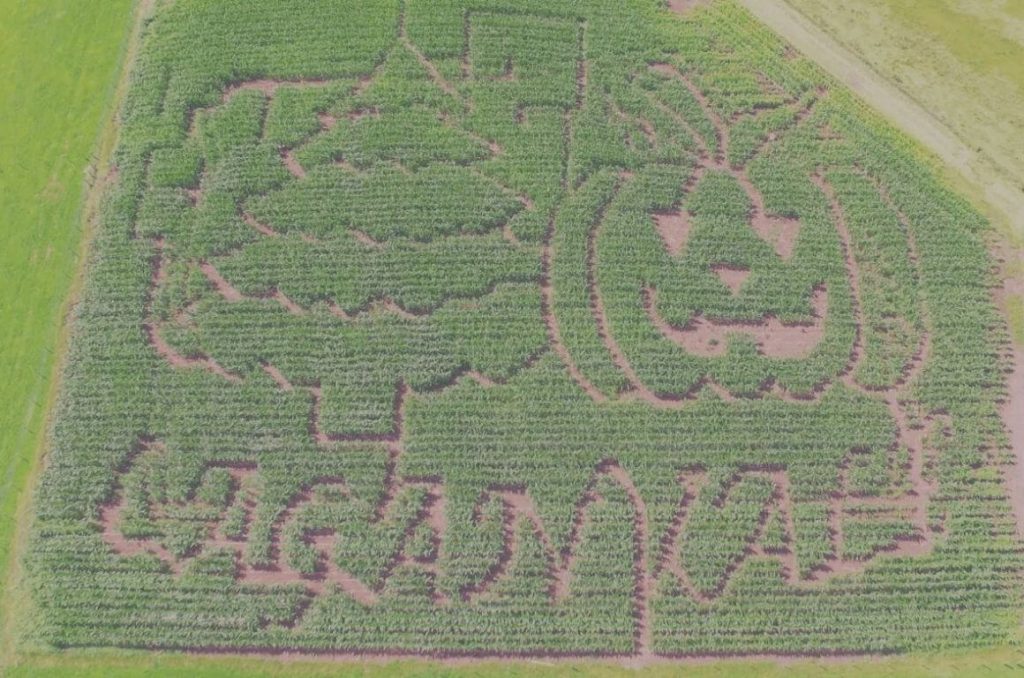 Funny Farm Adventures Maize Maze, Down
Address: 80 Ballybannan Rd, Castlewellan BT31 9ER, Down (UK)
Located at Funny Farm Adventures, the best maize maze Castlewellan has to offer stands 8 feet tall and covers an area of 6 acres. Each year the maze has a different design and there are other fun activities on-site for visitors. There is parking, toilets and a café for visitors. For more information click here.
Seaforde Gardens & Tropical Butterfly House, Down
Address: Seaforde Gardens, Seaforde, Downpatrick BT30 8PG, Down (UK)
Ireland's oldest living maze can be found at Seaforde Gardens. The maze can be found in the centre of the walled garden and is a low hedge maze. As well as the maze there is a butterfly house, other gardens to explore and there are toilets and a shop and tearoom on-site. Some areas are not wheelchair or buggy-friendly. Find more information here.
Best Hedges and Maize Mazes in Ireland to Visit
If you are based in the Republic of Ireland or are visiting the southern half of the Emerald Isle and have been wondering if there are any maize or hedge mazes near me, then this section will help you out.
The Kildare Maze, Kildare
Address: Prosperous, Naas, Co. Kildare
One of the best mazes in Ireland is the Kildare Maze. Leinster's largest maze is a hedge maze covering 2-acres and is located in Prosperous. As well as the hedge maze, there is a wooden maze and the Kildare Maze is very family-friendly with crazy golf, a kids' play area, and a pet's corner. There is ample parking, a café, and toilets. For the latest information, visit their website.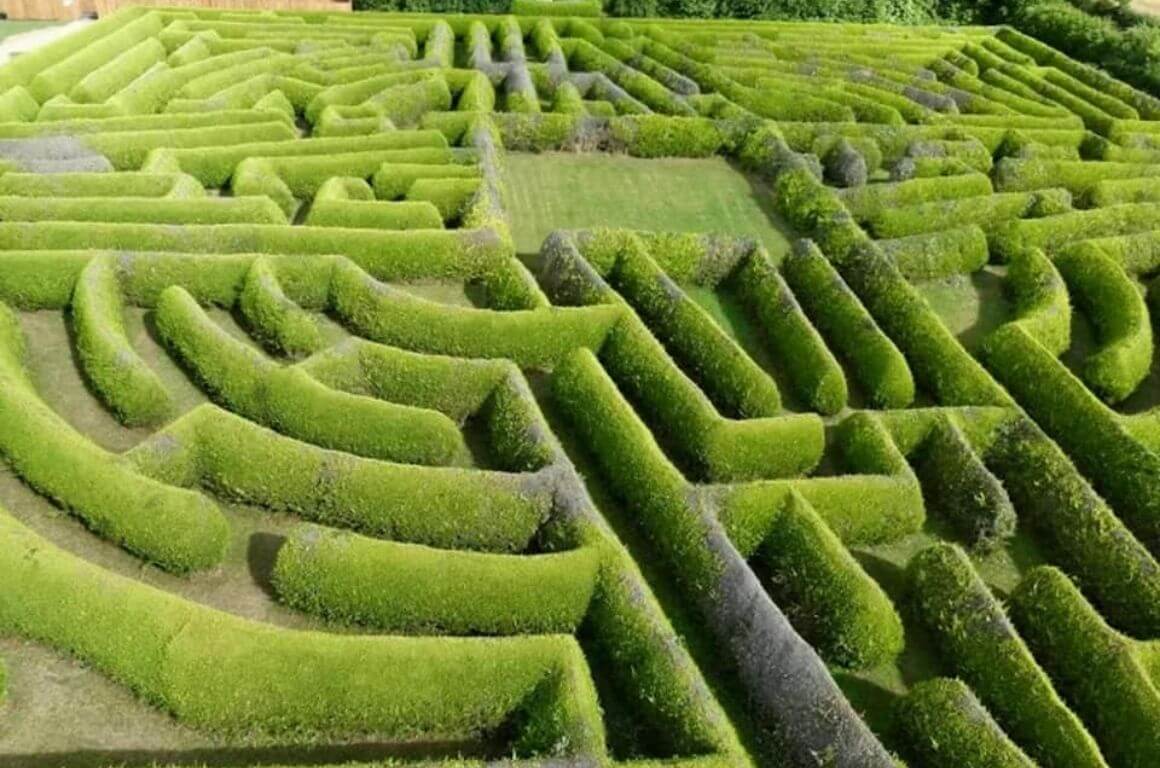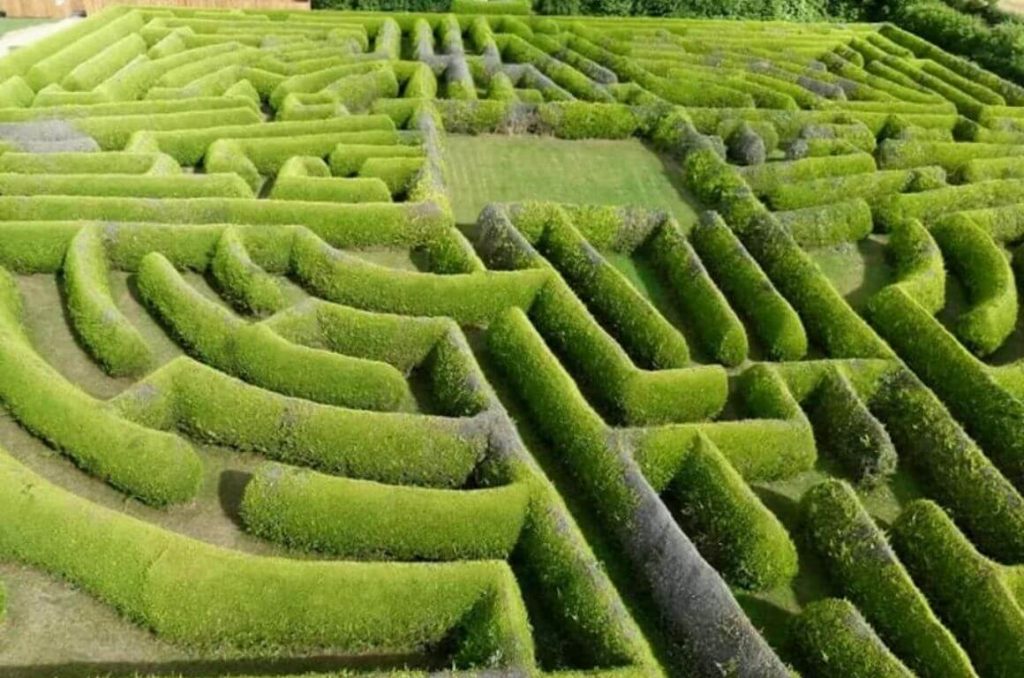 Smugglers Cove, Cork
Address: Curraheen, Rosscarbery, Co. Cork
Smuggler's Cove in County Cork is a great family attraction in the county offering two different mazes. The first is a huge wooden structure and the second is Ireland's largest maize maze, which is typically open from mid-July for the season. There are other fun activities on-site including adventure golf and visitor facilities include a café, parking, and toilets. More information can be found here.
Celtic Maze & Wildflower Garden, Cork
Address: Ballymaloe Cookery School, Shanagarry, Co. Cork, P25 R274
The Ballymaloe Cookery School is one of the best places to visit in County Cork and not just for the food! The gardens are beautiful, and you will find a Celtic Maze within them. Planted in 1996, it covers one acre and is formed from yew trees. The design is a Celtic design and some yew trees have been replaced by hornbeam and beech over the years. Along with the maze the gardens also contain a wildflower meadow, home to butterflies, bees, and other wildlife, especially in spring and summer. If you happen to be visiting the Ballymaloe Cookery School, Organic Farm and Gardens, make sure to visit the Celtic Maze. More information can be found by clicking here.
Grennan Maze, Wicklow
Address: Ballinanty, Greenan, Co. Wicklow, A67 D789
Located in the Wicklow Mountains just 6km from Rathdrum, you'll find the Grennan Maze. As well as a 7ft tall hedge maze in a Celtic design, there is also a Solstice maze which is a stone pathway to follow. Other on-site activities include a few farm museums, and there are farm animals to see, ideal for those travelling with kids. Visitor facilities include parking, toilets, a café, and gift shop. To find out more about the Grennan Maze, click here.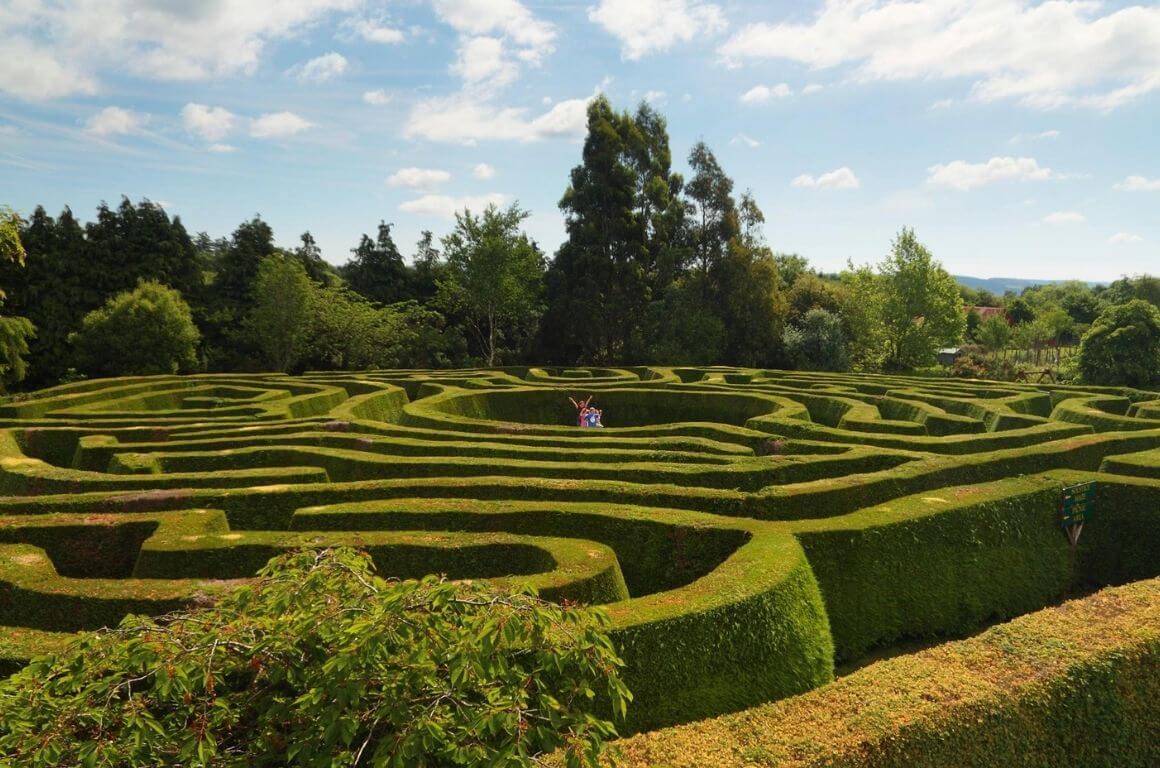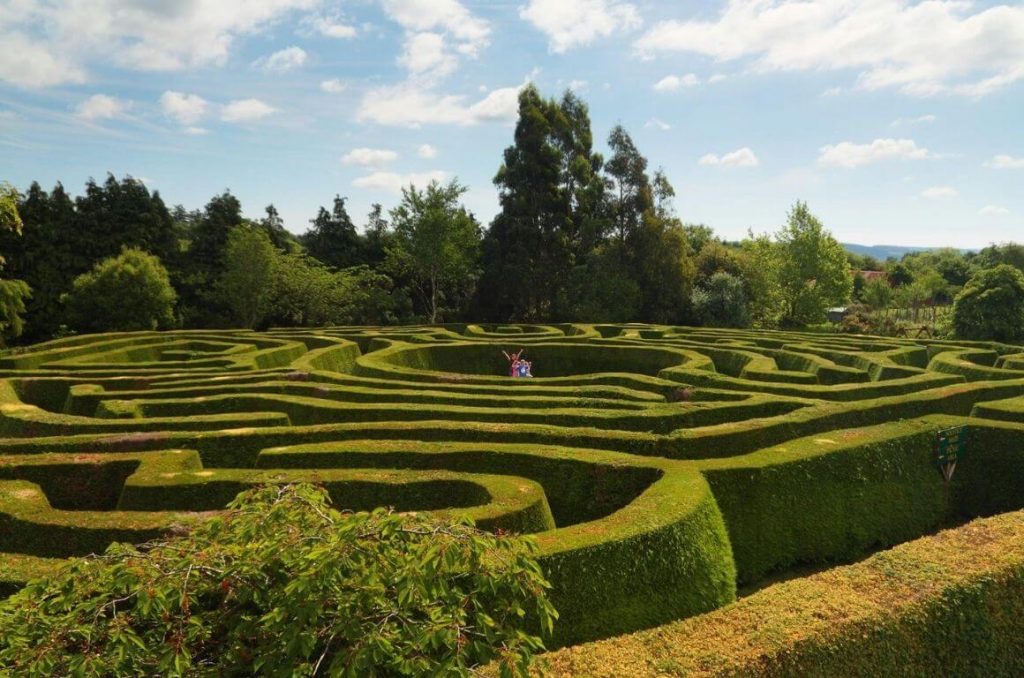 Glenroe Farm, Wicklow
Address: Ballygannon, Kilcoole, Co. Wicklow
The Glenroe Farm, based in Kilcoole County Wicklow, has a large maize maze that is usually available to visit between July and October. There are 10 "escaped" pigs inside that visitors are invited to try and find, a great activity for kids. As well as the maze there are nature walks, a fairy garden and an all-important coffee shop. Click here to find more information on the website.
Dunbrody Abbey Visitor Centre, Wexford
Address: Dunbrody, Campile, Co. Wexford
One of the best hedge mazes in Ireland is located at Dunbrody Castle, which is located at the grounds of Dunbrody Abbey in County Wexford. The yew hedge maze, created with 1500 yew trees, is one of only two full-scale hedge mazes in Ireland. The maze has gravel paths and a stone plinth at the centre. The visitor centre also has tearooms (with toilets), a craft shop and you will also find a pitch and putt course outside the maze. Find out more on the website.
Russborough House & Parklands, Wicklow
Address: Russborough, Blessington, Co. Wicklow, W91 W284
Located near the Blessington Lakes in County Wicklow, Russborough House is the home of another great maze to visit in Ireland. The 2000 beech hedge maze is an amazing maze near Dublin. Tickets to the maze are available as part of the Family Outdoor ticket or can be sold separately. If you take a tour of the house there is a great view of the maze from one of the bedroom windows. In the centre, there is statue a of a Greek goddess. Can you reach her? Visitor facilities at Russborough House include parking, toilets, café and shop. Find out more about visiting Russborough House here.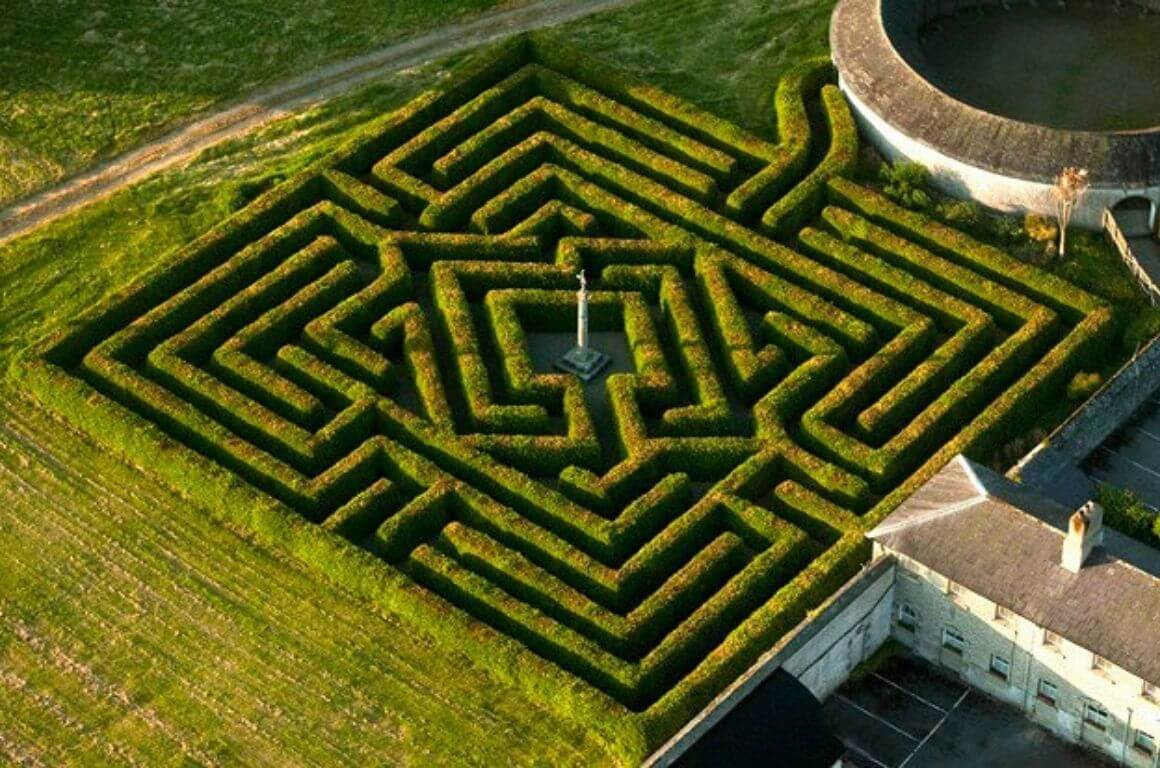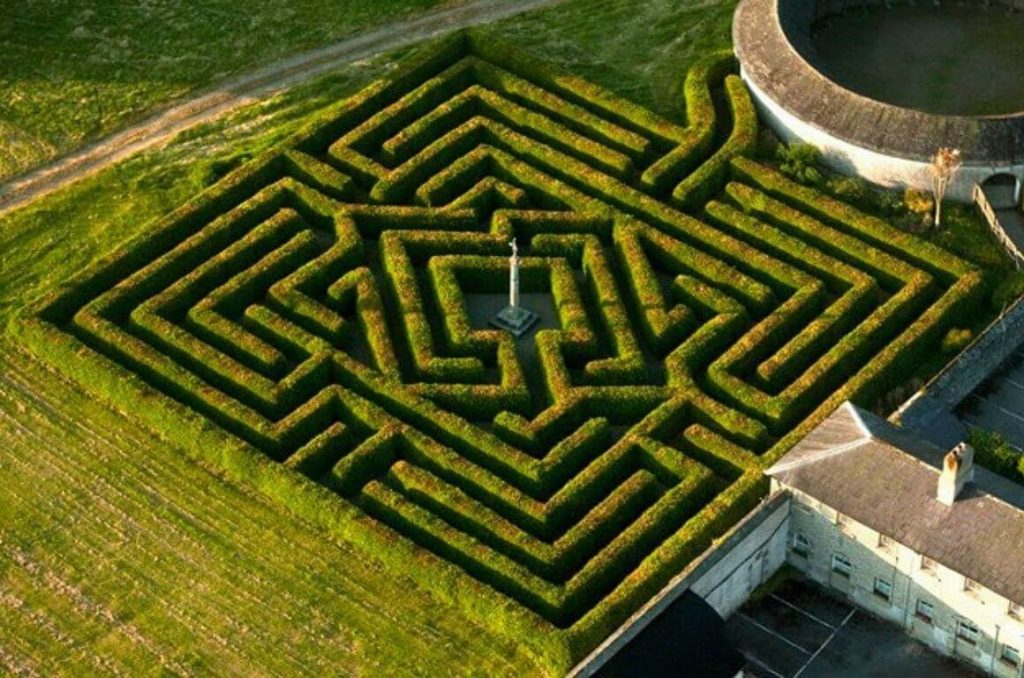 Doneraile Wildlife Park
Address: Turnpike Road, Doneraile, Cork
Located 45 minutes north of Cork City is Doneraile Wildlife Park on the Doneraile Estate, and there you will find a low hedge maze to visit inside one of the walled gardens. It is family-friendly, free to visit and there is parking. As well as the maze there are woodland walks to enjoy and there are tearooms at the back of Doneraile Court if you fancy some refreshments. Find out more on the Doneraile website or their Facebook page.
Leahy's Open Farm
Address: Leahys Open Farm Ltd Dungourney, Midleton, Co. Cork, P25 KW14
If you are visiting Ireland with kids and will be in County Cork and looking for a maze to visit, then take them to Leahy's Open Farm. Based near Midleton, the maze at Leahy's stands at 4 feet tall, making it perfect for all members of the family. Covering an area of around one acre, this box hedge maze is great fun for all the family. There are plenty of other family-friendly activities on-site and also visitor facilities. Find out more by visiting the website.
The Maze of Ireland
Address: R725, Rath East, Co. Wicklow
Planted in the shape of Ireland, one of the most amazing mazes in Ireland is the Rathwood Maze of Ireland. Within the maze, each county is built to scale and has a marker to denote the county town and the river flowing through it. This maze is brilliant but note that it is only open during the summer months. Nearby you will find restaurants, shops and cafes and a children's playground, as well as a woodland train. Find out more here.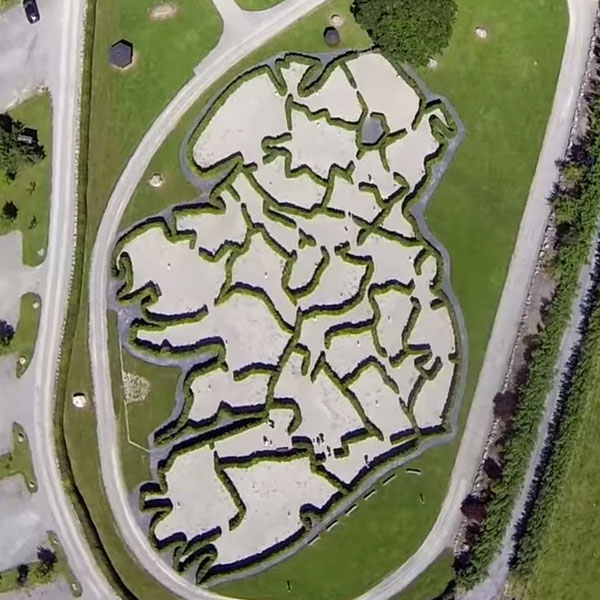 Crystal Maze, Meath
Address: Lisnagew, Kilmainhamwood, Kells, Co. Meath A82 Y6R6
The Crystal Maze near Kells in County Meath is an outdoor activity venue in which teams must pass mental, physical, water, and skill-based challenges to find their way out. With over 100 challenges, this is a great day out for a group of friends or family. To find out more about visiting the Crystal Maze, click here.
Iveagh Gardens, Dublin
Address: Clonmell St. (Off Harcourt St.), Dublin 2
The Iveagh Gardens, located not far from St Stephen's Green in the centre of Dublin, has a small yew maze to visit if you are in the Irish capital. There is also a rose garden and fountain to enjoy while there. More information about the Iveagh Gardens can be found here.
Aistear Labyrinth, Clare
Address: Main Street, Dooros, Mountshannon, Co. Clare
The Aistear Labyrinth is the maze located at the Aistear Park in County Clare. Aistear means journey and the journey here starts with the maze itself, bringing you from ancient times through to the present. The maze sits within the 4.5-acre park which also has a playground, outdoor library, and café/toilets in the middle. For more information visit here.
Tips for visiting hedge and maize mazes in Ireland
Check ahead of your visit if the maze you plan on visiting is actually open to avoid disappointment.
Make sure everyone in your party is wearing suitable footwear. Good, sturdy walking shoes are recommended, and make sure they are waterproof if it has been raining or is forecast.
Bring a raincoat (this is Ireland after all), and layer up in case the weather turns cooler while you are in the middle of the maze.
Bring water, sunscreen, and insect repellent. And hats if the sun will be shining.
Most maze attractions will have a map, so grab one in case you need help to find your way out.
If you are visiting with kids, or your party plans to split up, a set of two-way radios might be useful.
Prepare to get lost! You are entering a maze after all. And most importantly, have fun!
In Summary
So, now that you know where the best mazes in Ireland are to visit, will you be planning a fun day out together with friends or family soon?
Find more ideas for days out in Ireland: