Looking for the best sunflower fields in Ireland to visit for amazing pictures? Sunflowers are beautiful and fascinating flowers and the yellow fields of them make the best background for incredible pictures. Find the best ones right here.
Updated August 2022
There are a few beautiful sunflower fields in Ireland to visit and I've compiled a list of them here so you can quickly answer the question you've had, "are there sunflower fields for photos near me?". There are a few in the Republic of Ireland and some in Northern Ireland. Discover the best below and start planning your visit.
I highly advise you to contact the venue before travelling there to ensure they are open. Some venues are not running sunflower fields this year. Days and times may also change at short notice.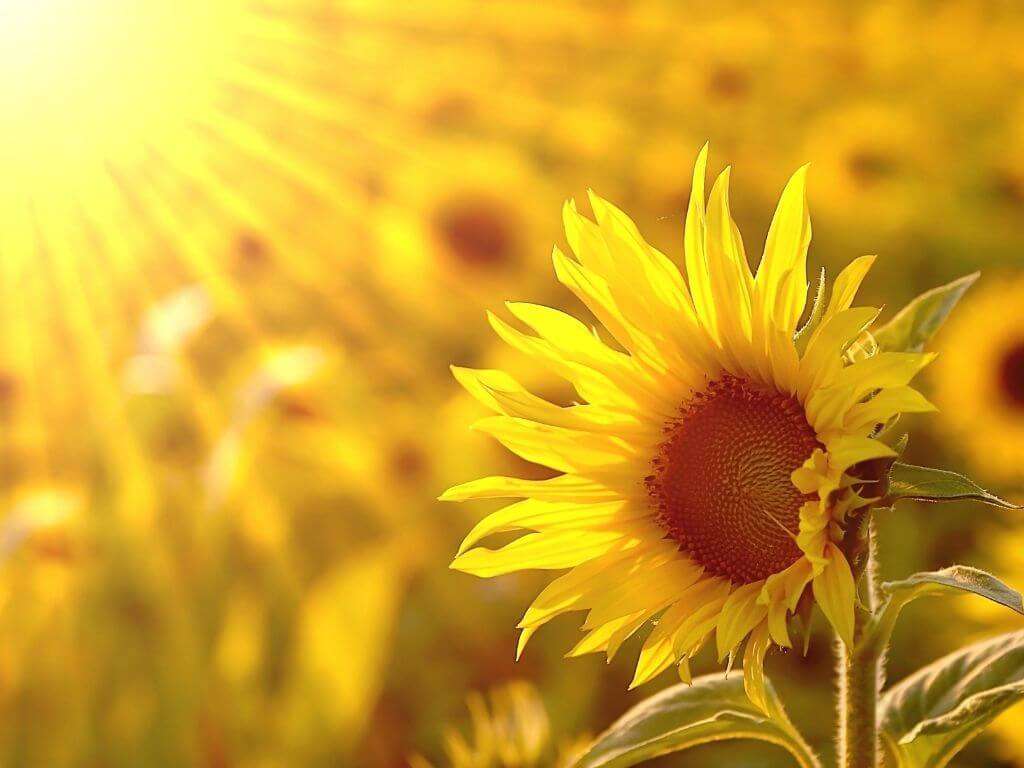 Best Sunflower Fields in Ireland
Portglenone Sunflower Field, Antrim
Address: 173 Gortgole R, Ballymena, BT44 8AS, UK
For the best Northern Ireland sunflowers, Portglenone sunflower field is the one to head for. There are two large sunflower fields at Portglenone with wildflowers around the edge, run by the McAllister family. The fields have a path through it like a maze.
There is a small entry fee that goes to charity (Bowel Cancer UK in 2021, MacMillan Unit in Antrim Hospital in 2022), and you can purchase cut sunflowers, although be aware you cannot pick your own. There is a marked path to follow, dogs are welcome on leads, just keep both dog and kids off the wildflowers. There are no facilities on-site but the field is just 3 miles from Portglenone which has several eating places. There is no on-site parking, parking is along the road and in a field (weather permitting), and be mindful of junctions and the potential for farm vehicles.
For more information about the sunflower field Portglenone, opening times, and more contact them through their Facebook page.
Meath Sunflower Field, Meath
Address: next to Causey Farm in Fordstown, C15 V2N0
If you are looking for a sunflower field near Dublin, then head to the Meath sunflower field near Causey Farm in Fordstown. This is a pick your own field where visitors can explore and then cut their own sunflowers. There is a fee to enter, either an individuals or as a family, and everyone who enters can pick 5 stems.
Keep an eye on their Facebook page for more information and their opening days/times.
Joe's Farm Crisps, Cork
Address: Drishane More, Killeagh, Co. Cork, P36 X582
If you are located in the south or southwest of the country, then Joe's Farm Crisps in County Cork is somewhere to visit for beautiful sunflowers in Ireland. Also the location of one of the best pumpkin patches in Ireland, Joe's Farm Crisps is holding sunflower picking every weekend with an entry fee, proceeds of which are going to the Mary Mount Hospice.
Visitors can enjoy a stroll around the one-way system, meet Farmer Joe who will be cutting sunflowers for visitors, and take some pictures at the special sunflower areas. No booking is required but not this is a cash-only event. Find more information on their Facebook page.
Carginagh Sunflower Fields, Down
Address: 92 Carrigenagh Road, Kilkeel, BT34 4QA Co. Down (UK)
One of the best sunflower fields in Northern Ireland is the Carginagh Sunflower Field in County Down. With over 100,000 Sunflowers nestled at the foot of the Mourne Mountains, and picnic areas, lots of photo opportunities and a few adventurous paths through the sunflowers, this venue makes a great day out while supporting local charities (Donations were for the Southern Area Hospice & CCK Annex Project in 2022). Only open until mid-August. Find more information on their Facebook page.
Minmore Sunflower Field, Wicklow (not taking place in 2022)
Address: Minmore Farm, Shillelagh, Co. Wicklow, Y14 X440
Minmore Farm, with its 4-acre sunflower field located 25-minutes from Gorey, is one of the best places in Ireland to see sunflowers in bloom. Sown by Colin Tyner and not advertised in its first year for fear of no sunflowers growing, this is one of the best fields of yellow flowers in Ireland. The sunflower field is a cut-your-own field with the owner asking for donations to local and national Irish charities. And with over 200,000 flowers in bloom, there are enough flowers to go round, all while raising money for worthy causes.
Find more information on the Minmore Instagram page. Not this is not going ahead in 2022, check their Instagram page for more details for 2023.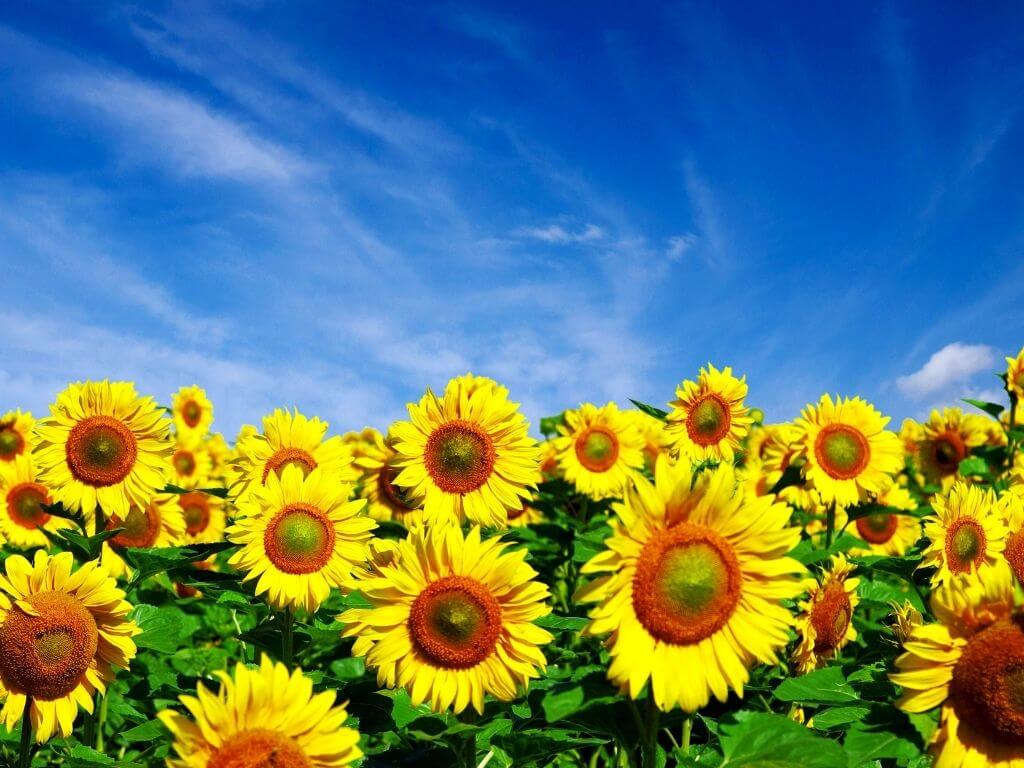 Causeway Sunflower Field, Antrim
Address: 262 Whitepark Road, Bushmills, BT57 8PY, UK
Another big sunflower field to visit in Northern Ireland is the Causeway Sunflower Field near Bushmills in County Antrim. Owned by Pearl and Archie Linnegan, this half an acre field of beautiful sunflowers is planted and is run as a cut-your-own sunflower for a donation that is collected for local charities. If you are visiting the nearby Giant's Causeway in August, why not pop along to the Causeway Sunflower Field on the same day, both of which are great things to do in Antrim during summer.
You can find details of the field and its season and opening hours on the Facebook page.
Swords Sunflower Field, Dublin
Address: beside Ballyboughal Airfield, just off the Swords Road
Another great sunflower field in Ireland to visit is the one at Ballyboughal, Swords. This field of sunflowers has been sown by the Hoey and Bergin families in aid of St Francis Hospice at Raheny and Blanchardstown. Open to the public until mid-August, there is an honesty box where visitors can leave a donation for the sunflowers they pick. Visitors are reminded to bring their own cutting tools and to only take what they need.
Find out more about St Francis Hospice here.
Robin's Glen, Kilkenny (Not operating in 2022)
Address: Robin's Glen Organic Produce, Robinstown House, Glenmore, Co. Kilkenny, Y34 D925
One of the best flower fields in Ireland for sunflowers is located in County Kilkenny at the Robin's Glen organic farm. This organic farm has been planting sunflowers for many years, although some years have not been as successful as others. Theirs is a pick-your-own sunflower field and you are advised to wear wellies or shoes you don't mind getting dirty.
Find more details about the Robin's Glen sunflowers on their website, or their Facebook page. Not operating for 2022.
Kingstown Sunflower Field, Tipperary
Address: Kingstown, Cashel, Co. Tipperary, E25 C432
If you are based in and around County Tipperary, then another sunflower field to seek out is the Kingstown Sunflower Field. Located just 2.5km from the town of Cashel, one of the best places to visit in Ireland thanks to the famous Rock of Cashel, the Kingstown Sunflower Field is 3-acres of amazing sunflowers. At the entrance is a donation box in aid of the Irish Cancer Society, Red Cross and South Tipperary Hospice Movement. Visitors are encouraged to come and view the sunflowers, take a selfie among them, and even take a few home. The site is family and dog-friendly, and there is parking but no other facilities, although you will find plenty of cafes and restaurants with toilets in Cashel itself.
The Kingstown Sunflower Field has a Facebook page which they update regularly. They will announce opening of the sunflower field on there.
Ardstraw Sunflower Field, Tyrone TBC
Address: Deerpark Road, Newtownstewart BT78 4LA, UK
Originally started as an environmental project, the sunflower field at Ardstraw is planted by a local family who raises money for local Northern Ireland cancer charities in memory of a family member who lost their life to cancer. The beautiful sunflower field is a cut-your-own field and visitors are encouraged to come armed with scissors and cut their own sunflowers for a donation to be left in the honesty box at the entrance. Remember your wellies if it has been raining.
The Ardstraw sunflower field does not have a website or Facebook page but this Facebook page had details of opening hours and the season in 2020.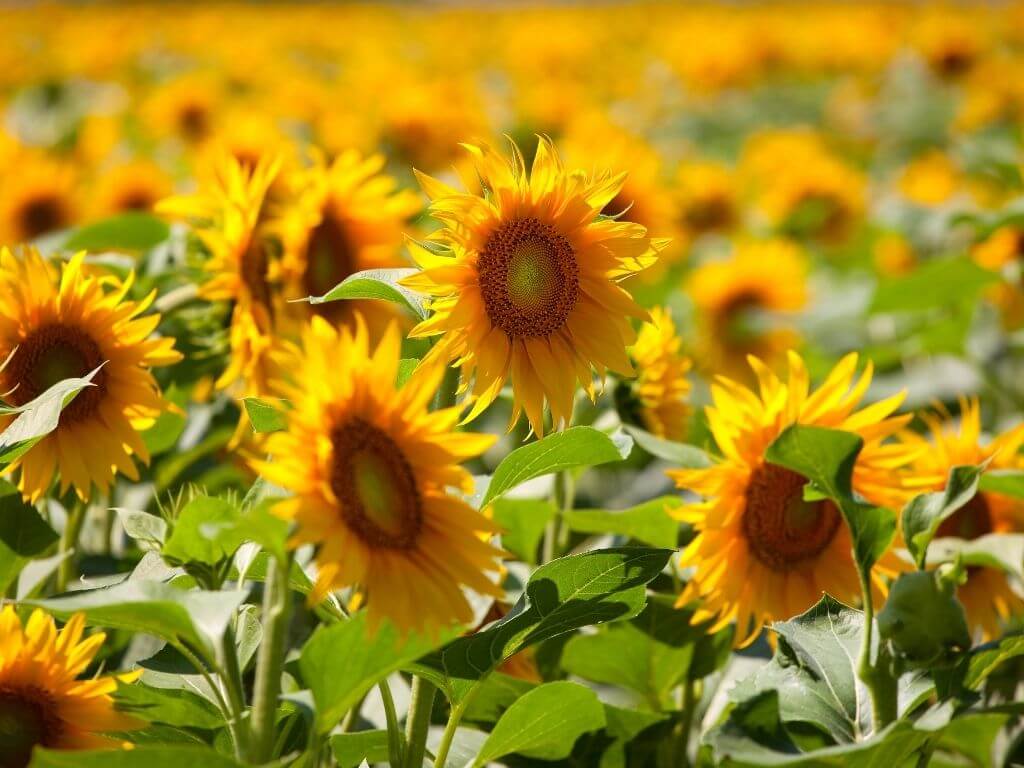 Kenneth Gilpin Farm Sunflower Field, Armagh TBC
Address: 14 Derryall Rd, Craigavon BT62 1PL
A huge sunflower field in County Armagh to visit if you are in the area is the one at the Kenneth Gilpin Farm in Portadown. Last year, donations were collected for the Portadown Presbyterian Church Building Fund for those coming to pick their own sunflowers while enjoying the amazing fields of yellow flowers.
It would be worth keeping an eye on the Portadown Facebook page for updates for the coming season.
Kilkenny Sunflower Field, Kilkenny
Address: Callan, Co. Kilkenny
New in 2021 and returning for 2022 despite difficult decisions and rising costs, the Kilkenny Sunflower Field in aid of TaxiWatch, a suicide prevention charity, will be bigger than last year. Enjoy taking pictures and take one home, with all donations going to a worthy cause. Just don't be greedy and take too many sunflowers, consider other visitors!
Keep an eye on the Facebook page for more details on their opening days/times.
Other places to try see sunflowers in Ireland
Scalp Wood Nurseries and Ashford Sunflower Field – The Scalp Wood Nurseries sunflower field, in aid of Our Lady's Hospice & Care Services, is now located in Ashwood (A67KF65) in County Wicklow. Visitors are invited to bring their own cutting tools to pick their sunflowers and leave a donation with a volunteer. People are asked not to enter and pick sunflowers unless a volunteer is present. More information here.
Claggan Fruit Farm – This fruit farm in Northern Ireland where you can pick strawberries planted sunflower seeds this year, but it is still unclear whether they will be successful or not. Check ahead of time to see if their sunflowers have grown before you visit. Their address is 116 Highlands Rd, Limavady BT49 9LY. TBC
Duleek – There was a sunflower field on the road between Duleek to Julianstown Road in County Meath, but that was over 10 years ago, and I have been unable to find out if this is still the case. If you happen to be driving that road in August, keep your eyes peeled!
Schull Sunflower Field – Located in Cork (P81 F765), this field was planted in May with the help of local Ukrainian families. Now ready for harvesting and in aid of local charities, visitors are invited to pick sunflowers, enjoy family fun events such as tug of war, bouncy castles and welly throwing. Taking place on August 14th, this event is great if you are located in West Cork. More information here.
Swan's Sunflower Farm – Located in County Carlow, in Ballylennon, is a pick-your-own sunflower field. There is an entry fee per person and you can find more information here. They are also asking for visitors to consider a small donation to the Jack and Jill foundation in memory of the granddaughter of a close friend who lost her battle with cancer.
Things to know about sunflowers in Ireland
There are a few things you should know before planning your visit to see a sunflower field.
Sunflowers bloom from the middle of summer, through to early autumn, so between the months of July and September. The optimal time to enjoy local sunflower fields is during the month of August when they are tall and at their optimal condition. They may start to lose their height and bloom in September.
Some sunflower fields will allow you to pick flowers, but you must check before you enter the fields. If you are allowed, be considerate of other visitors and only pick a few.
Do not allow children to break the stems or pull at the flowers, particularly if you are visiting a sunflower field that isn't a pick-your-own site.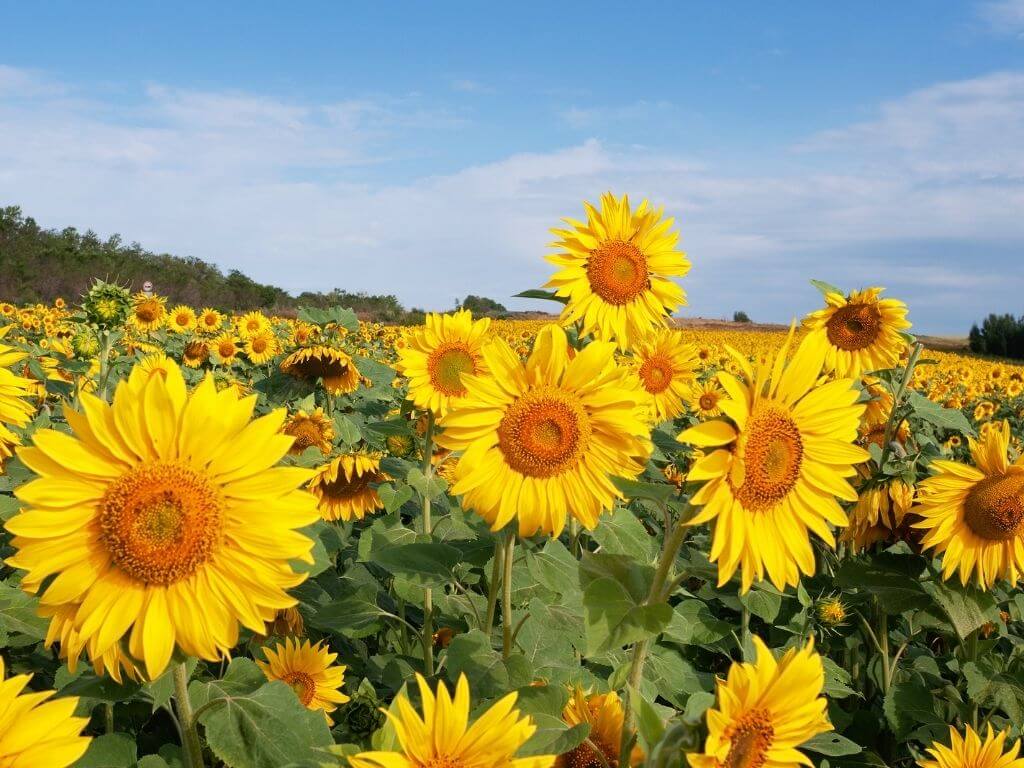 Facts to know about Sunflowers
The scientific word for sunflower is Helianthus, from the Greek words of helios meaning sun and anthus meaning flower.
Sunflowers are from the same family as daisies.
There are 80 species of sunflowers, and they range in colour from bright yellow to orange, pink, and tawny red.
The average height of sunflowers lies between 20 inches and 16 feet. The tallest sunflower recorded was in 2014 in Germany and had a height of 30ft 1inch.
Young sunflowers track the sun while older sunflowers only face east to get the most from the morning sun.
Sunflower seeds are either black or striped. The black seeds are used to make sunflower oil, while the striped are sold as healthy snacks.
They are the national flower of Russia and Ukraine.
Sunflowers are often used to represent positivity, strength, admiration, and loyalty. In Chinese culture, they represent good luck and lasting happiness.
Final thoughts
There you have it, the best places to experience sunflowers in Ireland. There are not as many pick-your-own sunflower fields across the country as you might have thought, so you may have to travel to one if you really want to enjoy sunflowers this year.
Find more ideas for summer days out: