Strawberry picking is a popular early summer event, Sweet, delicious berries straight from the plants. Simply the berry best.
If you are wondering are there strawberry picking farms near me in Ireland, then this list of some of the best places to go strawberry picking in Ireland might help.
With ideas for both the Republic and Northern Ireland, you are sure to find somewhere near you.
So, whether you are on vacation in Ireland or a local and are looking to get your hands on some of the summer's delights, you are sure to find a strawberry-picking place on this list you can visit.
Note, you must confirm with the venue ahead of your visit whether they are open or not to avoid disappointment.
Strawberry picking near me in Dublin
If you live in or near the Irish capital and are looking for local strawberry picking farms, then this section is for you with an idea on where to go strawberry picking in Dublin.
Lambert's 'Pick Your Own' Fruit Farm
Address: Cruagh Rise, Rathfarnham, Dublin 16
Lambert's 'Pick Your Own' Fruit Farm is located in the Dublin Mountains and not only produces strawberries but also other fruits such as raspberries, blackcurrants, and gooseberries. It is a popular strawberry farm in Dublin. Note that the farm only operates in cash, it does not have a card machine nor an ATM, and there are no toilets on-site. Although they can provide buckets to collect your fruit, they advise you to bring your own. Get up-to-date news on their fruit seasons and opening on their Facebook Page.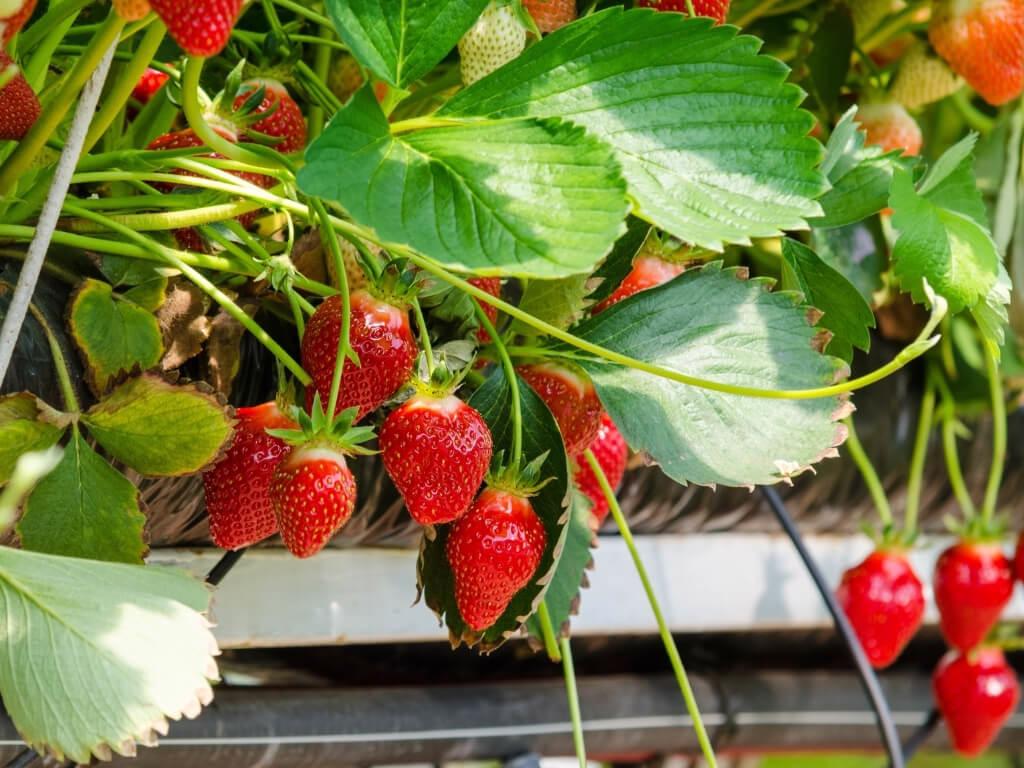 Strawberry picking, Wexford
If you are based in or near County Wexford and are wondering "is there strawberry picking around me", then these suggestions are just for you.
The Berry Farm
Address: The Ballagh, Clonroche, Co. Wexford, Y21 DK18
This 30-year-old farm allows you to pick your own strawberry opportunities during the season between May and September. Get more information through their Facebook page.
The Village at Wheelocks
Address: Finchogue, Enniscorthy, Co. Wexford, Y21 YY67
One of the best strawberry picking places in Ireland is The Village at Wheelocks. This family-run farm is not only a strawberry farm in Wexford but a working farm that also grows other fruits including raspberries, blackcurrants, and even pumpkins.
Visitors are welcome to join a guide where you can learn about the growing process before picking strawberries in the polytunnels. You can learn about farm life and meet the animals, and also visit the shop and café. There are river and forest walks, and fruit picking takes place between May and November. For up-to-date information, check out their website.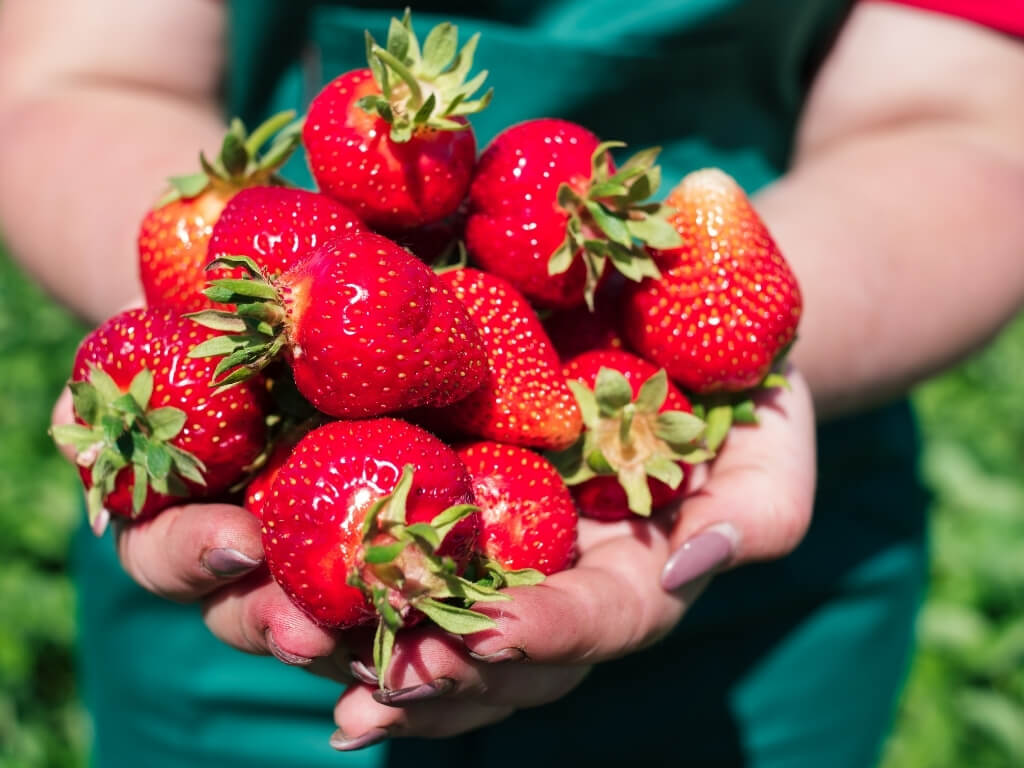 Strawberry picking, Northern Ireland
If you are based in Northern Ireland and are looking for strawberry picking opportunities, then these suggestions are for you!
Claggan Fruit Farm
Address: 116 Highlands Rd, Limavady BT49 9LY (Londonderry)
One of the best places to go strawberry picking in Northern Ireland is Claggan Fruit Farm. This fruit farm grows strawberries as well as blackcurrants, redcurrants, raspberries, tayberries, and gooseberries, and their fruit season typically runs from mid-June to the first week in August.
On-site facilities for visitors include parking, toilets, picnic tables, toilets, and a coffee trailer serving sandwiches and bakes alongside drinks. Punnets and baskets are provided, and fruit is sold on a weight basis. For strawberry picking in Limavady, head to the Claggan Fruit Farm. For the latest information check out their Facebook page or join their Facebook group. You can also find them on Instagram.
Finlay's Place
Address: 40 Comber Road, Killinchy, Co. DownBT23 6PB
Another great place to go strawberry picking in Northern Ireland is Finlay's Place. Their fruit picking season runs from typically the end of June to August, although the seasons will depend on the weather. This family-run business sells fresh produce including fruit, potatoes, vegetables, eggs and even flowers.
As well as strawberries, they also offer pick your own raspberries, gooseberries, blackcurrants, and redcurrants. Note that the strawberries are grown in polytunnels. For the latest information about fruit picking, check their website and Facebook page.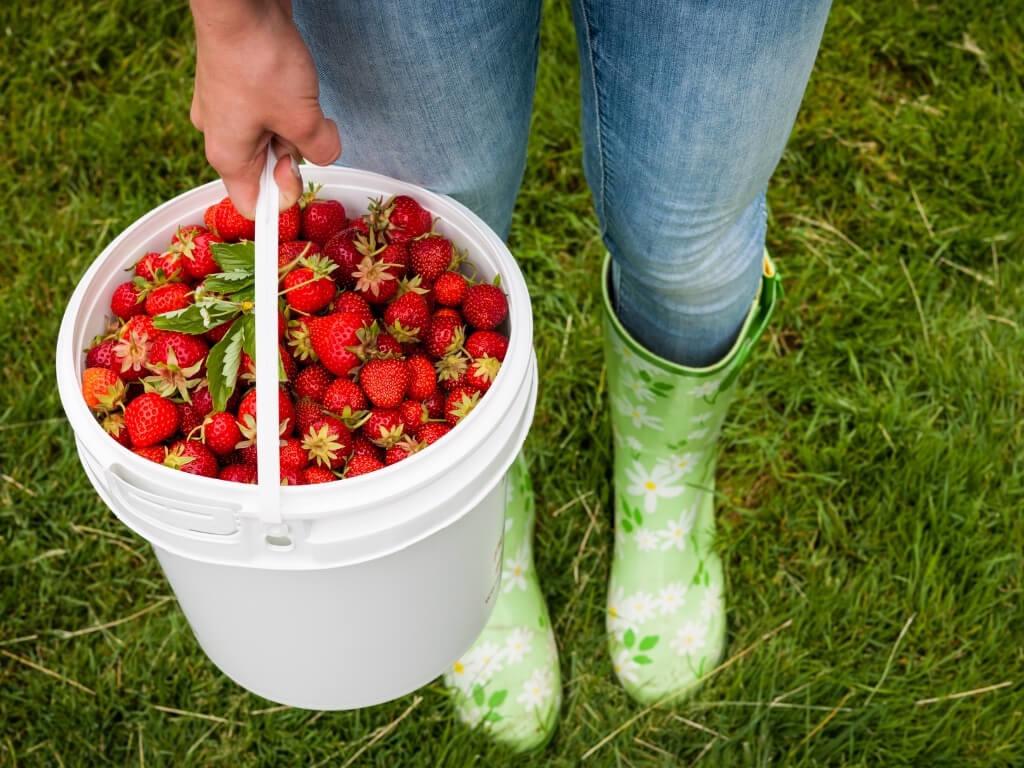 Strawberry picking in my area, Tipperary
If you are living in or near County Tipperary, then this strawberry picking farm is one to visit.
The Apple Farm
Address: Moorstown, Cahir, Co. Tipperary
At this family-run farm, you can pick your own strawberries and fill the punnets you are given on arrival. The farm also has a picnic area, play area, shop, and even campgrounds. During autumn you can return to pick apples. And you can even enjoy homemade apple juice and lemonade to cool down if it is a hot day. Check their website for the latest news and opening hours and also their Facebook page.
Tips for going strawberry picking
When to go strawberry picking – Strawberry picking time of year typically runs for two to three weeks in June. The start of the short season depends on the weather in spring so it is best to check with the venue you plan to visit ahead of time to see when their season starts.
Strawberry picking tips –
First and foremost, remember to pay for your strawberries BEFORE eating any!
Visit during a weekday when the strawberry availability will be at its peak. Fewer people visiting = more strawberries for you.
If you must visit at the weekend, arrive at opening time as demand is higher at the weekends.
Pick firm, fully red berries. Note that strawberries do not continue to ripen after being picked so make sure it is fully ripe before picking.
Do not overfill your container or you may end up with bruised, mushy berries.
Eat or freeze your berries within 24 hours of picking to preserve their flavour.
Bring a hat, sunscreen, and water, especially if the forecast is good.
Conclusion
There you have it, the best places to experience strawberry picking in Ireland.
There are not many pick-your-own farms across the country so you may have to travel to one if you really want to pick your own strawberries.
But you won't regret it once you taste those sweet delights you've hand-picked yourself.
Now, the question is, will you serve them as is with ice cream or cream, or will they go into a fruit bowl?
Find more ideas for days out in Ireland: