Planning a trip to the Emerald Isle and wondering what are the things you simply must do while there? Then you'll love discovering the top things you must do in Ireland to help you plan your perfect itinerary.
While there are lots of things to see and do in Ireland, there are some things that you simply cannot miss out on, especially if it is your first time in Ireland.
And whether you are interested in the landscape, history, or culture of Ireland, you are sure to discover some things on this list that you will want to add to your itinerary for your trip to the Emerald Isle.
Things You Must Do in Ireland
Some people ask what are the best places to visit in Ireland, while others compile a bucket list and plan from there. Others have decided on their bases and want to expand their list of things to do in the area.
In a recent thread in a Facebook group that I am a member of, a group member asked what the absolute must-dos in Ireland are, and the responses were varied.
And while some of the answers were no surprise, there were some I hadn't considered but that made perfect sense.
So, I decided to compile a list from the responses to help people who might not be members of an Ireland Facebook group but who are also wondering what are the things you must do in Ireland to have an unforgettable trip.
And here they are.
Non-touristy things you must do in Ireland
Be there
By far the biggest must-do in Ireland was to just go and be there. Some people overthink a trip to Ireland and become so overwhelmed that they don't book their trip.
Or, they cannot find a tour to suit their needs and the thought of planning their own trip sends them into a spin.
And alongside that came the advice of enjoying your trip and soaking it all in. Breathe, relax and above all else, take things slow.
Many people plan to move from place to place every day so that they can see it all. And while that suits some people, many have found it too much and like they've missed the immersion experience.
Whatever way you decide to explore Ireland, just go and take it all in.
Go to the pub
Another one of the must-do things in Ireland suggested was to go to the pub. And preferably one with live music if you can find one.
Find a stool, order a pint, and enjoy the experience of an afternoon or evening in a pub. You never know who you might meet or the stories they'll tell.
And there is no better place to shelter from the rain if the heavens open. Local pubs are ten-a-penny outside of the capital but if you are looking for a more authentic experience, then visit one of these non-touristy pubs in Dublin.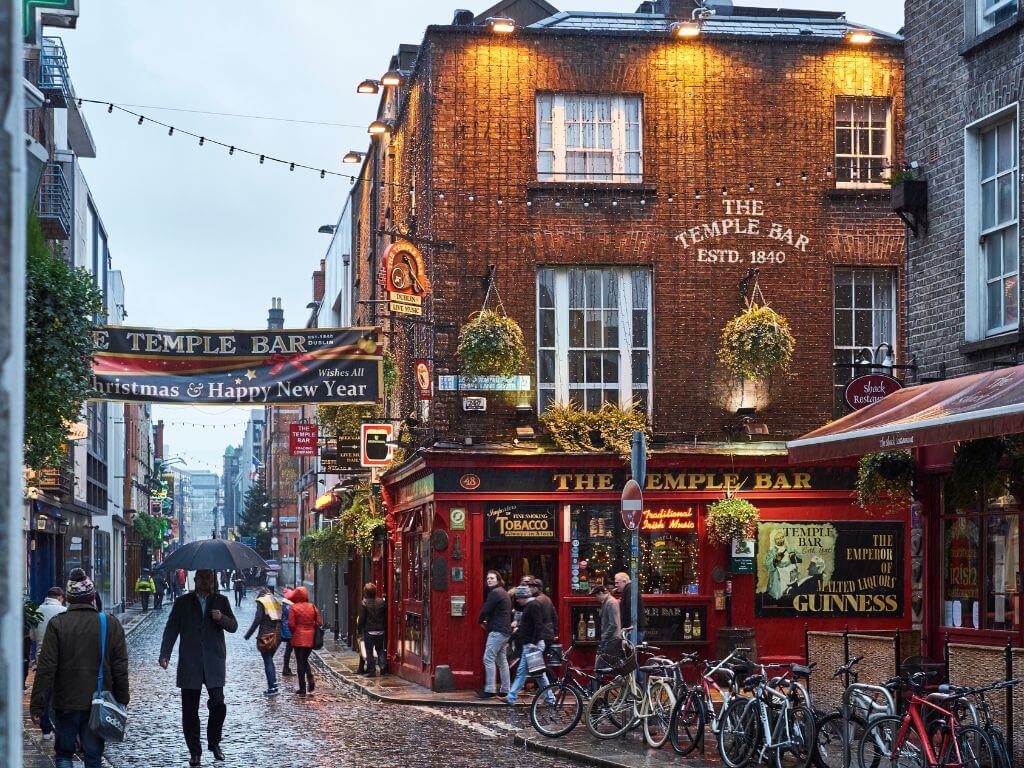 Enjoy a Guinness or a Jameson
And while we are on the subject of pubs, you cannot go to Ireland without sampling a pint of the 'black stuff'. Order a Guinness or a Jameson and get warmed from the inside out.
A great place to get a pint of Guinness is in the 360˚ panoramic bar at the end of the Guinness Storehouse tour. And for the best Jameson, sample it after your tour of the Jameson distillery.
Chat with the locals
Something you cannot miss out on while in Ireland is to strike up a conversation with the locals.
Whether it is in a pub, with your accommodation host, or with someone on a tour. The locals are generally very friendly and full of stories.
Our accommodation host in Wexford was a great woman who loved a chat and shared her life stories with us when we met her. She was full of recommendations of things to try in the area and where to find the best fish and chips in the area, a must for us when we're in Ireland.
And we had great chats with our guides at both the Hook Head Lighthouse and at the Dunbrody Famine ship. And that was all just on one trip!
Take in the landscape
Ireland is a stunning country, and you should take time to just enjoy the landscape. The green fields, gentle hills, and rugged coastline all make for an incredible landscape.
Whether it is the Cliffs of Moher, the Giant's Causeway, or simply the landscape of farm fields, Ireland won't disappoint and you should make time to enjoy it.
Sleep in a castle
One of the Ireland must-do experiences that was high on the list was to sleep in a castle.
There are plenty of castles that have been turned into hotels and even some that are private but that can be rented. Some are 4- and 5-star resorts complete with golf courses, fine dining restaurants, and spas.
If you want to add a bit of luxury to your trip, then stay at one of these castle hotels in Ireland.
Enjoy the food and drink
When in Ireland, you need to sample the food as well as the drink. Ireland's food scene has always been about wholesome, comforting food you'd find in any Irish home but it's becoming more than that.
There are lots of enjoyable Irish dishes to try while you're in the Emerald Isle and one thing we never miss when we're on a trip home is fish and chips, preferably by the sea.
And a great way to finish a meal, or even just to warm up, is with an Irish coffee.
Top 10 must-do things in Ireland
Cliffs of Moher
While there are some that argue they have become too touristy, my opinion is that you should visit the Cliffs of Moher at least once.
Standing 214 metres (702 feet) out of the Atlantic Ocean at their tallest and running for 14 kilometres (9 miles), these are one of Ireland's most popular natural landmarks for visitors.
If you do choose to visit them, you can enjoy walks along their tops, taking photos as you go and you can pop into the Visitors Centre to learn more about them and the flora and fauna of the cliffs.
And don't worry if you are staying in the Irish capital, there are lots of Cliffs of Moher tours from Dublin that you can take.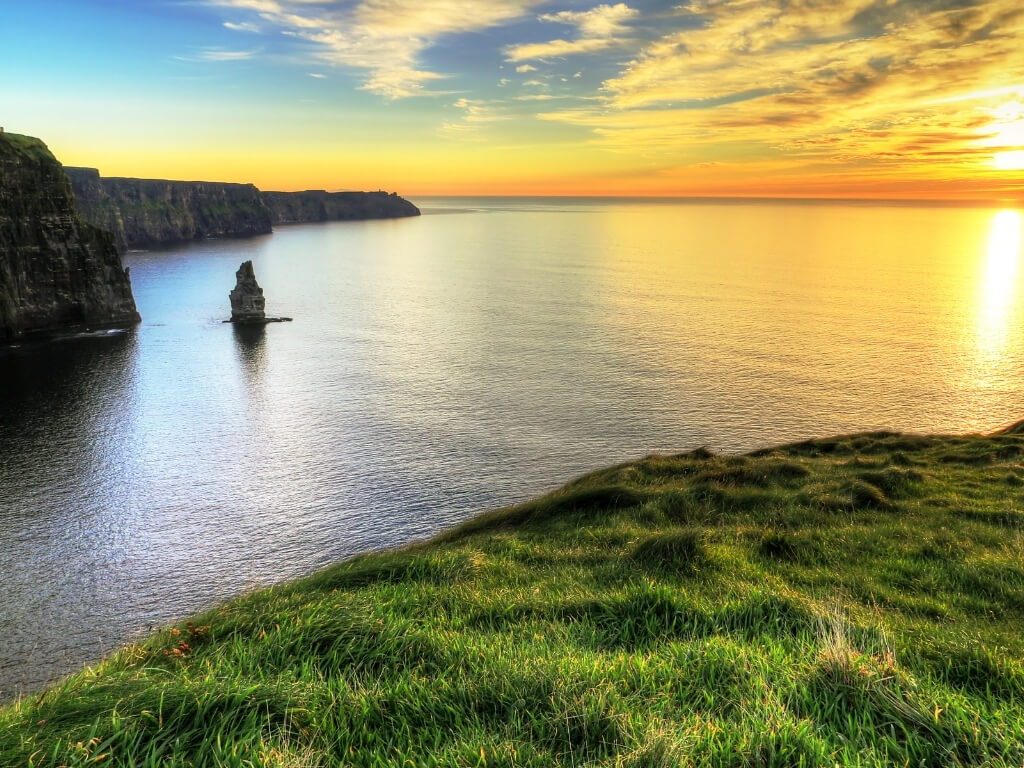 Giant's Causeway
Another popular location for visitors to Ireland and another must-do according to those who have visited is the Giant's Causeway.
As one of Northern Ireland's top attractions, the Giant's Causeway attracts hundreds of thousands of visitors every year.
And with its unusual hexagonal rock formations, it is easy to see why. So, if you are planning to head north, make sure to add this Ireland must-do to your itinerary.
Blarney Castle and Gardens
Blarney Castle and Gardens is a place in Ireland that invokes split opinions. There are some who say it is a must-do in Ireland and there are others that say it is a gimmick.
However, having been myself, my opinion is that it is worth visiting at least once. Whether you kiss the Blarney Stone to be bestowed with the gift of the gab or not, the extensive gardens are stunning.
With a fern garden, rose garden, poison garden, fairy trail, two waterfalls, and more, the gardens are the highlight of Blarney Castle and you should allow at least half a day to explore them.
Top tip: If you are going to kiss the Blarney Stone, arrive at the castle for the opening and go straight to the top of the castle to do this. Then you will have plenty of time to explore the grounds at your own pace.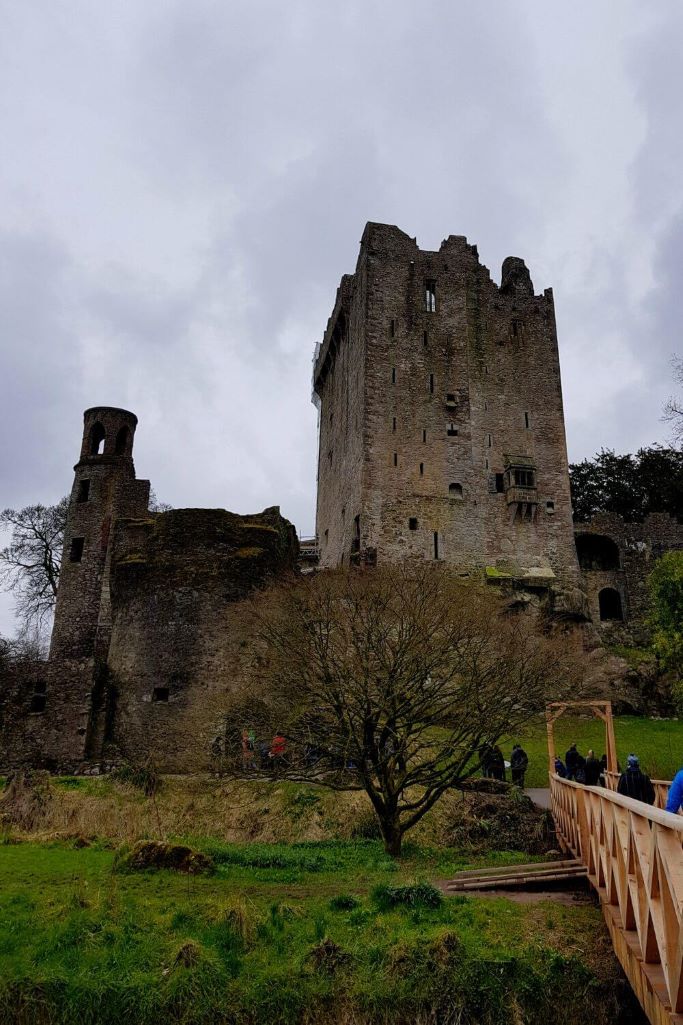 Dingle
A gem along the Kerry coast is Dingle. This small fishing village is one of the best coastal towns in Ireland and is a popular stop along the Wild Atlantic Way (see below).
Situated on the peninsula of the same name, Dingle is a pretty coastal town full of colourful shops, pubs, fish and chip shops, and one of the best places for ice cream in Ireland.
Dingle harbour makes for a nice boat tour on a clear day, during which you might spot dolphins. Dingle used to have one resident dolphin who unfortunately is no longer there. But other pods are sometimes spotted in the harbour and along the surrounding coastline.
Wild Atlantic Way
If you are looking to do an epic road trip in Ireland, then you cannot get much better than the Wild Atlantic Way.
This 2500 kilometre (1550 miles) coastal driving route follows as much of the west coast of Ireland as is possible from Malin Head in County Donegal to the Old Head of Kinsale in County Cork.
Along the way, you'll travel through some of Ireland's most amazing landscapes and enjoy things such as the Ring of Kerry, Cliffs of Moher, Slieve League Cliffs, and more.
If you want to know more about the Wild Atlantic Way, read my complete guide now.
Skellig Michael
One site that was hailed as an unmissable thing to do in Ireland was Skellig Michael.
Located off the west coast of the Iveragh Peninsula in County Kerry, this island was made famous thanks to the Star Wars films. Twinned with Little Skellig, the islands are a UNESCO World Heritage Site.
You cannot visit Skellig Michael on your own. You can only do so by an approved boat tour from the mainland and numbers and time on the island are limited due to its UNESCO designation.
But for those who have been, it has been worth it and was a highlight of their trip.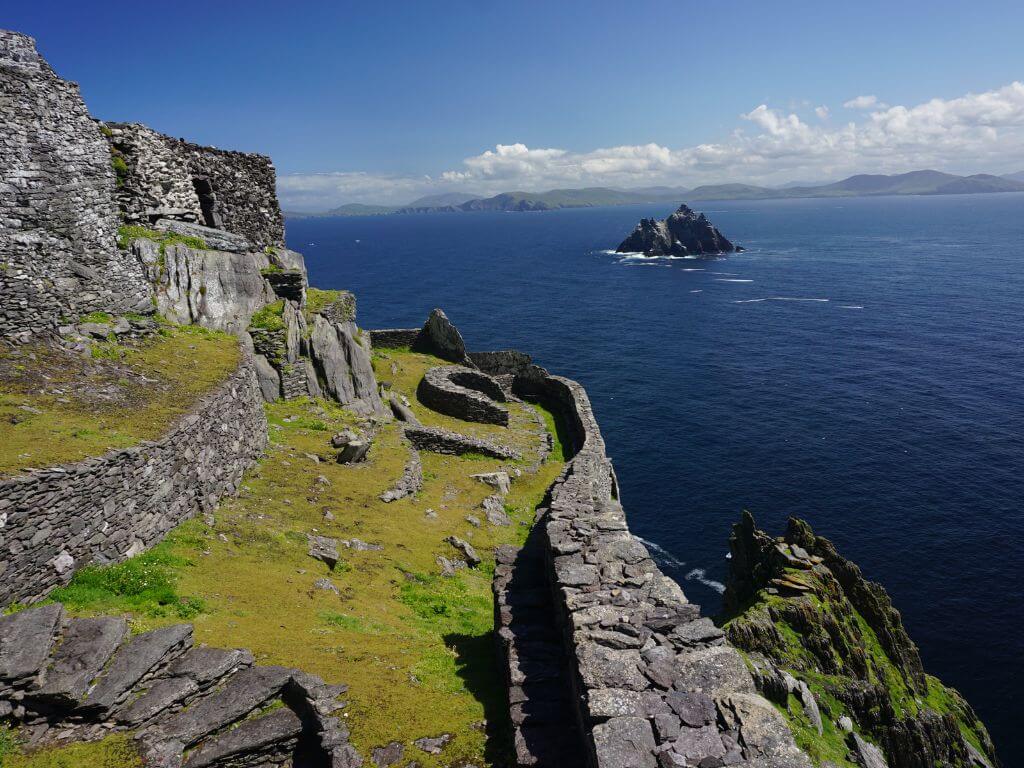 Glendalough
An Ireland must-do that I visited for the first time recently is Glendalough. The famous monastic site is located in County Wicklow and is one of the most famous man-made landmarks in Ireland.
Established by Saint Kevin in the 6th century, the site is most famous for its 30-metre high Round Tower. As well as this, there are other religious buildings and the graveyard to explore.
And just a short walk away from the monastic site are beautiful forest walks leading to the Upper Lake of the Glendalough Valley. Around this are further walks, one of which visits a great waterfall, the Poulanass Waterfall. Make sure to put Glendalough on your must-do list.
Slea Head Drive
One of the most scenic drives to take in Ireland that is relatively short in comparison to the entire Wild Atlantic Way is the Slea Head Drive on the Dingle Peninsula.
Starting and ending in Dingle, this circular route around the Peninsula passes woodlands, remains of forts, and even beehive huts. And on a clear day, you can see all the way across to the Skellig Islands.
The route also passes by some amazing beaches, ideal for a pitstop during summer to dip your toes in the cool Atlantic Ocean.
Top tip: drive it in a clockwise direction so that the sea is to your left. This will make stops along the way easier as well.
Slieve League boat tour
The Slieve League cliffs in County Donegal are one of Ireland's lesser-known gems. Overlooked by the more popular Cliffs of Moher, these dramatic sea cliffs are taller than their County Clare counterparts.
These cliffs are among the highest in Europe and are a far quieter affair than the Cliffs of Moher. And one of the best ways to enjoy them is from the water.
There are several boat tours visitors can take to view the Slieve League cliffs, departing from Teelin. If you want to add something different to your trip, book one of the Slieve League Cliff's tours today.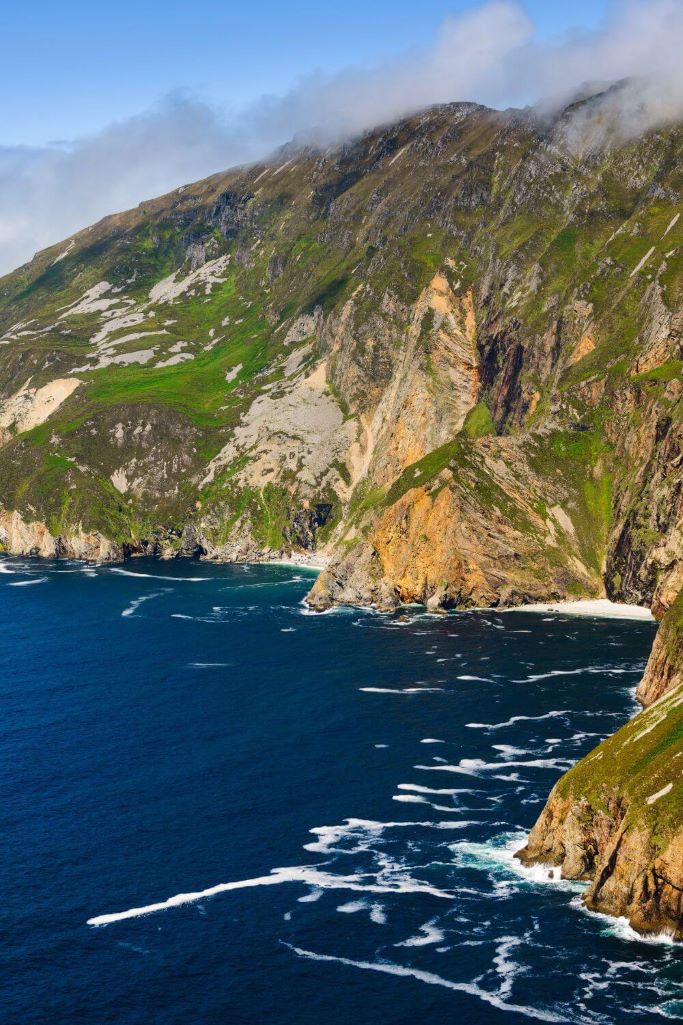 Kerry Cliffs
Another set of amazing sea cliffs to visit in Ireland is the Kerry Cliffs. Suggested as an Ireland must-do, these cliffs stand at over 300m (1000 feet) and are rugged and beautiful.
Many people agree that they beat the Cliffs of Moher thanks to their charm and lower number of visitors. The Kerry Cliffs are also the closest viewing point for the Skellig Islands.
You can also view the thriving colonies of sea birds while enjoying the view and fresh salty sea air. Find out more about them here.
Other must-do things in Ireland
The Rock of Cashel
Another one of Ireland's most popular ancient landmarks to visit, and a must-do in Ireland, is the Rock of Cashel.
An imposing sight in the Tipperary landscape, the Rock of Cashel is a ruined Abbey that stands on what was once the location for the seat of the High Kings of Ireland.
The site includes the abbey building itself which is roofless, a Round Tower, chapels, and a graveyard where there are fine examples of one of the best Celtic symbols associated with Ireland, the Celtic Cross.
Allow a few hours to explore the site, take a guided tour, or just enjoy the views of the landscape surrounding this ancient Irish site.
Newgrange
One of the must-do things in Ireland that was recommended was a visit to Newgrange at the Brú na Bóinne Valley.
Located within Ireland's Ancient East, this Neolithic passage tomb was built around 3200 BC, making it older than Stonehenge and the Pyramids of Giza.
Along with the passage tombs of Knowth and Dowth and other mounds and standing stones in the complex, Newgrange is a UNESCO World Heritage site. As a result, you can only visit the site via a guided tour from the Visitor Centre.
One of the most popular times to visit is for and around the Winter Solstice when the rising sun illuminates the passage to the main chamber. However, this is only available through a lottery. At other times of the year, the illumination of the passage and chamber is simulated so visitors can still experience it.
If you enjoy visiting ancient sites, then add Newgrange to your to-do list.
Aran Islands
Off the coast of Galway, lying in Galway Bay, are the Aran Islands, a popular destination for a day trip from Galway.
Inishmór, Inishmaan, and Inisheer (largest to smallest, respectively) make up the Aran Islands with Inishmór being the one most visited. Its most popular site is Dun Aonghasa, a 2000-year-old Iron Age fort that lies at the edge of high sea cliffs (pictured).
As well as forts, the Aran Islands are perfect for exploring by bike and is where the famous Aran sweater originated from. These islands are a must-do experience if you are visiting the west coast of Ireland, particularly during the summertime.
Ring of Kerry
Another driving route that forms part of the Wild Atlantic Way, and one I visited before it became part of Ireland's long coastal driving route, is the Ring of Kerry.
This 179km circular route around the Iveragh Peninsula was where my husband and I spent 2 days during our honeymoon in Ireland, riding his motorbike and stopping along the way to take in the breathtaking scenery.
Along its route are viewing points, lakes, and quaint villages and you can also visit places such as the Gap of Dunloe and Muckross Abbey.
If you are visiting the southwest of the Emerald Isle, then do not miss the Ring of Kerry.
Visit the Book of Kells
As one of the most famous manuscripts in the world, the Book of Kells is a must-do in Dublin. Created around 800AD by Christian monks, the book is housed in an exhibition at Trinity College in Dublin.
The Book of Kells is a popular attraction in Dublin and it is highly recommended you pre-book your tickets to avoid disappointment.
Visitors take a self-guided tour through an exhibition that details how to manuscript was made, what some of the symbols mean, and more. After you have digested everything there is to know about the book, you can view the book itself.
Two pages of the book are on display in an atmospherically controlled room and case. These pages are turned every few weeks and you can not take pictures of it.
However, it is worth going to see the Book of Kells, even if you only have one day in Dublin.
Ordinarily, you can also enter the Long Room of Trinity College, but this is closed for renovations for at least the next three years for renovation and restoration works.
Galway
A must-visit city in Ireland is Galway City. Capital of the west coast of Ireland, Galway is a lively city with plenty to offer visitors.
Whether you want to see the Spanish arch, pop into the Galway City Museum, or walk the promenade at Salthill, Galway is a city teaming with things to do.
And if the weather is not suitable for outdoor activities, there are plenty of cosy pubs to pop into for a pint, some food, and a chat with the locals.
Bunratty Castle
A must-do in Ireland in my opinion is a visit to Bunratty Castle. Having visited during my honeymoon with my husband, I revisited it several years later with my young son and it did not disappoint.
Bunratty Castle and Folk Park are located about a 20-minute drive from Limerick City and the site has a Folk Park as well as the medieval castle to visit.
The Folk Park gives visitors a glimpse into 19th-century village life in Ireland with buildings of the era to peer into. Take in the smell of the turf fires when you do go into the buildings. During certain times of the year, there are character actors to make it an even more immersive experience.
The castle is an impressive medieval tower house that you can explore. You can also attend a Medieval Banquet, typically held twice a day in the castle. During this time you will eat typical medieval dishes, drink mead, and be entertained.
I highly recommend this unique Ireland experience. My husband and I attended one during our honeymoon in Ireland and it was amazing.
Kilmainham Gaol
Kilmainham Gaol is one of Dublin's sites that visitors should not overlook when visiting the city.
Built at the end of the 18th century, Kilmainham Gaol housed some of Ireland's most prominent nationalists and is closely linked with the 1916 Easter Rising.
It is a fascinating place to visit and can be done so through guided tours. Your tour guide will bring you through the maze that is the gaol, imparting their knowledge of the building and its former inmates before you are given the opportunity to visit the museum.
The tour itself takes about an hour but you will need plenty of time to visit the museum (pictured) if you are interested in Irish history and particularly the 1916 Easter Rising and the subsequent Irish Civil War of Independence. Do not miss Kilmainham Gaol!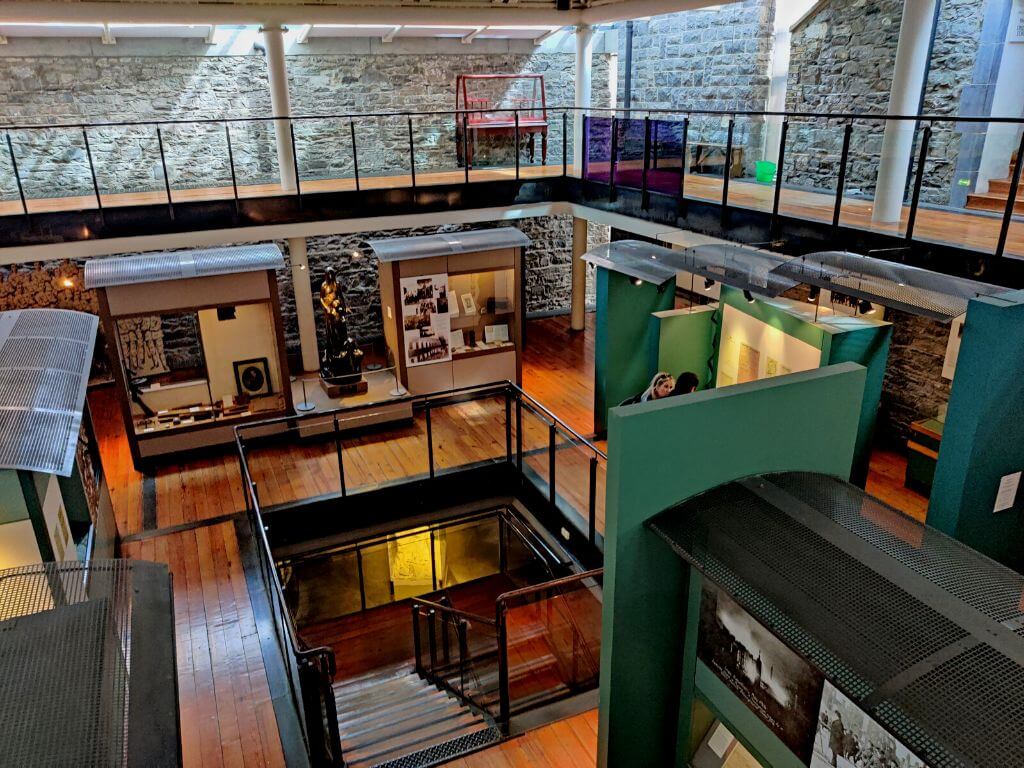 Kilkee Cliffs
If you are visiting County Clare and are considering a visit to the Cliffs of Moher but are worried about the crowds, then why not choose the Kilkee Cliffs instead?
Located one hour south of the Cliffs of Moher, I am reliably informed by my sister that these cliffs are worth a visit, especially if you want to avoid the crowds at the ones further north.
Visitors can take the cliff walk along the rugged stretch, see the shipwreck of Intrinsic Bay, and just enjoy the views.
Benbulbin
One of Ireland's most unusual natural landmarks is Benbulbin, located in County Sligo. A limestone plateau mountain with an uncommonly flat top, Benbulbin dominates the landscape.
Its sides are near vertical making it almost impossible to climb. There are forest trails in the foothills and surrounding areas from where you can take in this majestic sight.
Guinness Storehouse
Somewhere many people recommend as a must-do in Dublin is the Guinness Storehouse. Founded in 1759, the Guinness Storehouse is where visitors can learn all about the 'black stuff'.
The exhibitions at the Guinness Storehouse are set across seven floors, in which you can learn about the brewing process, what makes a great pint of Guinness, and the marketing and branding of this iconic Irish drink.
And after you have learned all there is to know about Guinness you can enjoy a pint in the 360˚ panoramic bar on the eighth floor.
Kilkenny Castle
Kilkenny Castle is a great castle in Ireland to visit if you enjoy these medieval sites. Located in the town of the same name, Kilkenny Castle is a popular place to visit.
Built along the River Nore in the late 12th century, Kilkenny Castle can be explored by guided tours or self-guided tours.
There is a wealth of rooms and halls to explore, with the Picture Gallery being one of the most impressive.
There is a fee to enter the castle, but its grounds and the surrounding woodlands are free to enjoy. If you will be in or passing through Kilkenny, make sure to allow time to visit its impressive medieval castle.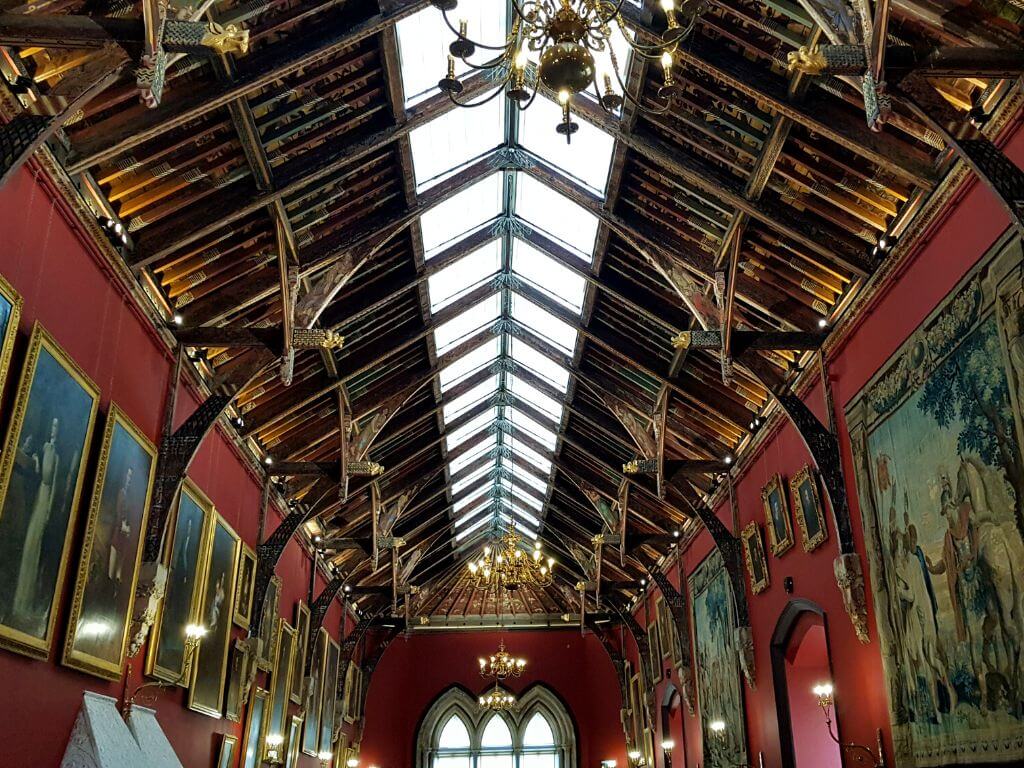 Doolin
A popular town for people to visit, or stay in while visiting County Clare is Doolin. It comes highly recommended by previous travellers to the Emerald Isle.
Situated just 10 minutes from the Cliffs of Moher, Doolin is a pretty coastal town with colourful buildings and is a great place to stay if you are planning a day at the Cliffs of Moher.
As well as being the gateway to the Cliffs, it is also great for exploring the Burren National Park and the Aran Islands (already mentioned above).
The Burren
The Burren National Park is one of the six National Parks in Ireland and is one of the most unusual thanks to its unique landscape.
Its barren, lunar-like rock formations consist of grey limestone formed under ancient seas millions of years ago.
Although it is the smallest of the National Parks, it is visited by many throughout the year who come to view the Karst limestone pavements and discover the flora and fauna that have made this unusual landscape their home.
A visit to the Burren is easily combined with a visit to either the Cliffs of Moher or the Kilkee Cliffs.
Other must-do things in Northern Ireland
Black Cab Tour
Something that was recommended as a must-do in Northern Ireland was a Black Cab Tour of Belfast.
These tours take place in a traditional black cab, hence the name, and offer visitors a chance to see the city, and its famous political murals and learn about the political history of the city from knowledgeable locals.
These are a great way to see certain parts of the city while learning a lot about its recent history.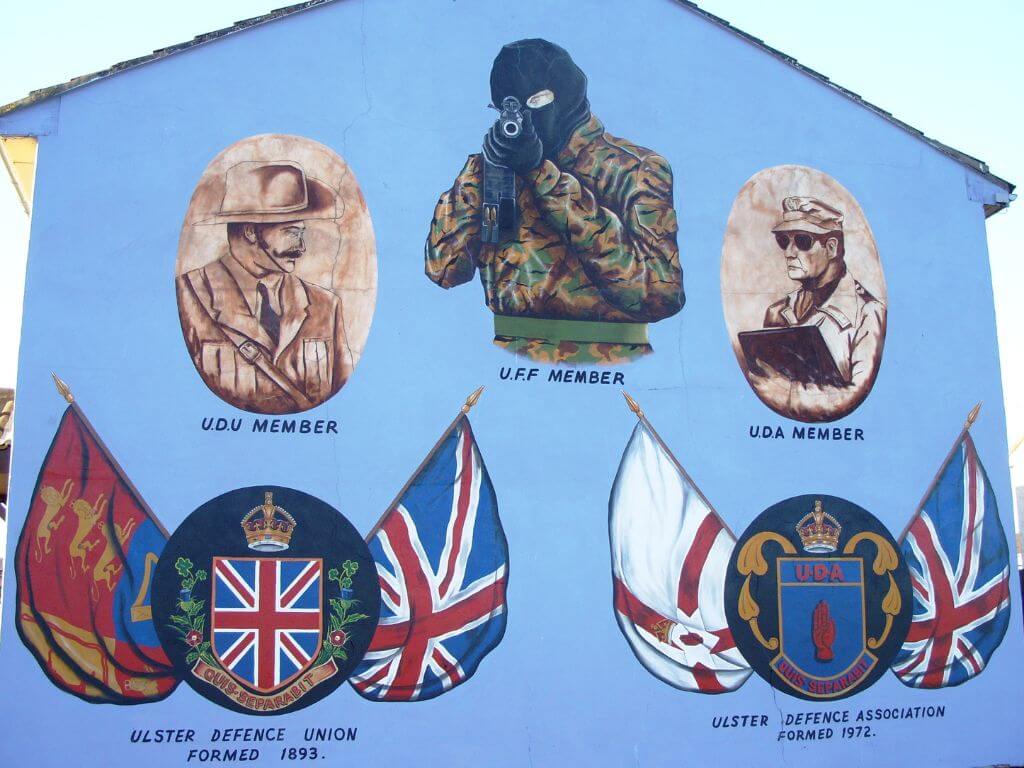 Carrick-a-Rede Bridge
If you are going to be heading north, then a visit to the Carrick-a-Rede rope bridge is a must-do.
Connecting Carrick-a-Rede island to the mainland, it is a bridge that spans the 20m chasm at a height of 30m over the Atlantic Ocean below.
It was erected for the salmon fishermen and today is one of Northern Ireland's most visited attractions after the Giant's Causeway (already mentioned).
Derry City Walls
A must-do in Northern Ireland if you are exploring along the Causeway Coast is to explore the Derry City Walls and the city within them.
Derry is a historic walled city and they are at the centre of the city and include some of its most important landmarks including the Apprentice Boys Hall and St Columb's Cathedral.
There is approximately 1 mile of them and visitors can climb to the top and walk along them, passing seven gates in total.
The walls are lined with cannons, 22 of them, and these all face towards and are from the 16th to the 18th centuries when they were installed for the defense of the city.
The Dark Hedges
Whether you watched the hit TV show Game of Thrones or not, you cannot miss a visit to the Dark Hedges while exploring Northern Ireland.
Located just over an hour from Belfast and an ideal day trip from the city, the Dark Hedges is an avenue of beech trees, planted in the late 18th century along the road to a house.
Used in filming to represent the Kingsroad in Game of Thrones, they have become a hugely popular place to visit in Northern Ireland and are considered a must-do if visiting the northern half of the Emerald Isle.
And there you have it, the things you absolutely must do in Ireland. From sea cliffs to medieval castles, historic sites, and more, these are the things you cannot miss while on the Emerald Isle as recommended by previous travellers to this beautiful island.
Read about more must-do things in Ireland: