June in Ireland is the perfect time for a Celtic getaway! With its mild climate, lush green landscape, and beautiful sunsets, June may just be the perfect time to enjoy a memorable trip to the Emerald Isle. Discover exactly why June can be the ideal month to visit Ireland right here.
Whether you want to explore ancient castles, pop into welcoming Irish pubs, or enjoy some of the country's best beaches, this is definitely one of the best times to be in Ireland for a truly unique experience!
June can also be the best time to visit Ireland weather-wise as the summer begins and drier, sunnier days make an appearance, while the number of tourists isn't quite at its peak. The climate in Ireland in June is far more appealing than cooler months in spring and temperatures are warmer than if you were visiting Ireland in March for example.
Whether you enjoy the great outdoors or want to experience what the cities have to offer, choosing to spend time during June in Ireland will not disappoint any traveller. Find out exactly why you should consider visiting Ireland in June below.
All you need to know about June in Ireland
Weather in Ireland in June
When it comes to Ireland weather in June, visitors can expect more settled weather and more pleasant days. June brings the start of Summer in Ireland (ref) and with it the start of the peak tourist season.
The average temperature in Ireland in June is warm and pleasant, with average daytime temperatures of 18˚C/64F and average night temperatures of 11˚C/52F. June temperatures in Ireland typically lie somewhere between 10˚C and 19˚C (50-66F).
Occasionally, Ireland will experience a heatwave during June but don't expect it to be a given if you are visiting Ireland this month. I said 'occasionally' after all! If it does happen temperatures can push 30˚C/86F.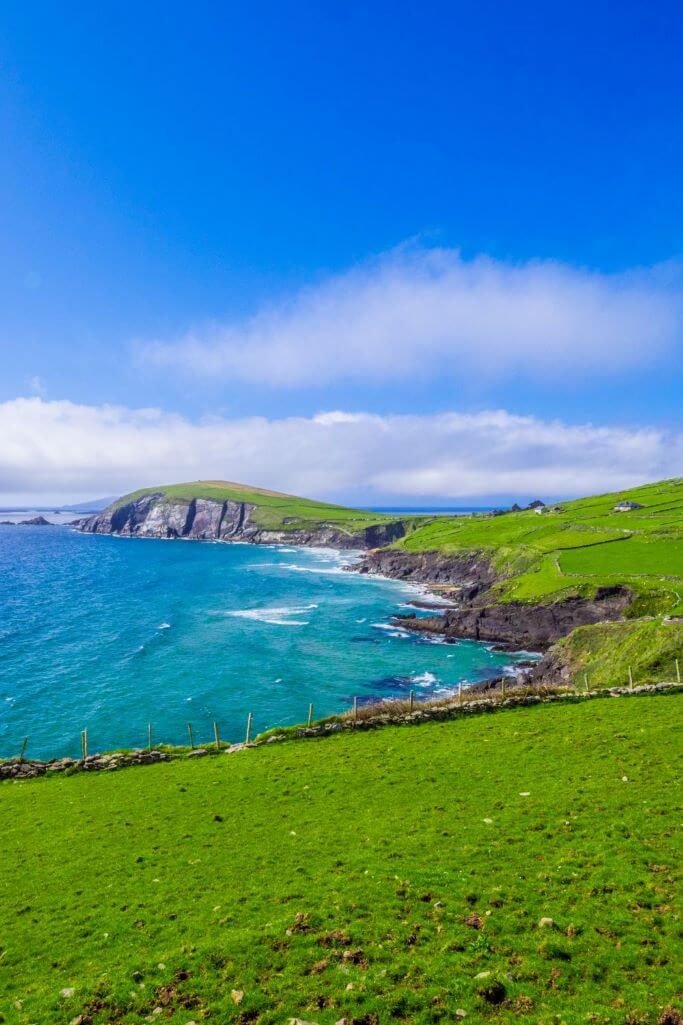 June weather in Ireland is drier than the previous months, with the amount of rain falling between 60 and 80mm over 6-17 days. The typical average rainfall for June is 70mm. The average weather in June in Ireland is some of the driest on the Emerald Isle. That's not to say you won't experience some rain, but if you do, it is likely to be a passing shower and not a torrential downpour. While not as calm as August, June is less windy compared to April in Ireland.
June is the month with the longest days in Ireland and this extra daylight means it is the perfect month for sightseeing and road-tripping around the island. The start of the month enjoys 16.5 hours of daylight, while towards the end of that month, it rises to 17 hours. This is the month you will hear that funny Irish slang phrase
'a grand aul stretch in the evenings'.
With the average weather in Ireland in June being very pleasant, dry, and calm, and with long days for exploring the Emerald Isle, June can often be the best month to go to Ireland.
Costs and crowds during June in Ireland
When it comes to visiting Ireland in June, it is the start of the summer and while the Emerald Isle is rarely crowded during this month, visitor numbers do rise. As a result, prices start to reflect the increase in demand where accommodation is concerned.
There is one holiday you need to be aware of for this month. The June Bank Holiday in Ireland is observed on the first Monday of the month and is a bank holiday. It is sometimes referred to as the Whit Weekend. With this bank holiday comes school closures along with banks, and many businesses. High street shops are open but on reduced Sunday hours. That said, many tourist attractions, pubs, and restaurants will remain open.
During June, while there are fewer tourists than in the following summer months, numbers are noticeably higher on the island. This does not make visiting some of the popular landmarks in Ireland any less enjoyable such as the Rock of Cashel, Cliffs of Moher, and Giant's Causeway.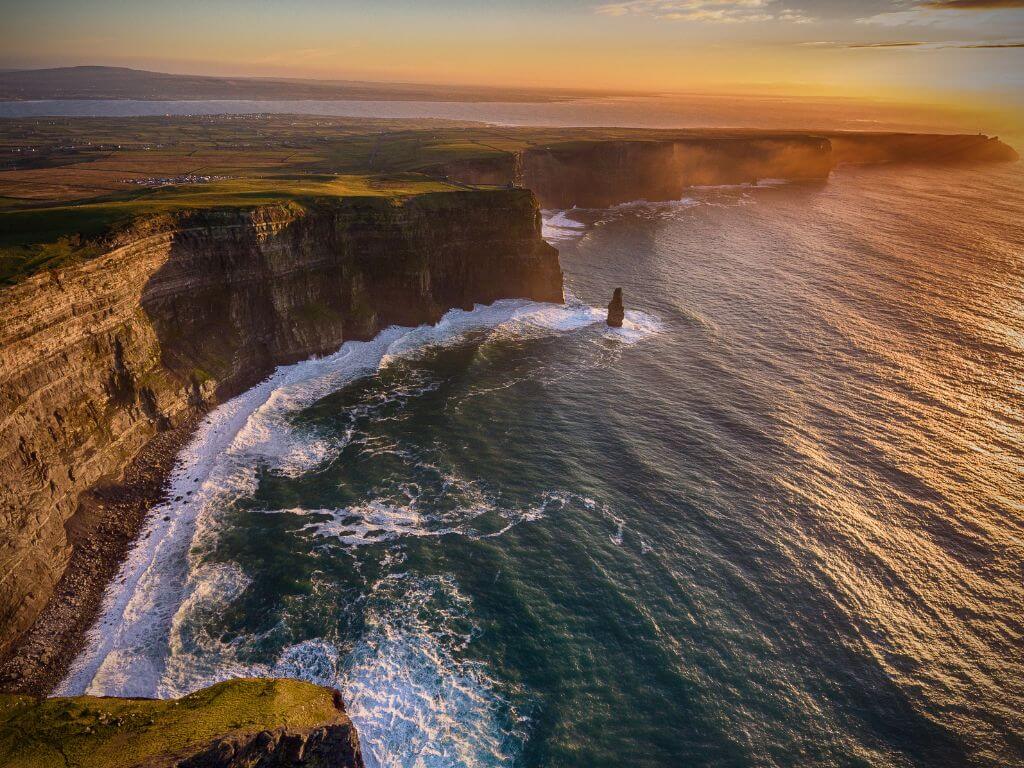 Accommodation options will start to reduce, and their prices may start to rise sharply during this month compared to the cheaper off-peak months. Prices at the start of the month may be more budget-friendly than towards the end of the month when the peak summer tourist season really kicks in. Demand for flights increases significantly and the rise in the cost of flights reflects this.
If you are considering trying to find the cheapest way to travel Ireland, June may not be the month for your visit.
Best places to visit in Ireland in June
With the warmer temperatures and longer days of June, exploring the Emerald Isle becomes even more accessible. Every corner of this beautiful land is open for exploration, including places that may be harder to visit during colder months. Let's take a look at some of the best places to visit in Ireland during the summer month of June!
The coastal villages and seaside towns
Before the peak summer crowds descend, June is the perfect month to spend some time along the coast. Irish coastal towns are plentiful and still a relatively quiet affair this month.
One of the most popular coastal towns to visit in Ireland is Dingle in County Kerry. Located on the Dingle Peninsula (pictured), this fishing village welcomes many visitors who flock to see the colourful buildings, partake in some delicious ice cream at Murphy's, and who want to explore the Dingle Peninsula.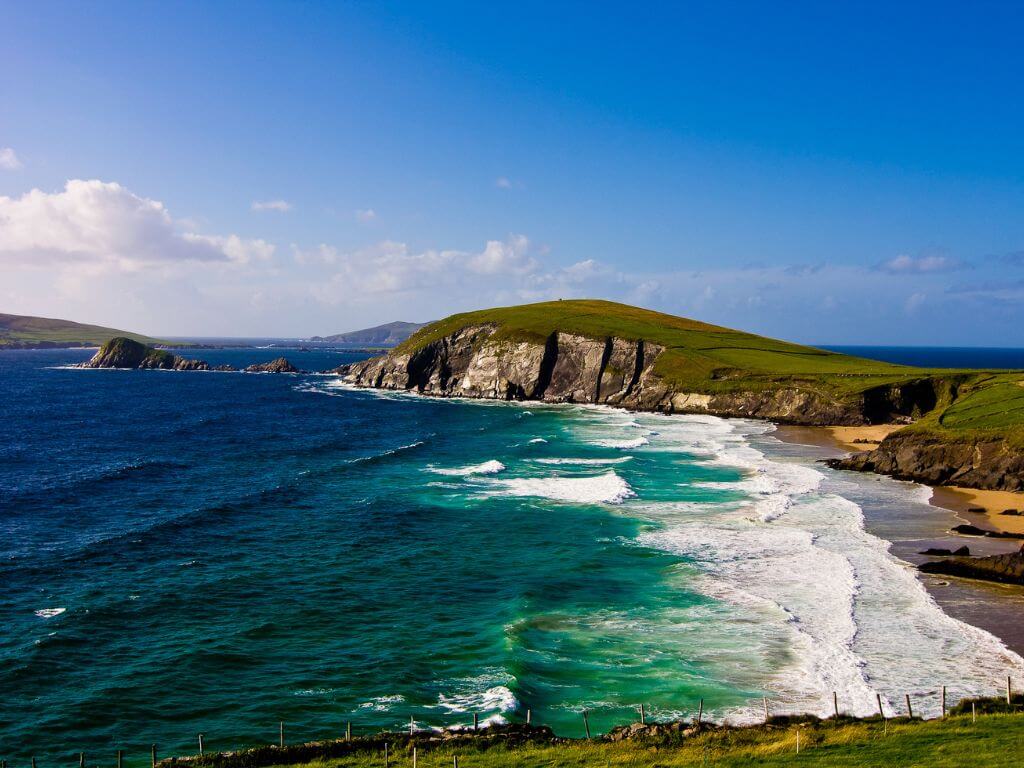 Another popular coastal town in Ireland is Doolin in County Clare. It is popular with tourists thanks to its proximity to the Cliffs of Moher and the fact that you take a ferry to the Aran islands from this town during the summer months.
Causeway Coastal Route
And speaking of coastal places to explore in Ireland, the Causeway Coastal Route in Northern Ireland is a coastal route to consider exploring. You could even combine the Wild Atlantic Way and the Causeway Coastal Route in a 7-day Ireland road trip for the ultimate exploration of Ireland's coast.
June is a great time to take in the sights of the Causeway Coastal Route, which stretches 246km from Belfast to Derry/Londonderry. Along the way, you'll find intriguing points of interest like Carrick-a-Rede Rope Bridge, Carrickfergus Castle, and one of Ireland's most spectacular natural wonders, the Giant's Causeway.
From Cushenden Caves to the Ballintoy Harbour and Castle Ward, this breathtaking coastline is dotted with famous Game of Thrones filming sites, perfect for fans of the TV series. You can visit these places while enjoying incredible views along the way. The Causeway Coast is the perfect destination for an unforgettable trip in June.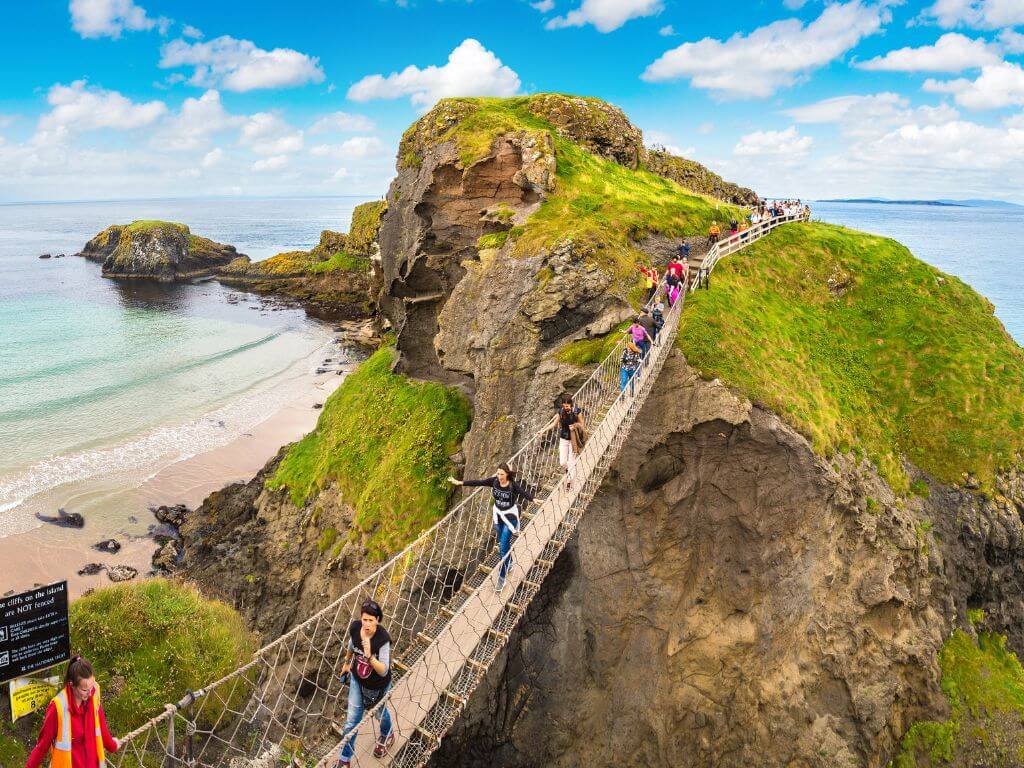 Glenveagh National Park
June is also a great month to pay a visit to the Glenveagh National Park, the most northerly national park in Ireland.
Located in County Donegal, the Glenveagh National Park is the second largest covering an area of 17,000 hectares. Among the natural beauty of the park, you will find lakes, mountains, rivers, and natural woodlands.
Visitors can hike, explore the woodlands and visit Glenveagh Castle (pictured). There is also a large herd of red deer in the park, so keep your eyes peeled.
If you love being outdoors, then spending time in this national park in County Donegal is the perfect thing to do in Ireland in June.
County Sligo
The West of Ireland is a far more appealing place in the summer, and this month is perfect for spending time in County Sligo.
One of the most popular things to do is to see Benbulbin, a plateau mountain that dominates the landscape in which it sits. While its sheer sides make it near impossible to climb, the best way to enjoy it is by walking the forested looped trails around its foothills.
County Sligo is home to some ancient monuments including the Carrowmore Megalithic Cemetery and the Carrowkeel Passage Tombs. While they are not on the same scale as the passage tombs at Newgrange, they are still worth visiting on a sunny June day.
Aran Islands
If you are looking for the best things to do in Ireland in June, then visiting the Aran Islands is a must. Briefly mentioned above, the Aran Islands sit off the west coast of Ireland in Galway Bay and are a great way to combine the city and islands via a Galway to Aran Islands day trip from the city.
This option is only available during the summer, after which time visitors need to take a ferry from Doolin or Rossaveal Ferry Terminal.
This group of three islands are a great place to visit if you want to see island life and experience some peace and quiet. Visitors can walk and cycle whichever island they choose to visit, see the Iron Age Fort of Dun Aonghasa, and see ruined churches, and shipwrecks.
The islands are where the famous Aran Jumpers (sweaters) originated. These woolen sweaters are warm and were designed to be worn by fishermen from the islands. Each family or 'clan' had its own design for the cabling on the front. If you have been looking for things to buy in Ireland, then there is no better place to buy your Aran jumper than from the islands themselves.
Cities to visit in Ireland in June
When it comes to what to do in Ireland in June, enjoying a city break is one of the top things to do. As well as the two capital cities of Ireland, Dublin and Belfast, there are other great cities in Ireland to visit during the month of June.
And, if you are wondering how to get around ireland without driving then enjoying city breaks that have good transport links between them is the ideal way to do exactly this. Here are some ideas for which cities to visit in Ireland in June.
Dublin
Although it starts to become busier this month, Dublin in June can be quite pleasant, especially if the sun is shining. Primary schools have not yet begun their summer holidays and with the warmer weather making its appearance, sightseeing can be a more pleasurable activity.
You do need to be aware that accommodation choices will be reduced compared to previous months, and with the extra demand comes the start of premium prices. but you should still be able to find accommodation to suit your budget.
So, what are the choices when it comes to things to do in Dublin in June? Whether you are planning to spend just a day in Dublin or will be in Dublin for 3 days, there is plenty to see and do no matter your length of time in the city.
You can use your time in the city to visit the top Dublin attractions or use it as a base to explore other parts of the country via a day trip from Dublin. One of the most popular trips is the Cliffs of Mother tours from Dublin. During these tours, visitors get to see this natural wonder of Ireland while also visiting places such as the Burren or Galway City.
No matter your preference, you will have plenty of things to keep you busy in Dublin and beyond.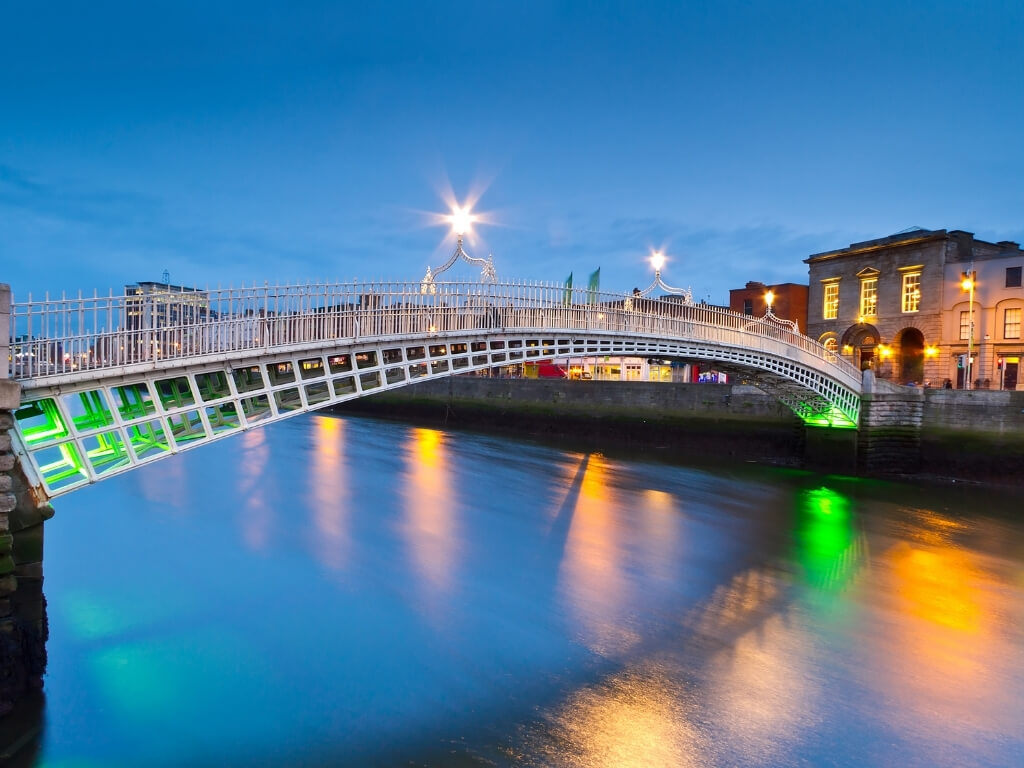 Limerick
Limerick is a great city to visit in Ireland during June. It is sometimes overlooked by visitors who choose to stay in Doolin for the Cliffs of Moher, or Killarney or Dingle, but it has plenty to offer those who choose to stay there.
Sitting on the estuary of Ireland's longest river, the Shannon, Limerick is Ireland's third-largest city and underwent significant rejuvenation when it acted as the City of Culture in 2014.
Limerick has a history spanning more than 1200 years and boasts an impressive castle, two cathedrals, as well as several museums and galleries.
If you are looking for a city break in Ireland along the west coast, then consider spending some time in Limerick.
Belfast
You might be asking yourself "is it worth visiting Belfast?". In short, yes! Belfast has undergone rejuvenation over the years to become quite a cosmopolitan city. And the fact that it has direct public transport connections to Dublin makes it perfect for combining both cities.
One of the best ways to discover the city is to take a sightseeing bus, and there are also black cab tours of the political murals in the city, left over from a period in the city's history known as "The Troubles".
And, like Dublin, you can also use the city as a base to explore more of Northern Ireland by taking one of the many day tours from Belfast to visit the likes of the Giant's Causeway, Glens of Antrim, and the beautiful Mourne Mountains.
Belfast is probably most famous for its link to Titanic. The ill-fated liner was built in the city and there is a large museum dedicated to the history of the ship. The headquarters of the Harland and Wolff shipbuilding company is now the Titanic Hotel!
No matter your interests you are sure to find plenty of things to see and do in Belfast, the capital of Northern Ireland.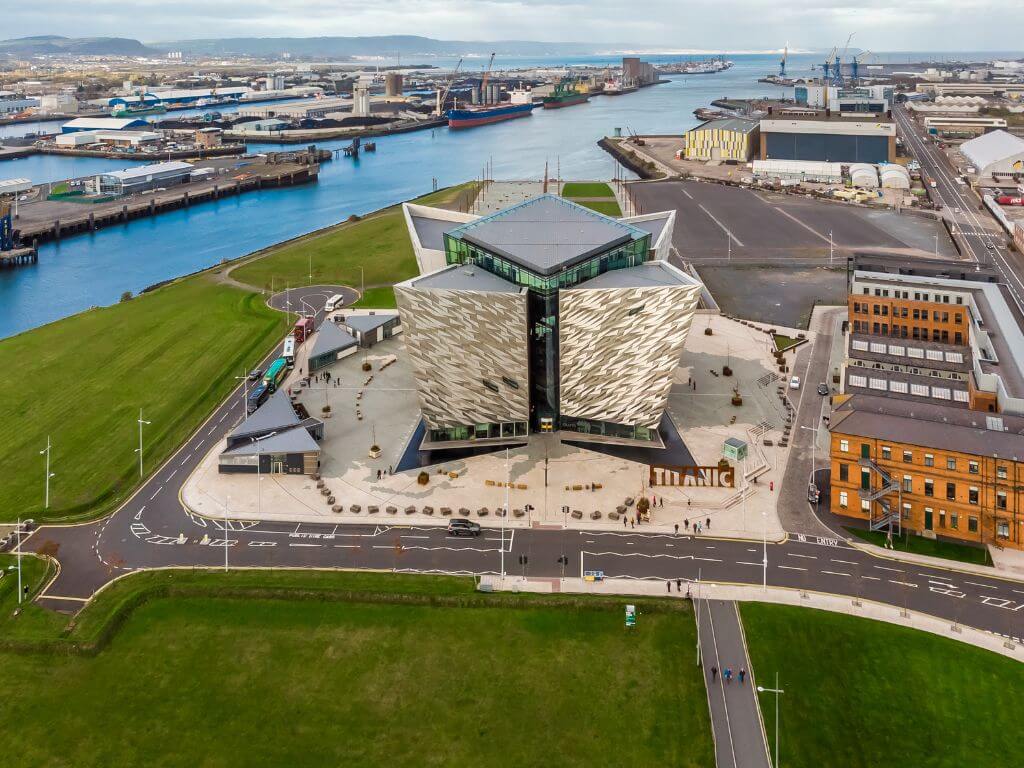 Galway
The capital of the West of Ireland, Galway, is a great place to visit during June in Ireland. The vibrant city is a gateway for the Connemara National Park, parts of the Wild Atlantic Way, and of course, the iconic Cliffs of Moher.
Stay close to either Eyre Square or the Spanish Quarter and you'll be in the hub of it all. Things to do in Galway include visiting the Spanish Arch, Galway Museum, Galway Cathedral, and venturing to Salthill to wander along the promenade is easily done from the city.
Like the previous two mentioned cities, the city can also be used as a base to take tours from Galway City if you want to explore places such as the Cliffs of Moher, Kylemore Abbey, and the stunning Aran Islands without having to hire a car.
There are plenty of tours that depart from the city to visit these places and Galway is a leisurely 2 hours and 45-minute train journey from Dublin City Centre, meaning you can take in the beautiful landscape as you make your way to the city.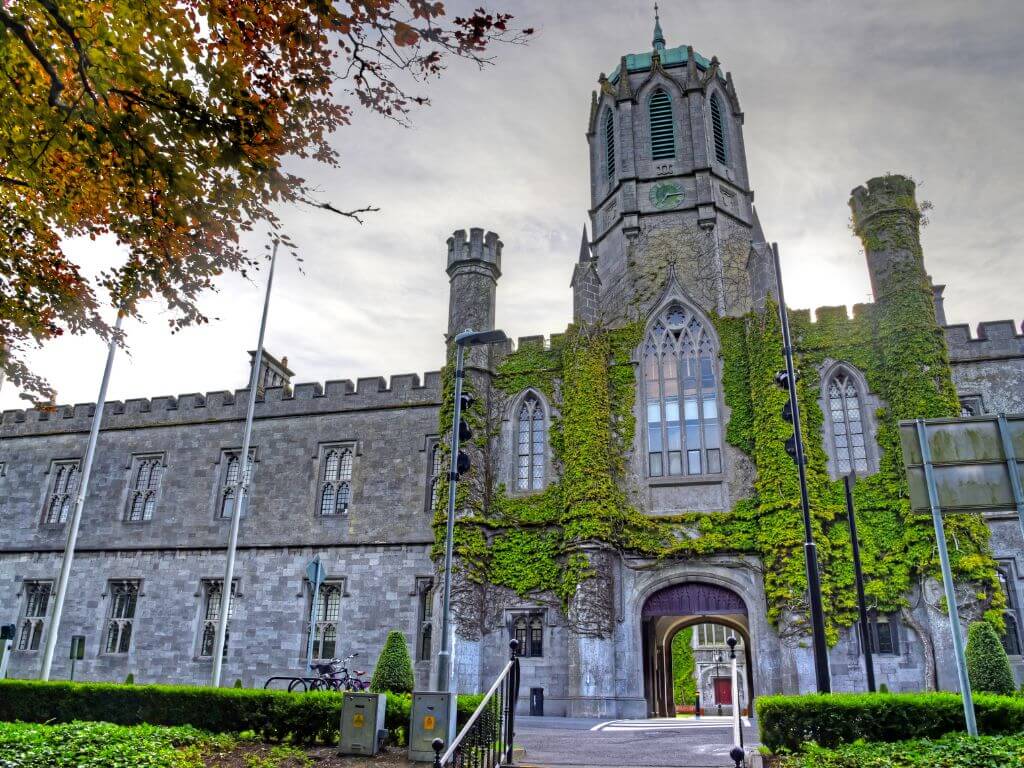 Things to do in Ireland in June
With where to visit in Ireland in June covered, it's time to start planning what to do in Ireland in June.
As already mentioned, June is an ideal month for getting outside, exploring Ireland, and discovering its natural beauty. Hiking, walking, cycling, and even kayaking are all options during this month.
Outdoor activities
June lends itself very well to outdoor activities and pursuits in Ireland. Whether you want to enjoy a gentle hike to find the Glenbarrow Waterfall, a very pretty Irish waterfall in County Laois, or you want to tackle something more challenging such as Ireland's highest mountain, Carrantoohil, with the warmer June weather and fewer downpours of rain, this month lends itself nicely to pursuing outdoor activities like hiking.
Just remember one or two light layers (and a raincoat) if you are going up a mountain and waterproof shoes or boots, just in case.
Head to the beach
With a long coastline comes a wealth of beaches and in June, beaches can be the perfect place for a walk along the water's edge or even to spend a few hours dipping your toes.
Whether you are spending time in Donegal or Kerry, Dublin or Galway, you won't be short of choices of Irish beaches to visit. Take a towel, have a picnic, and relax while listening to the waves crashing on the shore.
And for the surfers among you, beaches at the likes of Lahinch and Bundoran are great surfing spots, with shops hiring wetsuits and boards for visitors. There are plenty of surfing beaches in Ireland to ride the waves.
Enjoy a road trip
With the long warm days, June is perfect for hitting the road. While the roads are starting to get busier, they aren't as busy in June as they are in July and August, so if you prefer road trips in warmer weather, choose June in Ireland.
The long days mean you can get more miles under your belt or allow for longer stops at places along your route. As well as the Causeway Coastal Route as already mentioned, there are other places for enjoying road trips including the Wild Atlantic Way and the Ring of Kerry.
I have a comprehensive guide to the Wild Atlantic Way which details what it is, the highlights along its route, and tips for your journey.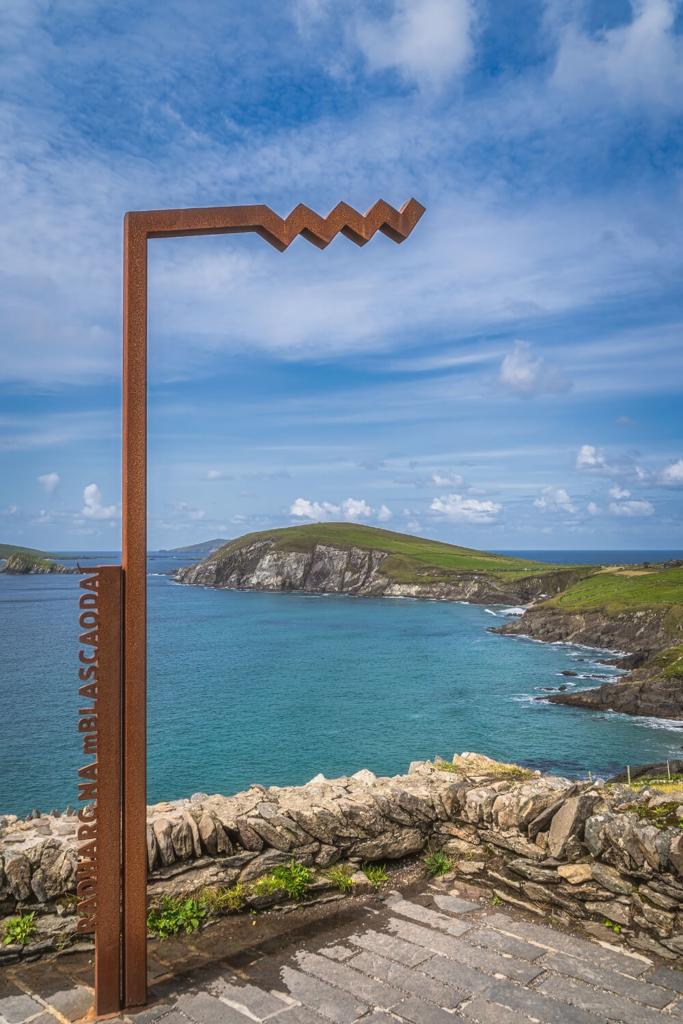 Top tip: remember to allow more time than you (or Google maps) think for stops for pictures, lunch, or exploring places off the main roads.
If a big road trip is not your thing, pick one or two bases and do shorter journeys from your bases to explore more of the island.
We choose a base in County Wexford for six days on a previous trip to Ireland and enjoyed day trips to local places to explore the lower half of the county in full including visiting the Hook Head Lighthouse and the Dunbrody Famine Ship. It was a great way to avoid moving from place to place but still immersing ourselves in one county of Ireland. This is our plan for future trips to Ireland.
Hit the water parks
Yes, you read that right. Ireland has some waterparks, both indoor and outdoor and the start of the summer is a great time to head to one, especially as the primary schools have not yet broken up for the summer holidays.
Now, I have to admit, Ireland's waterparks are not like the ones you might find in warmer Mediterranean countries.
These are either indoor affairs with some slides, pools, and other activities. Or they are outdoor affairs on lakes with inflatable obstacle courses, or in forests where they combine water activities with land activities such as at Clara Lara in County Wicklow. but, if you are looking for somewhere fun to go, head to one of these.
Enjoy a festival
June is often the start of the summer festival scene in Ireland and planning your trip so you can attend one could make your trip truly unforgettable.
Two big festivals take place this month including Bloomsday, a day commemorating James Joyce in Dublin, and Dublin Pride.
There are other ideas for a festival to attend in June further below.
Go in search of strawberries
June is strawberry month in Ireland and there are a number of places around the country where you can pick your own. Arguably, the best strawberries in the country come from Wexford and if you happen to be exploring County Wexford, you may come across stalls on the side of the road selling punnets of these deliciously sweet berries. Pull over safely and buy some. You won't be disappointed!
Events during June in Ireland
Bloomsday Festival, Dublin
An annual event that takes place in Dublin during June is the Bloomsday Festival, a day commemorating one of Ireland's greatest writers, James Joyce.
Events take place across the city including readings from his works, food stalls, and walking tours. If you enjoy literature, the Bloomsday Festival is a must.
Dublin Pride, Dublin
Dublin Pride takes place at the end of June and in 2023 it celebrates its 40th year. June is a whole month dedicated to Pride with the festivities culminating in the parade.
Events include talks, concerts, the parade, and even bingo! Get your rainbow flags out and have fun this month at Dublin Pride.
Cat Laughs Comedy Festival, Kilkenny
Get ready to laugh your way into summer with the Cat Laughs Comedy Festival, which takes place at the beginning of June. Kilkenny is a great city in Ireland to visit and June is made even better with both Irish and international comedians taking to the stage. Find more information here.
Westport Folk & Bluegrass Festival, Mayo
If you are a fan of folk and bluegrass music, then head to County Mayo in June for the Westport Folk & Bluegrass Music Festival. Artists from around the world descend on Westport to play concerts, gigs, and intimate sessions.
West Cork Chamber Music Festival, Cork
At the end of June and into the beginning of July, the West Cork Chamber Music Festival takes place in Bantry. Comprising masterclasses, talks, and six concerts a day, artists from across the globe come to play. If you enjoy classical music, then this music festival is perfect for you.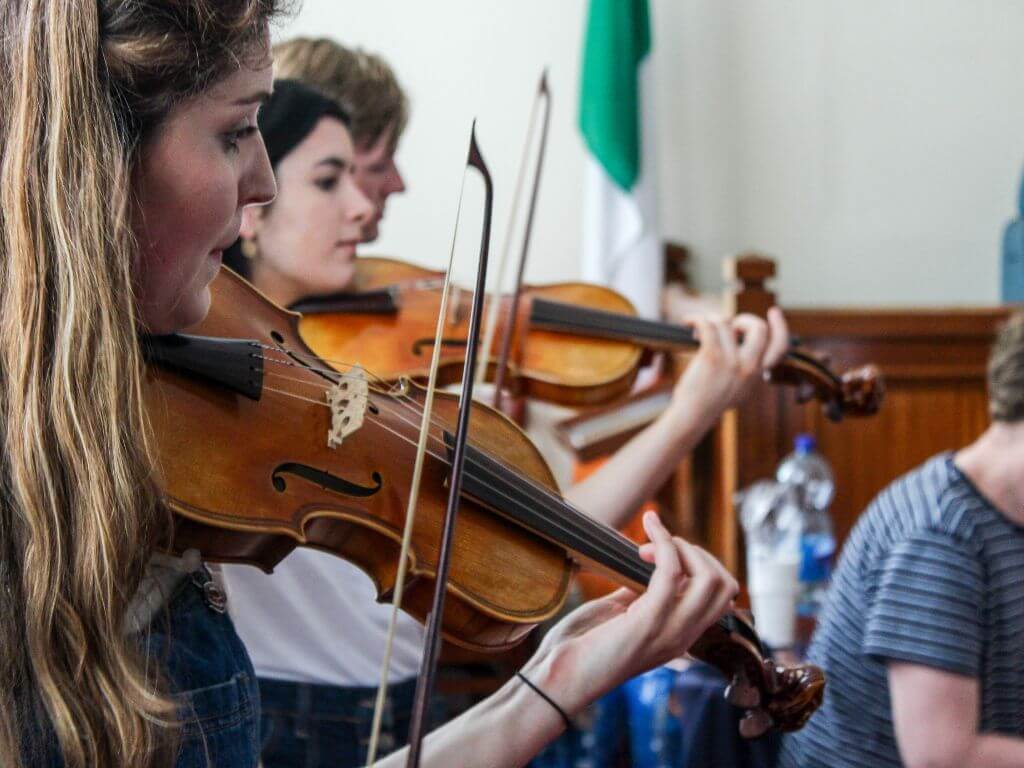 Doolin Folk Festival, Clare
The Doolin Folk Festival returns in 2023 after a few years to delight fans of this genre of music. If you are going to be heading to Clare to see the Cliffs of Moher, why not time your visit with the festival and take in a performance or two?
Cork Summer Show, Cork
Taking place in June in Curraheen, the Cork Summer Show is an agricultural show and family-friendly event with animal events such as showjumping, a dog show, and farm animals, while general events include a motor show, amusements, and food stalls and demos. For a fun, family-friendly event just 15 minutes from Cork City Centre, consider heading to the Cork Summer Show.
Sea Sessions, Donegal
Sea Sessions is a 3-day summer festival of music, surf, sport and partying by the beach in Bundoran in County Donegal. There are lots of artists playing music and hosting concerts, events like surf and beach yoga, and there is the option for camping.
Travel tips for Ireland in June
What to pack to wear in Ireland in June
If you are looking for tips for what to pack for Ireland in June, then these quick pieces of advice are for you. While the days are longer, warmer, and drier, that doesn't mean you can forget to pack certain items and only plan for summer days.
Jeans/Leggings – Packing a pair of jeans or leggings is advisable for June for cooler days. While the weather is mostly warm, you may still encounter a chilly day or two so pack a pair of jeans or leggings to keep your legs warm on cooler or wetter days.
Maxi-dress – For the ladies, a maxi dress or two are the perfect attire for this month in Ireland. The long length will keep your legs warmer than shorter summer dresses and with the right one, it can double up for evening wear.
Cardigans – For cooler days and cold evenings, bring a cardigan. June may be the start of the summer in Ireland, but you will be thankful for a cardigan when the clouds roll in or when the sun dips over the horizon.
Windproof jacket – You should plan to bring a lightweight, breathable windproof jacket that is also waterproof. While the wind is not frequent this month, it can whip up quickly, especially along the coast like the Wild Atlantic Way, so having one with you will be welcomed.
Sneakers – While I will always advocate you bring a comfortable, waterproof pair of shoes or boots to explore Ireland, a comfortable pair of sneakers might be preferable. If you are going to be exploring cities on foot, then make sure whatever footwear you bring is comfortable for hours of walking.
Fleece tops – Layering is still always advisable for Ireland. And fleece tops are the perfect way to layer up (and down) during this month. They are also lightweight and can easily slip inside your day bag.
I have a more comprehensive packing list for Ireland in June which will tell you exactly what to bring with you.
Practical tips for Ireland in June
In this section, you will find some practical tips for Ireland in June.
1 – As mentioned, a breathable, waterproof, windproof jacket could prove to be a lifesaver this month, especially if you will be exploring along the coast or hiking the mountains and national parks. Combine it with lightweight fleece tops and you are good to go during the day.
2 – Remember to bring sunscreen and your sunglasses. June is the start of the summer and has been known to have occasional heatwaves where the temperatures push 30˚C/86F.
3 – If you are staying in the centre of any of the cities, pack an eye mask and some earplugs. The daylight hours in Ireland in June are long, up to 17 hours, so if you need an early night and your hotel does not have blackout blinds, you might find it difficult to fall asleep. Ear plugs will drown out the noise of any revellers in cities.
4 – Check this list for more tips for traveling to Ireland which is especially helpful for first-time visitors to the Emerald Isle.
June in Ireland is the perfect time to experience all that the country has to offer! With warmer weather, stunning beaches, and a variety of outdoor activities, visitors can enjoy a unique holiday experience.
There are also festivals held throughout June ranging from music and food to literature allowing travellers to explore Irish culture. June is the ideal month to take an adventure of a lifetime! So come experience the very best of Ireland in June!
Frequently asked questions about visiting Ireland in June
Read More Things About Visiting Ireland: